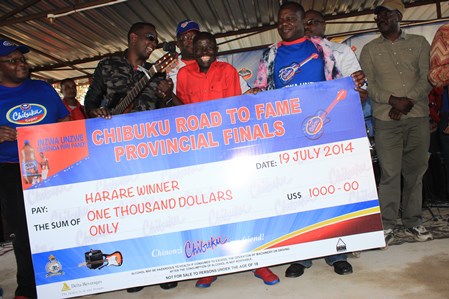 CHIMANIMANI will once again come to life this August when the country's biggest free-entry annual arts event, the Chimanimani Arts Festival begins.
The arts jamboree is slated for August 8 and 9 and is aimed at bringing together people from different corners of Chimanimani District, the nation and the world to experience the unity of purpose that prevails at its events in the scenic environment of the tourist village.
It also promotes and develops amateur performers through interaction with seasoned local and international performers.
An array of musicians and artistes from Chimanimani, Chipinge, Harare and Mutare are expected to headline the annual edition.
Speaking at a cocktail held in the capital on Wednesday, director of the Chimanimani Arts Festival, Chido Musasiwa said this year's focus will be on embracing the rich sound found in Mbira music of the Ndau people.
"This year we will be focussing on mbira music of the Chimanimani people," said Musasiwa.
"We are trying to find the unique Ndau sound from the Chimanimani cultural heritage."
Musasiwa said that the survival of the arts jamboree was solely dependent on the partnership they have with the corporate community hence the theme, 'Together We Can."
Since its inception in 1998, the Chimanimani Arts Festival was marred by financial constraints which reduced the capacity of the festival to accommodate a considerable attendance and media coverage.
But the organisers' desire to showcase different art genres ranging from music, dance, theatre, drama, comedy and storytelling have kept the arts carnival going for 16 years now.
The festival aims to promote culture by exposing the audience to a wider scope of arts and crafts from outside the district.
This year's edition will be headlined by traditional groups, among them, Vibe Culture, Mazwi Mbira Crew, Batanai Unite Marimba Ensemble, Chivaraidze and Garawiro which will perform on the first day of the festival.
The next day, Saturday, will see superstar Oliver Mtukudzi, Sniper Storm, Tsitsi, BaShupi and The Eastern Gospel, Aleck Muchayi and Ngangu Band, Daniel Mirisi and The Lion of Judah, Joshua Sako and the Radiation, Shorai Chipungurana and Orchestra Warura Band, Andy Mushy, Memo and the Antiques, Assegai Crew, Tariro Ne Gitare, Jam Signal, Junior Bantan and House of Stone and DJ Irie Lion showcasing their antics.
The comical SabhukuVharazipi will also feature at the festival as well as theatrical works and films such as Nyaminyami Amajiabulozi, I want a Wedding Dress, PereteraManeta — Spell My Name, Sharing Day, Kare Kare Zvako, Mother's Day, Elelwani, Chipawo, Njube High School (Let Them), Giant Puppets, Chipawo and Let Them Trust.