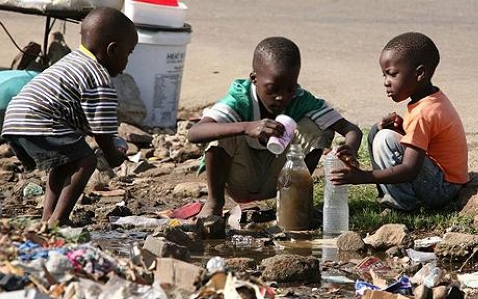 THE Government has adequate drugs and facilities to deal with any cases of cholera and the country will not experience a cholera outbreak similar to that of 2008 when more than 3 000 people died, officials have said.
In an interview with The Patriot, the director of Epidemiology and Disease Control in the Ministry of Health and Child Welfare, Dr Portia Manangazira said hospitals have drugs in place and they are ready to combat the disease.
"After a reported 3 000 cases and 41 deaths in Mozambique we were warned to be cautious and as we speak, we have teams on the ground," Dr Manangazira said.
She said 15 cases had been reported in Matabeleland North, Chiredzi, Chipinge and Mudzi, but no deaths have been recorded yet.
Sources within the town councils also confirmed that there were no reported cases in Harare and Bulawayo which are battling with water shortages in many areas with people resorting to unprotected wells.
Cholera outbreaks have been occurring since the early 1990s.
The disease has been kept under control through intensified prevention and preparedness activities, with the exception of the large outbreaks that occurred in 1999, 2002 and 2008 coincidentally during times of economic meltdown.
"Unlike the last outbreak, this time clinics and hospitals are already on standby, although the challenge remains in areas where there is no running water where we are encouraging hygiene," Dr Manangazira said.
Cholera is mainly transmitted through contaminated water and food and is closely linked to inadequate environmental management.
Poor water supplies, together with overcrowding aggravate this epidemic.
The ministry official also said that members of the public who show symptoms of the waterborne disease must immediately seek medical attention.
Communities have been encouraged to protect themselves against cholera by adhering to proper food safety practices as well as personal hygiene.
Good hygiene practices include boiling water used in the home and drawing the precious liquid from protected sources.
All food should be fully cooked and all fruits must be washed, especially those bought on the street.
Most importantly, the public is encouraged to frequently wash hands with soap and clean water, especially after you use the bathroom or before preparing food.
Early rehydration at home by using oral rehydration salts commonly known as the sugar and salt solution is important in order to save a life.
Signs and symptoms of dehydration include:
Rapid heart rate
Loss of skin elasticity (the ability to return to original position quickly if pinched)
Dry mucous membranes, including the inside of the mouth, throat, nose, and eyelids
Low blood pressure
Muscle cramps
watery, pale-coloured diarrhoea, often in large amounts
nausea and vomiting
cramps, particularly in the abdomen and legs
irritability, lack of energy, or unusual sleepiness
glassy or sunken eyes
dry mouth and extreme thirst
low urine output and a lack of tears
"We want the public to know that everything is under control," said Dr Manangazira.