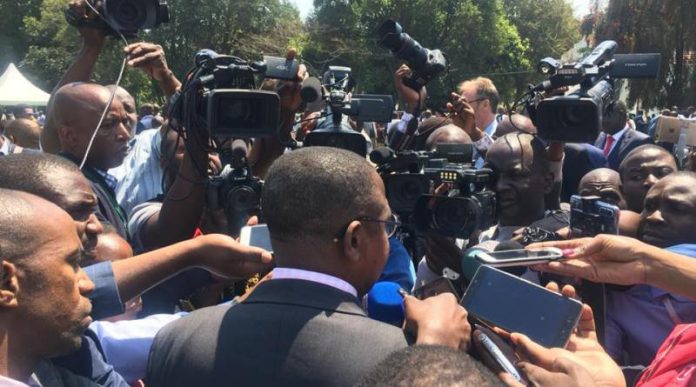 By Tafadzwa Masango
WE condemn lawyers, bankers, judges, doctors and many other professionals who abuse their positions for personal gain, but surprisingly the journalistic fraternity has a special set of rules that govern their conduct.
Many a prominent Zimbabwean can testify to the unethical conduct of some journalists, who are not above blackmail, extortion and intimidation in order to not only kill stories, but to twist facts in favour of or against the intended target.
Some journalists demand payment for favourable coverage, with the price determined by which page the article would be placed.
Journalists do a thankless job; they put their lives at risk to get the story, they spend hours investigating and verifying facts.
It is unfortunate that the nature of our politics has created a vampire-like breed journalists who make themselves the story, who fail to verify facts and, at times, write outright lies while hiding behind 'unnamed sources.'
The situation is further compounded by fraternity groups that, instead of tackling these issues, play to the gallery of donors by adding a little salt and pepper, for donors to dig deeper into their pockets.
The default setting of these groupings is to react first, without investigating or clarifying facts.
It would seem journalists are believed to be a special breed that neither lies nor misrepresents issues.
If history has shown us anything, journalists are human first, and there are a plethora of examples where journalists have been used as spies, couriers and many other under-the-table jobs because their profession opens doors without a lot of questions asked.
Coming back to the State House incident, I do believe that a look at how our 'betters' operate in dealing with visitors at the White House would be enlightening and maybe open debate on how visitors should conduct themselves in high security areas.
Information and regulations that govern a tour of the White House are as follows:
– Public tour requests must be submitted through a US citizen's Member of Congress. These self-guided tours are generally available Tuesdays through Saturdays (excluding federal holidays or unless otherwise noted).
– Tours are scheduled on a first-come-first-served basis. Requests can be submitted up to three months in advance and no less than 21 days in advance.
– The White House tour is free of charge, but may be subject to last minute cancellation.
– A foreign citizen has to make an application to tour the White House through his/her embassy in Washington.
At one time, a certain Zimbabwean opposition political leader failed to follow this procedure and ended up taking pictures of the White House from across the perimeter fence. Haungoti tucha tucha kuenda ku White House.
– On the day of the tour, you are mandated to present valid government-issued photo identification, while foreigners have to produce their passports.
Prohibited items include:
– Video cameras, cameras with detachable lenses, tablets, iPads, tripods, monopods and camera sticks
– Bags of any kind (handbags, purses, book bags, backpacks, diaper bags and camera bags)
– Any pointed object, including pocket knives
– Strollers
– Food, liquids, aerosols, tobacco products, personal grooming items (for example makeup and lotion, among others)
– Guns, ammunition, fireworks, electric stun guns, mace, martial arts weapons/devices, toy weapons or knives of any kind
Permitted items include:
– Compact cameras (still photography only, no video recording or streaming, lenses must be less than three inches long)
– Umbrellas without metal tips
– Wallets
– Cellphones (talking or texting is not permitted, still photography is allowed, please silence your phone)
– All items needed for medical purposes will be permitted (for example wheelchairs, electronic scooters, glucose tablets, EpiPens and medication, among others)
If you bring any prohibited items you automatically miss the tour as there are no storage facilities where you can leave the items while conducting the tour. There are also no public restrooms and telephones for tours in the White House.
When it comes to the press, there is what is called the White House press corps, which is a group of journalists, correspondents or members of the media stationed at the White House to cover the president, White House events and news briefings.
Their offices are located in the West Wing. The White House Press Secretary or the deputy holds weekday news briefings in a specific room, the James S. Brady Press Briefing Room.
The room currently seats 49 reporters, and each seat is assigned to specific media organisations. Reporters who do not have an assigned seat may stand.
The journalists who cover the White House and the president have an organisation called the White House Correspondents Association which was founded in 1914.
It is this Association which operates independent of the White House that handles notable issues to do with press coverage of the White House including accreditation, access to the president and the conditions of the press briefing rooms.
The Association has a 'practises and principles' document that governs the conduct of the press and the terms of engagement between the press and the White House as well as the president in various settings.
The US has a plethora of media houses whose politics is just as varied, and yet year-in-year-out they cover the White House and the president in a manner that is reflective of their mandate which is to inform the public, and not to grandstand the seating president no matter how much his politics are at odds with said journalists.
Journalists keep to their allocated rooms and do not venture all around the White House on the basis of being reporters, neither do they accost visitors to the White House outside of the mandated press briefings.
Those who want private interviews follow the normal process of setting up interviews and do not engage in hijackings of White House guests.
If Zimbabwe's journalists want to be taken seriously, it is time they conduct themselves in a more professional manner.