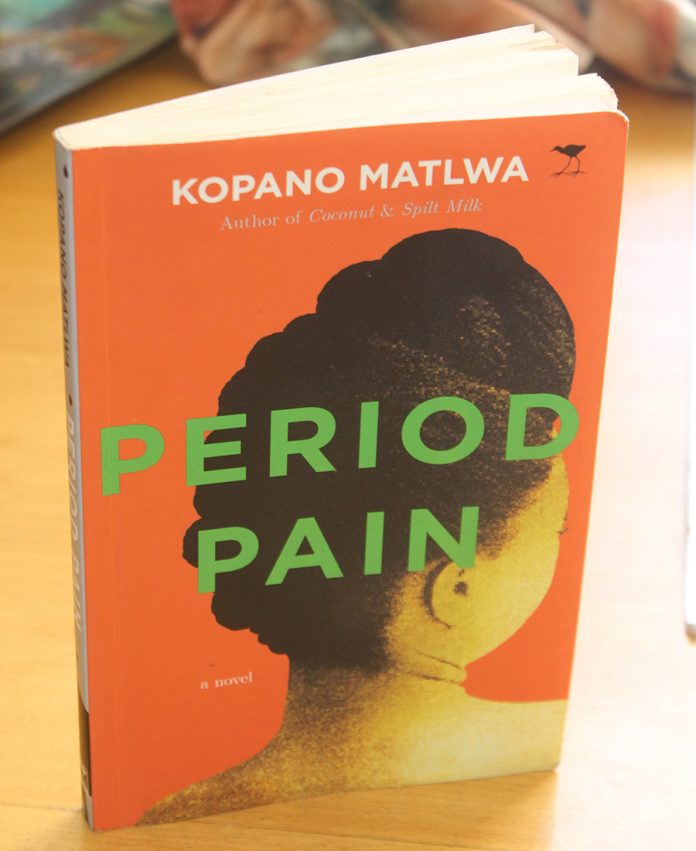 Period Pain
By Kopano Matlwa
Published by Jacana Media (2016)
ISBN 978-1-4314-2437-5
A VARIETY of factors have contributed to the spread of violence in sub-Saharan Africa and it is an open secret that conflict has retarded Africa's development economically and socially.
All evidence point to the fact that sooner, rather than later, the socio-cultural structure of Africa will collapse.
Prior to colonisation, Africans co-existed peacefully, exploiting God-given resources in a sustainable manner that rarely ended in conflict.
Today, hatred of fellow brothers and sisters — Afrophobia — has become common place.
It appears Africa is spending most of its time in conflict resolution, peace talks and debates on how we should resolve our challenges.
The big question is: Will Africa's problems ever end?
Under review this week is SA's Kopano Matlwa's Period Pain, a book that candidly looks at problems currently bedevilling the continent.
Divided in four parts, the book is a summary of SA's glitches that include political turmoil, rape, corruption and Afrophobia, among other issues.
Period Pain focuses on a period that created a wound so deep it not only affected South Africa but the whole of Africa.
It brings to light the issues and dynamics that surrounded the Afrophobic attacks in SA.
Through larger than life characters found in her protagonist Masechaba and her Zimbabwean friend Nyasha, the writer vividly captures this ugly moment.
It is through these two characters, mainly Masechaba, that the reader can see and appreciate what happened in SA.
Though the protagonist is presented as a character suffering from 'period pain', her pain becomes a metaphor for the pain from SA's unrest.
Period Pain tackles issues of racism and white supremacy while it lays bare the hypocrisy of Africans who are on the forefront of hurting fellow brothers and sisters.
"We know we hate ourselves as black people. That we know. But now we are exposing ourselves to white people, too. Now we are exposing this dark stain of self-hatred on our race," writes Matlwa.
In this no-holds-barred discourse, Matlwa reveals how, in the middle of all the hatred and unrest, corruption emerged to peravasive proportions.
The hospital is the setting used to reveal the suffering foreigners who migrated to SA for greener pastures experienced.
Foreign blacks are ill-treated to the extent of being reduced to guinea pigs for intern doctors and nurses.
Period Pain transfers the pain characters are feeling to the mind of the reader.
The author does well in presenting Masechaba as an all-knowing character who sees and later questions everything happening in SA.
In spite of her being a black South African herself, she becomes the individual who does not shy from issues that are dominant in the country.
When Masechaba loses her brother through suicide, she finds solace in the arms of a foreigner, a Zimbabwean who comes across as a voice of reason.
It is through Nyasha that issues of discrimination and hatred of foreigners in SA are revealed.
"I hate the Obstetrics and Gynecology staff. I hate environment, I hate smells. The nursing sisters there are mean and cruel, especially to the foreign patients."
Through the voice of Nyasha, it becomes clear that the independence that we today celebrate on the continent is not enough.
It is not yet uhuru; we are yet to be fully emancipated.
The effects of imperialism and neo-colonialism are still evident.
Western beliefs continue to permeate African structures while the values of hunhu/ubuntu fall.
European languages, belief systems, social, economic and political systems which replaced pre-colonial African ones have turned the indigenous peoples into persons without an identity.
"That's why we South Africans will continue to live under illusion of freedom… unaware of how we remain captive to white supremacy," writes the author.
Colonialism left Africans broken, with some now resorting to using violence to 'correct' the damage caused by the coloniser.
"On call, last night, the paramedics brought in this white lady at about 1:30 am. She was at home with her boyfriend when four men broke into their flat, raped her…ransacked the house," writes Matlwa.
The Afrophobic attacks in SA reflect an angry mob that (mis)directs its anger on the wrong people.
"The xenophobic violence has spread like wildfire. On my call last night, the Emergency Medical Services brought in a foreign national who'd been burnt alive and sustained third degree burns to 80 percent of his body."
The book ends with the birth of Masechaba's child, an indication there is hope yet for the continent; an indication all is not lost.