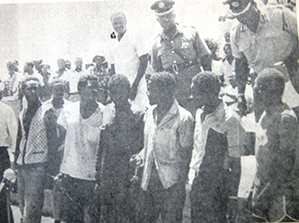 THE recent utterances by one of the Rhodesian residues within the MDC, David Coltart, that President Robert Mugabe would never find peace if he did not apologise for the Gukurahundi disturbances are a fresh attempt by whites to drive a wedge between the Shonas and Ndebeles.
Gukurahundi was a response to politically motivated disturbances that occurred in the Western parts of the country between 1980 and 1987, but that response is replete with misconceptions and myths that have been used to maximum effect by the opposition MDC-T and whites who accuse President Mugabe of committing what they say is 'genocide'.
There is a general misconception that dissident activities were mainly confined to Matabeleland and the Ndebeles and that they left an 'estimated' 20 000 people dead.
In December 2011 The Patriot exclusively published a special supplement containing all the incidents by dissidents from the files of the ZRP.
The information shows that dissident activities extended as far to the east as Mashonaland West's Musengezi, Zvimba and Chegutu.
In that regard, efforts by security forces to deal with the menace could not have been solely targeted at the Ndebeles alone.
If 20 000 perished in the disturbances, as is being claimed, how come there has been no discovery of any mass graves as we have been witnessing across the country and in Mozambique where approximately
30 000 were brutally murdered by the Rhodesian army, in which Coltart was a key member?
Coltart is a former Selous Scout, a Rhodesian military unit that was responsible for massacres during the liberation war.
He belonged to the British South Africa Police Anti-Terrorist Unit, the notorious police who went around killing innocent people trying to coerce them to denounce freedom fighters.
Interestingly, the country's freedom fighters were referred to as 'terrorists' by Rhodesians .
So brutal was Coltart's unit that it could rip open pregnant women's bellies just to instil fear among blacks so they would desist from supporting the liberation war.
"The government must acknowledge what happened, namely that thousands of innocent Zimbabweans were killed unlawfully in cold blood," Coltart told The Daily News on Sunday this week.
"Those responsible for these atrocities should ask for forgiveness from the surviving victims of this sad chapter of our history," he said.
Where does Coltart get the moral authority to say that against the background of his own bloody past?
Bizarrely Coltart wants the issue to be included in the (schools) curriculum while turning a blind eye to the atrocities he and the Rhodies committed during the liberation struggle.
"The history of what happened should be included in the educational curriculum so that future generations learn about what happened and its lessons so that we never repeat these horrors again," he said.
"Laws should be introduced to ensure that some people, who for example still can't get birth certificates, should have their rights respected."
It must not be forgotten that when the Pioneer Column invaded Mashonaland, they claimed they were protecting the Shonas from the Ndebeles.
Matabeleland North Minister of State Cain Mathema in his book Zimbabwe Diverse, But One highlights that we had always been one until the white man came.
The Ndebele factor has been Zimbabwe's biggest weak point.
This is why people like Coltart can use the Gukurahundi to perpetuate divisions between the Shonas and Ndebeles.
Yet an analysis of Gukurahundi shows that Midlands, which had probably the highest number of people affected by the disturbances, has more Shonas.
The same applies to Matabeleland South where Vendas and Kalangas live.
They were also Gukurahundi victims.
Among the strategies proposed by the West at Chatham House in 1999 was to form non-governmental organisations (NGOs) whose brief was to present the Ndebele as a people who have been targeted for victimisation and as a people discriminated against by Government.
This is done to create a psyche in the minds of the Ndebele people that President Mugabe and ZANU PF hate them.
Today, Matabeleland has the highest number of NGOs in the country, with over 300 stationed in that region.
Daily they spin the message that Gukurahundi was designed to eliminate Ndebeles from the face of the earth.
But it is whites, led by Ian Smith and with the active participation of people like Coltart, who in fact wanted to wipe out black people in the country for them to have unfettered control of the land and resources.
If Coltart wants the past to be corrected, he should first apologise for his role in the liberation struggle.
Or perhaps he has developed convenient amnesia?
ZANU-PF National Spokesperson Simon Khaya-Moyo said Coltart could be suffering from memory loss as President Mugabe had spoken about the issue in the past.
"He (President Mugabe) has made his statement very clear that it was a moment of madness. What more does he want him to do? I don't understand what he's speaking about.
"The President doesn't have to talk about it. Doesn't he read English? If so we can provide him with vernacular books, maybe he can understand," said Khaya-Moyo.
History seems to have eluded Coltart who believes it can now be re-written just 36 years after independence.
The Rhodesian atrocities are still fresh in our minds.