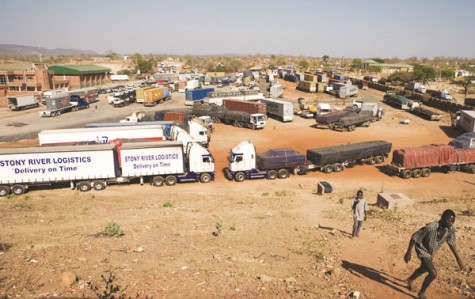 THE recently held 17th Common Market for Eastern and Southern Africa (COMESA) Heads of State Summit in the Democratic Republic of Congo (DRC) was yet another indicator that Africa's quest for control and total ownership of its natural resources is making steady progress.
In the DRC, it was clear that President Robert Mugabe's sermon of economic emancipation through ownership of resources by their rightful owners has found staunch converts.
He repeated this message soon after his arrival on Wednesday night when he said government was looking at maximising revenues in the diamond mining sector by creating a solitary company to mine gems.
President Mugabe told reporters that the idea of establishing a single company was arrived at in light of how other regional countries have conducted their operations and for easy monitoring of the companies.
"We are organising the diamond industry so that we integrate the process of production in that sector like what our neighbours have done," said President Mugabe.
"You don't engage too many producers in diamonds.
"So we are going to chose just one or two companies to work alongside government….and add value."
There was no doubt in DRC that President Mugabe's seemingly lone voice in making beneficiation Africa's clarion call for economic development now has backing vocalists as evidenced by the growing chorus for a closure to the exportation of raw materials.
Africa, heads of states and government in DRC unanimously agreed, needed new impetus to forge ahead with integration, increased co operation and more trade avenues to realise maximum benefit from resources.
On that platform, outgoing COMESA chairman, Ugandan President Yoweri Kaguta Museveni boldly declared without fear or hesitation that his country would not sell itself short as far as natural resources are concerned.
In his handover speech, President Museveni lamented Africa's continued exportation of raw materials saying it was detrimental to the continent's quest for economic growth.
By exporting products in their raw form, President Museveni said, Africa was also exporting jobs in the process further enriching those countries that have exploited the continent for many years.
"The other bottleneck we need to deal with is exporting raw-materials. When we export raw-materials, we donate money to the outside and we also donate jobs," said President Museveni.
"I always use the example of coffee.
"By selling coffee raw, you may get US$1 per kg.
"When it is processed in London, the same kilo earns US$15.
"Therefore, in each kilo, Uganda has been donating to the UK about US$10 for a long time."
Museveni who in recent days has drawn the ire of Western countries by his signing of the anti-gay bill into law in his country, took another dig at the continent's former colonisers for practising what he said was 'modern day slavery'.
Speaking in his trademark combative voice and style, he mocked the West for not realising that Africans were human beings who needed to also enjoy full benefits of their God-given resources.
Uganda has since the discovery of oil in 2006 been entangled in a war of attrition with Western companies who were desperate to export the resource in its crude form if they got licences to mine.
But Museveni said he refused to grant the licence saying the West was being disrespectful by refusing to construct a refinery as part of Uganda's policy to benefit from her resources.
"The export of raw-materials is the modern form of slave-trade in Africa," he said.
"We discovered oil in 2006.
"Up to today we have not dug out that oil because of disagreeing with the oil companies that, initially, did not want to build a refinery.
"We rejected that policy because we told the oil companies, that we had heard of a 'rumour' that there were human beings in the Great Lakes that needed refined petroleum products.
"We should discourage the comprador class that specialises in selling foreign goods here and then also transferring our minerals and agricultural products at very low prices while exporting jobs at the same time by not adding value to our raw-materials."
Incoming COMESA chairman, President Joseph Kabila Kabange said the regional bloc had shown exemplary dynamism through its aggressive promotion of goods and services.
"After 20 years of growth characterised by an exemplary dynamism, COMESA has become a powerful tool for promoting the development of its member states as well as the integration of their economies," President Kabila said.
He praised the organisation as 'the largest free trade area in Africa'.
He said there had been 'remarkable progress' in trade.
"Over the last decade, our trade has increased by 600 percent," said President Kabila.
"These exchanges could grow even more if we consolidate these achievements and complete the ongoing reforms."
During his speech, he also raised the issue of project funding saying member states should fund their projects themselves.
"Today, the majority of funding for our projects comes from external partners," he said.
"This situation can no longer last without jeopardising our independence, our ability to decide, our future and the very existence of our organisation."
The COMESA Authority Summit of Heads of State and Government which closed yesterday was attended by Heads of State of Sudan, Uganda, Malawi, Zimbabwe, Zambia and Djibouti, along with envoys from other countries.