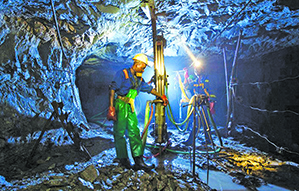 WHEN the much talked about Command Agriculture initiative was launched mid-2016, very few, if any, had hope that the time for resettled farmers had come and that they would deliver in a nation reeling from the effects of Western-sponsored illegal economic sanctions.
Because of the absence of whites who had controlled the land and the country for over a century, many did not think the programme would make an instant impact on an economy that has for long been in the doldrums.
As the nation woke up on Sunday to a screaming headline that there will now be a Command Economy, in The Sunday Mail, there was little doubt Zimbabwe had finally come of age and is now set to assume its place in the global economy.
Command Agriculture is set to exceed expectations, but for the progressive mind it has never been about expectations, but the reality that Zimbabwe is going to make it.
This is why Command Economy is about translating that reality to the people of Zimbabwe who have had to endure a stagnant economy and decline of social services.
Command Agriculture, a three-year programme designed to ensure food security for the country, has registered remarkable results in its first year.
Estimates indicate that production will exceed the targeted two million tonnes of maize.
Command Agriculture will be succeeded by another programme called Super Agriculture to include more crops like soya beans and wheat.
Funding for winter wheat covering over 50 000 hectares has already been secured, while Government is working on a comprehensive transition mechanism from summer to winter cropping.
Anchored on Command Agriculture, the comprehensive programme will see the establishment of driers, mills and silos countrywide.
Under Super Agriculture, areas like the Zambezi Valley, Chiredzi and Tokwe-Mukorsi Basin in Masvingo will be targeted.
Command Economy, on the other hand, is set to complete the final processes of Zimbabwe's economic transformation efforts and make it a global economic competitor.
Despite all that, critics continue to malign the country and its leaders who are constantly 'accused' of 'killing' the economy.
"Government is introducing extensive economic reforms to replicate the massive production framework championed under Command Agriculture so that other key economic sectors like mining, infrastructure, industry and social services are also revitalised," reads The Sunday Mail story in part.
"The successes of President (Robert) Mugabe's Command Agriculture programme have seen Government revising economic growth estimates upwards amid(st) prospects of a bumper harvest.
It is envisaged that the success of Command Agriculture in engineering an instant turnaround in the agriculture sector and rejuvenating related sectors can be duplicated with similar success across the economy.
The Sunday Mail has established that a team of experts from the Office of the President and Cabinet is drawing up a detailed work plan for the extensive economic recovery programme, with Cabinet ministers meeting regularly to make contributions.
It is understood that the initiative involves galvanising the four Zim-Asset clusters – Food Security and Nutrition, Social Services and Poverty Eradication, Infrastructure and Utilities, and Value Addition and Beneficiation — into a command-driven system."
Vice-President Emmerson Mnangagwa told delegates touring Arda Estates in Matabeleland South on Thursday: "Command Agriculture has performed beyond expectations. What we are looking at as Government is to have Command Mining, Command Health, Command Education so that we can revive our economy through these models."
A high-ranking Government official told The Sunday Mail that the Command Economy framework was a 'work in progress'.
A fundamental point that emerges from the proposed Command Economy is the role of the state which has led to the rapid growth of Chinese and Indian economies.
A report by The Huffington Post last year unravels the role of the state in the growth of any economy across the world.
The report says:
"The world's two fastest growing major economies are China and India.
Both countries demonstrate a common pattern of development different from that of the slowly growing West. Rapidly growing state investment plays a significant role in China and India's economic expansion, while private investment is either growing very slowly or declining. In contrast, the slowly growing Western economies rely on private investment with no rapid growth of state investment.
This economic reality is crucial for China's practical economic policy as the country seeks to achieve its goal of a 'moderately prosperous society' by 2020 and a 'high income economy' by World Bank standards shortly thereafter."
Already Government has announced it requires over US$100 million to repair infrastructure damaged recently by rain and floods.
In the mining sector, the system will apply to small-scale miners in gold and chrome.
There are two US$100 million loan facilities from China and South Korea for the Command Mining Programme and these will boost output in chrome and gold mining.
While Command Economy slowly takes shape, ZANU PF continues with its march towards yet another electoral success.
Let those with ears listen!