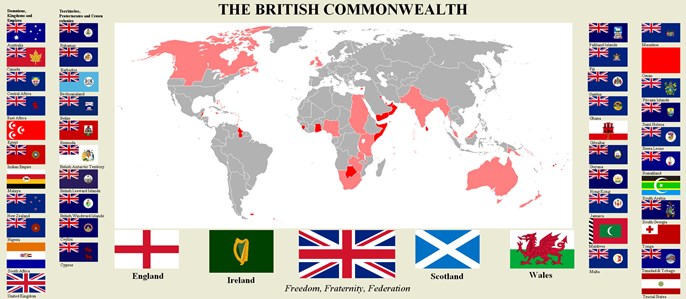 I WATCHED with interest as tens of thousands of excited spectators from all over the world filled the Celtic Park in Glasgow, Scotland, for the opening ceremony of the 2014 Commonwealth Games.
Each spectator was handed a free gift: a small flag, the red, white and blue Britain's Union Jack.
Many saw it as a nice gesture; something to wave during an evening of fun and merriment.
It only took those with insight that is if there were any, to see this was an attempt by Britain to retain its crumbling 'empire'.
Commonwealth of Nations is an association of self-governing countries that recognises the British crown as their ceremonial head of state.
It was formed in 1931, but later acquired its modern shape after 1949 as former British colonies and protectorates started to achieve self-government and varying degrees of independence.
The Commonwealth was developed to maintain British influence in former colonies.
Today it is Britain's emblem of dominion.
The 53-country grouping is united by shared language, legal system and values, but above all by allegiance to the British crown.
It is important to note that out of the 53 members about 23 are still using the Union Jack as their national flag.
However, in the past decade, all has not been well in this 'common' grouping.
Zimbabwe has been a thorn in the flesh.
Since Zimbabwe pulled out of the Commonwealth in December 2003, Britain has lost her grip on the club.
Zimbabwe pulled out of the Commonwealth in protest against its treatment by key members of the club, especially Britain and Australia, after the country had embarked on its revolutionary fast-track Land Reform Programme that has corrected tenure inequalities brought by 90 years of colonialism.
When he pulled Zimbabwe out of the grouping President Robert Mugabe equated the club to the famous English writer George Orwell's novel, Animal Farm, accusing some of the group members of being, 'more equal than others'.
"If the choice were made, one for us to lose our sovereignty and become a member of the Commonwealth or remain with our sovereignty and lose the membership of the Commonwealth, I would say let the Commonwealth go," said President Mugabe then.
A decade later, The Gambia followed suit in its relations with the grouping of former colonies.
On its withdrawal, The Gambia said it will never be a member of any neo-colonial institution and will never be a party to any institution that represents an extension of colonialism.
In a desperate bid to give the Commonwealth some measure of respect and relevance, the British government is once again sweating to have Zimbabwe back in the club.
Despite having pulled out of the club a decade ago, Zimbabwe has come up for debate at every Commonwealth Heads of Government (CHOGM) meeting.
At its CHOGM Perth, Australia meeting in 2011, Heads of Government agreed to look forward to the conditions being created for the return of Zimbabwe to the Commonwealth.
"Zimbabwe has a special place in the history of the modern Commonwealth and, as our Heads of government have said, we hope the conditions can be created for Zimbabwe to return to the Commonwealth family," said Senior Minister of State at the Foreign and Commonwealth Office, Baroness Sayeeda Hussain Warsi.
The club has since the Perth meeting been making frantic efforts to get Zimbabwe back on the group.
It is dangling a carrot to Zimbabwe in the form of aid.
It has been hard at work on what it terms, a 'Special Programme for Zimbabwe' a multi-million-dollar aid package meant for technical assistance in education, health and capacity building.
The Commonwealth director of communications and public affairs, Eduardo del Buey last year said the grouping was finalising a plan to launch a Special Programme for Zimbabwe that will offer technical assistance in education, health and capacity building.
"As a former member country, Zimbabwe and its citizens remain very much in the Commonwealth's thoughts and indeed, since the withdrawal, the secretary-general has consistently engaged with Commonwealth leaders, especially within SADC on the situation in Zimbabwe," said del Buey.
Furthermore in May this year, Commonwealth Games organisers cleared Zimbabwe to participate in the current running Commonwealth Games.
"Zimbabwe is welcome to participate in the Commonwealth games which will be held in Glasgow, Scotland in July," said one of the organisers Janet Harkness.
The country should not be fooled by these frantic efforts as there is no reason for Zimbabwe to rejoin the grouping.
Pundits contend that like Zimbabwe, it is time for African countries to cut the umbilical cord that connects them to their former master.