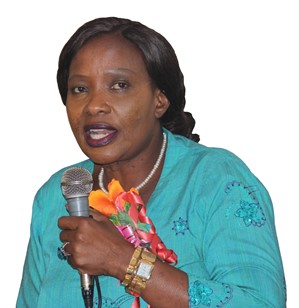 COMMUNITY banks have transformed lives of people in Kwekwe, by providing working capital, particularly to women who lack collateral required by traditional financial institutions.
The banks established by Today's Women Bankers whose projects coordinator is Perseviarence Zhou assists women with funds to kick-start projects in various areas of business.
Established more than a year ago, the community banks operate as a revolving fund whereby members pool their resources and lend to each other at low interest rates.
The banks are managed by members of the communities.
Interest rates vary depending on the period the money is required before repaying.
For instance, a six-month loan attracts 20 percent interest, 10 percent for four months and five percent for two.
The community-banking programme is based on the premise that access to cheaper financial services serves to plug leakages in cash flows for poor families.
In an interview with The Patriot, Today's Women Bankers projects coordinator Mrs Zhou said more than 471 women in the province had benefitted from the programme.
She said since 2013 they had established at least 10 community banks in 10 communities in Kwekwe.
"Since the community banks initiative started in Kwekwe, we now have more than US$291 936 circulating within the 10 established banks," she said.
"The establishment of banks has created employment to most women in the area who are now engaged in income generating projects.
"This has helped most women to look after their families and alleviate poverty in the societies."
Beneficiaries of the initiative have managed to establish various bankable projects such as piggery, poultry, bakery, gardening, goat breeding and cross border trading, among others.
Members also share grocery hampers at the end of year to feed their families.
Through the banks, some of the members are now proud owners of residential stands and other valuable property.
Mrs Zhou said most of the established projects were operating profitably, a situation that will ensure sustainability of the operations of the banks.
"More than 70 percent of our members who have borrowed money have managed to pay back their loans with their businesses remaining viable," she said.
"Through the banks, we have managed to establish housing schemes with more than 250 of our members benefitting.
"Thus the initiative will go a long way in implementing the Zimbabwe Agenda for Sustainable Socio Economic Transformation (Zim-ASSET) in Kwekwe through job creation, boosting food security and providing houses."
The community banks have incorporated other groups of the community such as civil servants.
Among the established banks are Kwekwe Business Women's Bank, Civil Servants Bank, Peri-Urban Bank, Kwekwe Musika Durawall Bank, Sherwood Bank and Kwekwe Women's Bank.
Speaking at a dinner to celebrate the achievements of the banks, Zimbabwe Heritage Trust Chief Executive Officer, Pritchard Zhou, who was the guest of honour, said there was need to support women initiatives in the country as they play a pivotal role in development.
"Women play a pivotal role in raising children, thus their success will translate into the development of families," he said.
"Hence, men should support women programmes so that they can also participate in looking after families through income generating projects."
Cde Zhou hailed the establishment of community banks saying they would bridge a capital gap for women who wanted to get into business.
ZANU PF Central Committee member and wife to Vice-President Emerson Mnangagwa, Auxillia Mnangagwa, was instrumental in the establishment of women's banks in the Midlands areas of Silobela, Zhombe, Kwekwe and Chirumanzu-Zibagwe, among others.
Speaking at the same occasion, Cde Auxillia Mnangagwa, who is also matron of the Kwekwe community banks, said the main purpose of the banks was to unite women in solving problems and achieve economic goals in the society.
"The idea of the banks is to increase interaction between women in sharing ideas on poverty alleviation and income generating projects," she said.
"This will also assist women to increase their participation in rebuilding the country's economy."
Beneficiaries who are into vegetable production hailed the government for banning the importation of certain fresh produce from neighbouring countries.