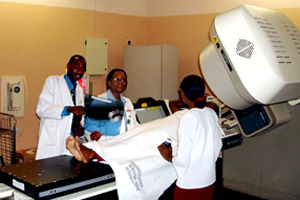 RADIOTHERAPY, dental check-ups, CT scans and X-rays are processes that expose healthcare practitioners to radiation which in the long run may affect them.
While these diagnosis and treatment save lives of many patients, health care providers need to be protected from 'too much' radiation exposure.
The concern comes as the use of radiation has increased because cancers are on the increase in the country.
According to the World Health Organisation (WHO), the number of people diagnosed with cancer in 2013 leaped to more than 14 million, a marked rise from 12, 7 million cases in 2008.  
The figure is expected to reach 19 million by 2025 and 24 million by 2035.
In Zimbabwe, radiotherapy and chemotherapy is considered the most appropriate treatment modality for cancer patients.
Radiotherapy involves the use of high energy rays to destroy cancerous cells.
Radiation can also be exposed from industrial uses of nuclear techniques, diamond mining activities, normal discharges from coal power stations, airport and boarder security check equipment, thus monitoring and controlling the effects of radiation is important.
In Zimbabwe the individual dose limit for radiation workers is 20mSv per year and for members of the general public is 1 mSv per year.
The radiation dose can be received by the human body due to both external irradiation and the ingestion or inhalation of radioactive materials.
It has long been recognised that large doses of ionising radiation can damage human tissues thus the need to monitor and control occupational radiation.
However, Zimbabwe has made great strides in occupational radiation safety as it recently acquired a state-of-art radiation monitoring machine.
The monitoring machine known as the 'Optically Stimulated Luminescence Dosimetry Reader' has the capacity to test 3 000 individuals.
The dosimetry reader measures and assesses the accumulation of ionising radiation dose in the tissues of health care, nuclear, research and other workers.
Speaking at the handover ceremony of a radiation monitor to the Radiation Protection Authority of Zimbabwe (RPAZ) Deputy Chief Secretary in the Office of the President and Cabinet for Implementation, Monitoring and Evaluation, Justin Mupamhanga said the government is committed to developing and improving radiation safety in the country.
"The monitoring of workers will go a long way in building confidence in the work environment, thereby enabling them to produce to full capacity," said Mupamhanga.
"All professionals who are regularly exposed to radiation in the workplace such as hospitals, mining and industry must be tested regularly to ensure that they are not exposed to too much radiation."
Radiation Protection Authority of Zimbabwe, chief executive officer, Reward Severa, said the new machine will go a long way in monitoring and assessing occupation as demand for radiation monitoring increases.
"Demand for radiation monitoring in the country has increased because of greater awareness of the dangers of radiation and more industrial mining activities," said Severa.
"We had one reader which monitored about 1 500 workers, now we are able to monitor 4 500 workers.
"This is still inadequate to meet the nation's requirements as about 10 000 people in the country across various professions require radiation monitoring to ensure that they are not affected by its harmful effects."
Severa said the authority will use the high risk approach to monitoring.
He said people in occupational contact with radioactive substances or who may be exposed to radiation routinely carry personal dosimeters.
"Since we are not able to monitor all 10 000 workers, we will target radiotherapy, diagnostics and diamond miners first," he said.
"These are specifically designed to record and indicate the dose received.
"The new dosimeters are exposed to a light source to obtain the amount of radiation absorbed by the dosimeter and results can be read up to a year following exposure."