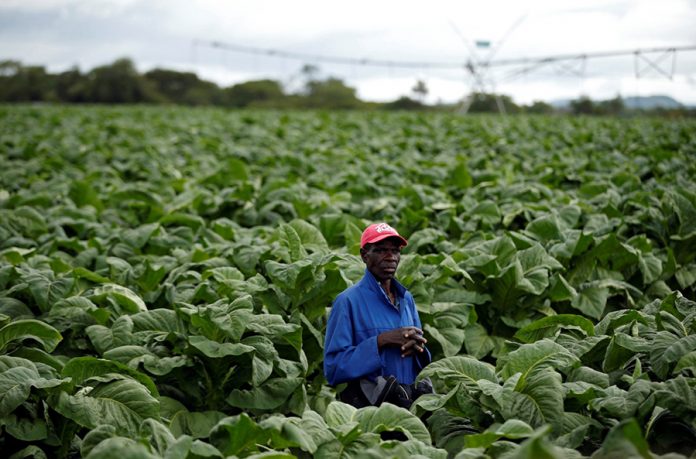 WITH the summer cropping season about to end and the winter cropping season nigh, farmers have begun to strategise on an improved 2018/2019 season.
Stakeholders continue to make efforts to revamp the agriculture sector.
Inadequate funds, however, have been a major hindrance to maximum production, with smallholder farmers being the most affected as they do not have the requirements to access loans.
Lack of cheaper finance to procure inputs, the prevailing liquidity constraints and ever-changing rainfall patterns are drawing back crop production.
But efforts continue to be made to maximise production in order to meet annual requirements and increase production of cash crops.
As the country steps up efforts to revive the agriculture sector, the contract farming system has come under the spotlight.
With limited funds, some farmers growing tobacco, wheat, cotton, maize seed and soya bean have been producing crops under the contract farming system.
Contract farming as defined by Wikipedia is '…agricultural production carried out according to an agreement between a buyer and farmers, which establishes conditions for the production and marketing of a farm product or products.'
Typically, the farmer agrees to provide established quantities of a specific agricultural product, meeting the quality standards and delivery schedule set by the purchaser.
In turn, the buyer commits to purchase the product, often at a pre-determined price.
With famers preparing for the summer-cropping season, calls have been made for contracting firms to draw mutually beneficial contracts.
Past seasons have witnessed farmers complaining they were not being given a fair deal as they were being ripped off by contracting firms.
Last year, Government initiated Command Agriculture, a contract farming scheme for farmers growing maize and wheat.
The programme has been a resounding success.
Plans are to extend it to other crops such as tobacco.
Zimbabwe Commercial Farmers Union president Wonder Chabikwa said not all contracts were benefitting the farmer.
Farmers, he said, had to carefully consider the contracts before committing pen to paper.
"Some of these firms are taking advantage of the fact that farmers do not have the required resources to finance activities and they know we will take the contracts even when we do not benefit from them," Chabikwa said.
"At times, we are contracted to a certain value of crop and we are given inputs whose prices are not disclosed but are disclosed when the delivery of outputs is done and these would be inflated."
Chabikwa said some contracts sounded lucrative, but were bent on destroying the farmer.
"Some have failed to develop as what they get out of these firms is not adequate for them to be able to support their activities the following season; instead they go back to those firms for assistance and forever remain in servitude," said Chabikwa.
"Government should create and avail more funds to assist farmers. However, it is important that resources are allocated to performing farmers."
Economic analyst Elliot Lumbe said it was imperative that any form of assistance or contract schemes be closely monitored.
Farmers should also be accountable when they are contracted, he said.
"Farmers receiving assistance – be it inputs, machinery or funds – should be monitored to ensure they channel the resources to the intended use as we cannot have a situation whereby people get resources every year and do nothing with them," said Lumbe.
"There are also other organisations duping farmers by promising them assistance, yet they do not deliver."
In 2010, the Government made it mandatory that agricultural contracting firms submit their contract proposals for perusal in order to protect farmers.
The move was also aimed at making it possible for Government to monitor contract farming.
"The proposals should give full disclosure of who they are, what they intend to do and which farmers they want to enter into a partnership with," said the Ministry of Agriculture, Mechanisation and Irrigation Development in a statement.
Contractors, on the other hand, blame farmers for breaching contracts through side-marketing.
Side-marketing is when farmers decide to sell their produce outside the contractual agreement after being supplied with inputs to grow the crop.
Firms have urged farmer organisations to educate their members on the importance of honouring contracts to ensure contractors continue supporting their activities.
If the agriculture sector is to be revived, more has to be done to ensure that both parties benefit from the contract.
Only through this way will agriculture remain the backbone of the country's economy.