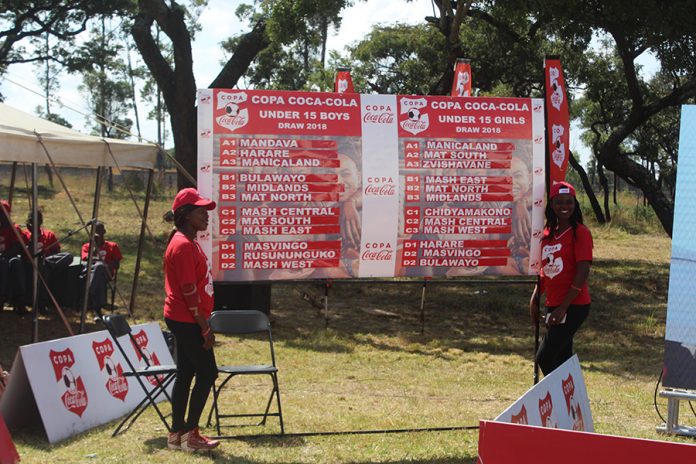 Sports Reporter
COPA COCA-COLA continues to develop the home of national champions of the schools soccer tournament each year.
Rusununguko High School, the Under-15 boys champions, are the latest beneficiaries of the COPA Coca-Cola legacy project.
Four 5 000-litre tanks were installed at the school to improve the school's water supply.
All pupils at the school will benefit from the contribution by the Class of 2017.
The schools have something to show for winning the national finals and the legacy to the school by 10 brave players will forever be cherished.
Unlike other schools at the national finals in Bindura, Rusununguko had 10 players out of 18 allowed to play.
The rest were vetted out.
The 10-man team went on to beat Chegutu's Pfupajena High School on penalties.
That was after Rusununguko came from behind to force a one-all draw at Trojan Stadium.
Several schools have benefitted from the legacy project.
Rujeko High School of Glendale had changing rooms built at their school, courtesy of the legacy project.
The school had won the 2016 COPA Coca-Cola finals after beating Chinhoyi High on penalties at Pelandaba Stadium in Gwanda.
Five-time Under-15 girls winners Chidyamakono of Chivi have numerous projects undertaken by COPA Coca-Cola legacy projects.
They have seen the construction of an 'A'-Level block, borehole and storage tanks, among other things.
The winning girls from 2013 to 2017 have seen the rural school benefitting on five occasions from different projects.
Dewure High School in Buhera, the 2015 Under-15 boys champions, have seen the construction of a guard room at the school's entrance and an ablution facility.
COPA Coca-Cola turns 30 this year and has over the years spread to various countries across the globe.
In Zimbabwe alone, more than 2 000 secondary schools play in the prestigious soccer tournament.
Each year, new winners are crowned and new players emerge out of the tournament.
Many premier soccer league players can trace their roots to the schools tournament where they shone.
Schools and players continue to enjoy benefits from COPA Coca-Cola and this year, the prize money for both boys and girls has been equaled.
This week, zonal games are expected to start at various centres throughout the country while provincials have been slated for June 22.
The national finals have been scheduled for July 12-14.
Groups
Boys
Group A: Mandava, Harare, Manicaland.
Group B: Bulawayo, Midlands, Matabeleland North.
Group C: Mashonaland Central, Matabeleland South, Mashonaland East.
Group D: Masvingo, Rusununguko, Mashonaland West.
Girls
Group A: Manicaland, Matabeleland South, Zvishavane.
Group B: Mashonaland East, Matabeleland North, Midlands.
Group C: Chidyamakono, Mashonaland Central, Mashonaland West.