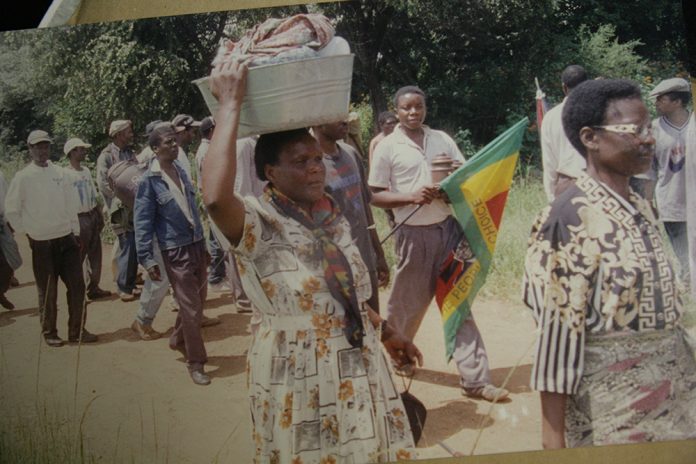 FROM 1998 to 2000, the land issue featured prominently in Zimbabwe.
Many people were in favour of a more equal allocation; though government had initially opposed farm occupations to the extent of evicting illegal land occupiers.
But, as pressure mounted on the Government, it was influenced to speed up land acquisition as it wanted to deliver to the people affected by inflation, unemployment and the fall in the value of the Zimbabwe dollar, mainly at the introduction of Economic Structural Adjustment Programme (ESAP).
Considerable pressure had been exerted on the Government by landless Zimbabweans and war veterans, who, at the time of demobilisation, had received a severance sum of about Z$400, from the Zimbabwean military and a two-year allowance of Z$185 per month.
By 1985, half the demobilised former guerillas were penurious, having been unable to secure long-term employment or receive job training due to rising unemployment.
In 1989, ex-combatants from both ZANLA and ZIPRA were brought together and founded the Zimbabwe Liberation War Veterans' Association (ZLWVA) with more than 30 000 members; whereas 35 000 guerillas had been recorded demobilised at the end of the war in 1979.
Following its first congress in 1992, the association resolved to secure the welfare of all its veterans and lobbied the Government concerning their pensions and other benefits as well as land ownership on behalf of its members.
As their funds dissipated in the wake of the growing financial crisis in the early 1990s, those war veterans excluded from the Zimbabwe National Army at independence believed their situation was unjustified and demanded military pensions for their years of service as well as land, since they viewed themselves as the principal beneficiaries of the land.
To speed up the implementation of land reform in the face of the increasing challenges and criticism, former President Robert Mugabe revived the call for sweeping land redistribution to fulfill the promises made at independence.
This gave official consent to a new wave of land occupations spearheaded by war veterans as indigenous Zimbabweans sought land and better economic opportunities for themselves.
They then resorted to vigorous protests and land occupations.
In June 1998, villagers in Svosve communal areas occupied Igava Farm, vowing to stay on the land until the Government made a written undertaking to resettle them.
To hasten the redistribution of land, the Government of Zimbabwe introduced the Fast Track Land Reform Programme (FTLRP).
It was formally announced in July 2000 and finally launched in April 2001; the aim was to acquire land, mainly from white commercial farmers, for redistribution to poor and middle-income landless Zimbabweans.
Under the banner 'Land to the people' and 'Land is the economy, The economy is land', compulsory land acquisition became justified as pressure was brought to bear on the Government by various land claimants, as the need to address landlessness, homelessness and poverty in communal areas increased.
Additional widespread occupations of white commercial farms soon followed in Nyamandhlovu in Matabeleland, Nyamajura in Manicaland, Nemamwa in Masvingo as well as other areas.
Most villagers allude to overcrowding and poor soils as the main factors that compelled them to unlawfully occupy white farms that adjoined their villages.
Besides the general social pressure for land reform, the accelerated land squatting that was taking place was one of the key determinants for the FTLRP.
Before the new millennium (2000), land squatting had been generally viewed as problems that reflected poverty due to lack of employment opportunities (owing to ESAP); shortage of housing, especially in urban areas; a weak social security system (retired and retrenched farmworkers did not have a communal home to return to); and a shortage of land, for example in communal areas that were invaded by those without access to land (particularly grazing land not physically occupied by people).
At this time, the land occupations were generally seen as a social nuisance by most landowners who hoped they were a passing phase and they would soon return to living their normal lives.
As some politicians warned that action would be taken against the squatters by the authorities, the squatters built up their political power base and squatting became a game oscillating between squatters and officials.
By November 1998, most land occupiers (squatters) had been forcibly removed by the Government, indicating that private property law, in this case large-scale commercial farms, was inviolable.
In some cases, after promises were given that the land acquisition issues would be addressed in the new Constitution, some land squatters had moved voluntarily.
During the constitutional review process in 1999, the Government inserted a clause in the Constitution, making Britain liable for compensation for land, thereby freeing the Government to legally appropriate the required land.
In the early years of FTLRP, large-scale commercial farms were agricultural land that usually averaged 2 200ha, held by or under the authority of a title deed, either by a private individual or by an institution.
In the latter case, the farm could be private land held by an individual under a title deed, or held by the state, either directly or through a state entity, under a title deed, in which case it is Freehold State Land.
Before FTLRP, there were approximately 8 000 commercial farms, with 4 500 owners; some farms were held under multiple ownership arrangements. 6 250 of these farms were acquired.
The rejection, in a referendum, of the Government-sponsored Constitution, convinced the Government to acquiesce to the war veterans' farm occupation programme.
The issue of land squatting suddenly changed as squatters received political support from the President.
This support provided impetus to the land occupations and they began to increase throughout the country.
In the face of rising economic problems as well as the emergence of an opposition party, and aware that the Government was vulnerable, war veterans and peasants, mostly from communal areas, begun to accelerate land occupations that took a far-reaching political turn after 2000.
A key figure in leading the land invasions of the mid-1999/2000 was Chenjerai Hitler Hunzvi, who was appointed chairman of ZNLWVA in 1997.
The Land Reform Programme was not simply about land, but also about people; especially the farmers and communities in which they lived, originated from and/or settled in.
It reawakened their memories of the past as it radically altered their lives and livelihoods as the programme was speedily implemented to allow for the transformative social policy of redistribution, production, reproduction, protection and social cohesion to take place.
The implementation of FTLRP has dominated Zimbabwe's socio-economic and political landscape since 2000 and is now permanently inscribed on Zimbabwe's socio-economic and political annals of Zimbabwe's history.
Dr Michelina Rudo Andreucci is a Zimbabwean-Italian researcher, industrial design consultant, lecturer and specialist hospitality interior decorator. She is a published author in her field. For comments e-mail: linamanucci@gmail.com