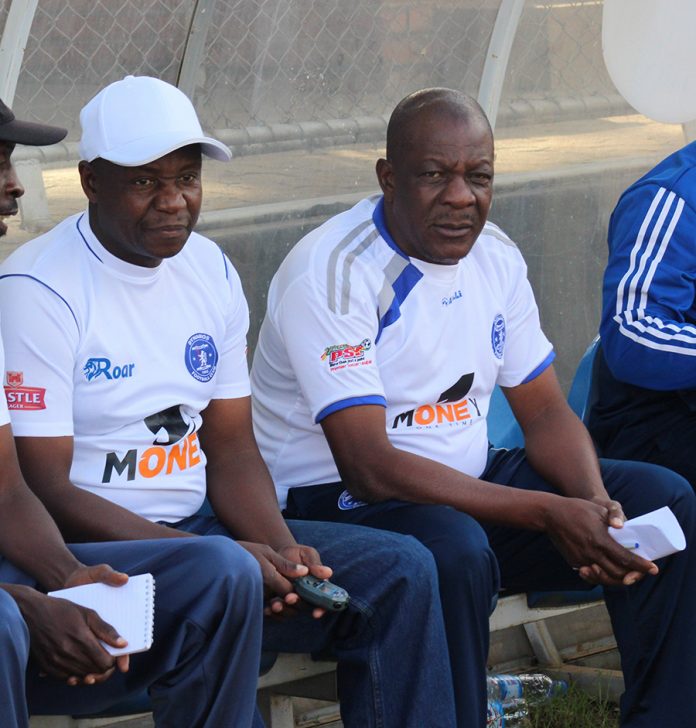 DYNAMOS could have made a cosmetic solution to their problems when they relieved Lloyd Mutasa of his duties earlier this month.
His assistant Biggie Zuze was appointed head coach with Richard Chihoro as team manager.
Zuze made a good start on his first assignment, dismissing Bulawayo Chiefs 1-0 at Barbourfields Stadium in Bulawayo.
With a good start to his coaching journey at DeMbare, pundits expected Zuze's lads to put up a good show on Sunday.
Rather, there were learning lessons for the team who barely threatened FC Platinum.
The Glamour Boys (Dynamos) conceded their sixth loss of the season.
The match is worth writing about as the club's fortunes are expected to improve, basing on the same players Mutasa failed with.
The team's executive may need to revise their targets for the season after Sunday's match which exposed Dynamos' weaknesses. Mutasa's cries were failure to maintain some of the players who came second last season.
The team's best player and the club's top goal scorer, Tichaona Chipunza and Christian Epoupa, respectively, left the club and a void yet to be filled.
Raphael Manuvire seems to be struggling with his game at DeMbare while the strikers, Kuda Kumwala and Quality Kangadze, are not consistent.
FC Platinum have turned the tables against Dynamos as they brag winning more matches against the Harare giants.
It was Zuze's real test for what to expect from Dynamos this season.
Unless something special happens, a top four finish might be a dream this season.
Dynamos need another playmaker.
Denver Mukamba is on loan to CAPS United while Manuvire, Mukamba's direct replacement, has not made an impact as anticipated.
In all departments, FC Platinum dominated.
They would make 25 passes with DeMbare chasing after shadows.
The composure the team had with the ball was a marvel to watch — even Dynamos faithfuls admired.
The brace by reigning soccer star Rodwell Chinyengetere condemned Dynamos on Sunday afternoon to silence the Vietnam Bay which houses DeMbare fans.
The Harare giants have lost to all the big clubs Chicken Inn, Highlanders, Ngezi Platinum, CAPS United and FC Platinum now.
Harare City have also collected maximum points from Dynamos this season.
Since the Glamour Boys have played all the big clubs for the first half of the season, they may start collecting maximum points against the smaller teams.
This Sunday, Herentals FC face Dynamos at Rufaro Stadium in a match Zuze's lads are expected to win at all costs.
Herentals pose little danger to Dynamos as the big club may capitalise on the new boys' inexperience in the league.
Log leaders Ngezi Platinum host Harare City in a potential thriller at Baobab Stadium in Mhondoro-Ngezi tomorrow.
Harare City's form should send shivers down spines of Ngezi Platinum players.
With an impeccable defence record, Harare City might find the going tough at Baobab. So far, the platinum miners have conceded three goals.
Their goal scoring prowess should worry Mark Harrison, Harare City coach.
The platinum miners have scored more than once in most matches.
Mutare City Rovers return to Vengere Stadium in Rusape to host Triangle as the former ZIFA Eastern Region Division One sides meet in the top flight this Sunday.
Triangle are making a statement this season and are aiming higher than last season. Taurai Mangwiro's side have been bad travellers as they only won two away matches.
All eyes will be on Luveve Stadium where Chicken and FC Platinum clash in a potential thriller in Bulawayo while across town, Highlanders welcome unpredictable Chapungu at BF.
Matches between Chicken Inn and FC Platinum have generated interest as two well respected coaches in Zimbabwean football clash.
Joey Antipas and Norman Mapeza have earned respect for their works.
Both gaffers have two premiership titles to their credit. Antipas won with Motor Action and his current club while Mapeza has won with Monomotapa and are the defending champions.
The two clubs have met 14 times.
Most of the matches ended in stalemates; eight matches were draws, while FC Platinum have won four times.
Chicken Inn have won twice. FC Platinum are the favourites to win the match, if statistics are anything to go by.
Yadah host CAPS United at the National Sports Stadium on Sunday while ZPC Kariba entertain Bulawayo City at Nyamhunga Stadium in Kariba.
Nichrut will be at Ascot where they clash with Black Rhinos while Shabanie Mine play Bulawayo Chiefs at Maglas to conclude Week 14 action in the Castle Lager Premeir Soccer League.
Fixtures
Saturday
Ngezi Platinum Stars FC vs Harare City FC – Baobab Stadium.
Sunday
Mutare City Rovers FC vs Triangle United FC – Vengere Stadium.
Dynamos FC vs Herentals FC – Rufaro Stadium.
Nichrut FC vs Black Rhinos FC – Ascot Stadium.
Shabanie Mine FC vs Bulawayo Chiefs FC – Maglas Stadium.
Highlanders FC vs Chapungu FC – Barbourfields Stadium.
ZPC Kariba FC vs Bulawayo City FC – Nyamhunga Stadium.
Yadah FC vs CAPS United FC – National Sports Stadium.
Chicken Inn FC vs FC Platinum – Luveve Stadium.