AS the country readies for the 2019 tobacco marketing season commencing in the next few weeks, there are high expectations of record-breaking volumes.
Traditionally, the marketing season starts in March.
A bumper harvest is expected this selling season with more growers registered to produce the golden leaf.
More than 160 000 growers showed interest in growing the country's biggest foreign currency earner, a 46 percent increase from last year's growers.
The 46 percent translates to 41 021 new growers.
About 252,2 million kg were produced last season; an all-time high so far in the history of the golden leaf.
The country continues to earn millions of dollars in hard currency from golden leaf.
Last season, tobacco earned Zimbabwe close to US$1 billion.
Indications are that with the 46 percent growth, the 252 million kg mark could be surpassed this selling season.
There might be a significant growth in output this season and more foreign currency earnings for the country.
But, as the country earns millions of dollars, there is a lot farmers do to get the golden leaf.
The forests supplying firewood are fast depleting.
Banned chemicals are used in the production of the golden leaf, poisoning the soil.
Negative effects on health by chemical users are being noted.
The bulk of farmers use firewood to cure tobacco sourced from the fast dwindling forests in the country.
Banned chemicals like methamidophos, among others, are still in use in the production of the golden leaf.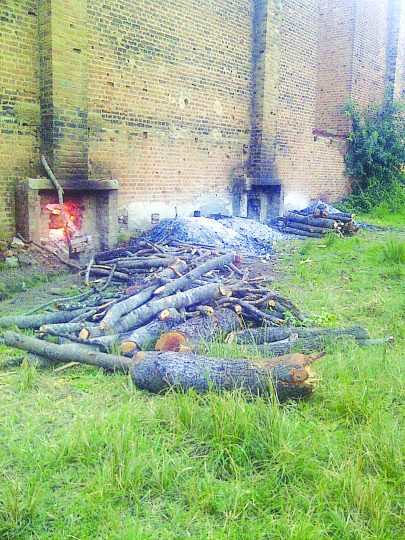 The success in tobacco production may end up being a pyrrhic victory for Zimbabwe if measures are not taken to stem the great loss to the environment.
Methamidophos, also known as tamaron, is traded freely in some outlets around the country and its use in tobacco growing is going unabated.
Most purple label chemicals have a high residual effect and may affect the whole food chain.
The bulk of Zimbabwe's tobacco is Virginia, which is flue-cured.
Barley tobacco, which is air-cured, is grown in small quantities.
The millions of kg of tobacco produced yearly translates to hundreds of trees being felled to cure the golden leaf.
According to the Forestry Commission, 20 percent of the country's 330 000 hectares of natural forests are lost annually to tobacco curing.
Coal could be an alternative for curing tobacco as it produces three times more heat than firewood, but its price of US$60 per tonne is prohibitive for many farmers.
Coal, locally produced from Hwange, has several overhead costs that farmers are not prepared to pay while there are several adjustments that need to be done to the conventional barns.
Furnaces for coal will need a blower to supply air into the furnace while inside the barn a fan is needed to help circulate the heat.
Apart from that, a thermostat will be needed to regulate the temperature.
The system may need electricity which is not readily available. Where available, the farmers might not have enough funds to make the conversions.
Transporting coal from Hwange to Harare, which is about 800km away, costs at least US$600 for 30 tonnes by road.
As a result, firewood is the best available resource which only needs an axe or a chainsaw and it can be transported easily to the barn using ox-drawn carts.
Terrence Nhawu of Buckstone Farm said he lacked the funds and knowledge to use coal for curing.
"Coal is very expensive, especially getting it from Hwange, and I do not know how to use it for curing as I heard it needs electricity. Here at the farm, there is a outstanding bill for electricity so it's a non-starter," said Nhawu, an A2 farmer.
"We had a huge eucalyptus plantation but it has been used up for curing tobacco in the last 10 or so years. We now rely on musasa, mupfuti and mupani trees around this farm, but the forests are quickly clearing," he added.
Conventional barns need between seven to 10 cords of firewood for the whole curing cycle, depending on the harvest.
A cord of firewood is a stack with a length of 1,22m by a width of 1,23m and a height of 2,44m.
A 20 to 30-year-old tree, indigenous species, may produce up to three cords of firewood.
For one curing cycle, three to five trees may be used for the prime reaps, the first bottom leaves, which are typically not very thick hence do not take long to cure.
The later reaps of tobacco will take longer as the leaves will be bigger and stronger, hence consume more firewood.
Thus, with about 96 000 communal farmers getting into the lucrative tobacco production, the damage to the forests will be immense.
Of the 160 000 registered tobacco farmers, 55 573 are commercial farmers under A1 farming model. However, not every A1 farmer is using coal, many are using firewood for fuel.
The thousands of trees that are being felled each year may not tally with afforestation efforts being taken by Sustainable Afforestation Association (SAA), among other organisations.
SAA is a non-profit organisation founded in 2013 and funded by concerned tobacco merchants who recognised that earlier efforts to reverse deforestation were not effective enough.
One of the objectives of the association is to provide a sustainable source of timber for use in the tobacco sector.
According to SAA, a total of 10 800 hectares of land was planted with eucalyptus in the 2016/17 season.
In the past, for every tobacco seed purchase, farmers were given eucalyptus seedling for free to plant.
However, most of them did not take heed of the call to have woodlots.
It appears for some time to come, curing of tobacco will be hinged on firewood and the more the farmers, the more the damage on the environment.
With each kg of tobacco produced, the environment is suffering in Zimbabwe.
Experts opine that more efforts must be put towards creating woodlots and in the short-term ensuring that the vast resources of coal are availed to producers at a reasonable price, especially by bringing the rail system into the production matrix.