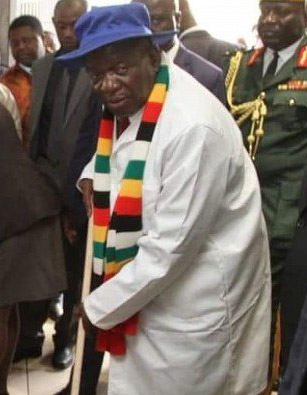 By Eunice Masunungure
REPEATED calls on the clean-up campaigns by the new dispensation have helped in conscientising individuals and organisations on the importance of cleaning up in Zimbabwe.
President Emmerson Mnangagwa launched the national clean-up campaign under the theme 'Zero Tolerance to Litter – My Environment' on December 5 2018.
He emphasised that the clean-up campaign ought to be carried out between 8am and 10am every first Friday of the month.
The nation of Zimbabwe was facing a challenge in waste management.
Since that time, cleaning-up has been carried out as specified in different places in Zimbabwe, with the President himself taking a lead in specific places.
The consistence paid to this clean-up implementation since the time of the launch and the implication of such ought to be diarised and appreciated.
January 4 2019 saw the President joining staff members from State House in the inaugural clean-up day, cleaning up streets around Five Avenue Shops in Harare.
Together with his team, they cleaned from Chancellor Street, went down to Borrowdale Road and Herbert Chitepo Avenue in the capital.
A very important note was captioned by the President on his Facebook page:
"This morning I joined other State House staff members in the inaugural national clean-up day.
This important initiative will take place on the first Friday of each month, and I encourage everyone to join us next time."
In February, the Parliament of Zimbabwe staff cleaned streets adjacent to its building, namely Nelson Mandela and Kwame Nkrumah Avenue, while President Mnangagwa took part at Parirenyatwa Hospital clean-up exercise.
In this event, President Mnangagwa alluded to how cleanness and creating a healthy Zimbabwe work hand-in-glove to make a productive Zimbabwe.
In March, the President was at Lake Chivero in Harare for the Africa Environment Day, Wangari Maathai Day, World Wildlife Day and clean-up campaign.
He reiterated that keeping the environment clean helps sustain it.
Said President Mnangagwa: "In view of this undesirable ecological trend, we must now double our efforts to protect and rehabilitate the environment.
To this end, my Government is running a national agro-forestry programme, which promotes the extensive planting of trees.
This is envisaged to have a positive impact on the environment and associated challenges."
Another aspect that the President underscored is that industrialists and other stakeholders must desist from discharging raw effluent and other pollutants into the main water bodies.
In April, the President was scheduled to conduct a clean-up campaign in Victoria Falls but instead sent Vice-President Kembo Mohadi to represent him while he joined Chimanimani villagers in a community project to construct a damaged road in Ngangu Township.
In May, President Mnangagwa led the national clean-up campaign in Zengeza 1, Chitungwiza, in an effort to ensure that the country has sustainable environment management and waste disposal systems.
Southlea Park was the June stop for the President.
The President said it is pleasing to note that more and more participants are coming on board to clean the environment.
This July, President Mnangagwa took part in the monthly clean-up campaign at Domboshava Showgrounds.
During this session, the President said: "This phase is meant to make sure that we are always smart, be it in our environment or as individuals.
Wherever we come from, be it urban areas, business centres, rural areas (or) farms, as long as it is in Zimbabwe and you are a Zimbabwean but a resident here, we should all agree that the areas where we stay and homes we reside in must be clean."
Indeed cleaning-up is a matter of discipline and consistency.
It involves removing litter from public areas such as streets, parks, waterways and removing illegal waste dumps heaped at streets corners and in sanitary lanes.
It also includes conducting education and awareness programmes on waste management, collection of recyclable material that can be sold to local recyclers as well as planting trees.
United Nations resident co-ordinator Bishow Parajuli praised President Mnangagwa for the clean-up campaign:
"I must commend His Excellency President Mnangagwa's insightful initiative of clean-up campaign every first Friday of the month.
This shows leading by example to inculcate a mind-set shift for clean environment, which in turn will prevent water born-diseases, boost health, reduce cost and promote tourism."
According to the Environmental Management Agency (EMA), the objectives of the clean-up campaign are to ensure the environment is safe, clean and healthy, ensure environmental sustainability, promote environmental awareness, restore community pride, promote local trade and tourism, restore wildlife habitats, engage communities in long-term environmental initiatives and to eradicate diseases, such as cholera and typhoid, which thrive in dirty environments.
Stakeholders are also expected to adopt waste management systems as well as collect and dispose of solid refuse.
In Zimbabwe, Section 4 (1) of the Environmental Management Act (Cap 20:27) of 2002 as well as Section 73 of the Constitution of Zimbabwe (Amendment 20) of 2013 state the following:
"Every citizen has a right to; a clean environment that is not harmful to health; and protect the environment for the benefit of present and future generations and to participate in the implementation of the promulgation of reasonable legislative policy and other measures that prevent pollution and environmental degradation."
In an interview with The Patriot, Violet Marufu, who sells fruits in the city centre, said the disappearance of rubbish heaps from the city lanes and street corners is a great relief.
"The city is fast becoming the sunshine city it should be," she said.
Another member of the populace, Shamiso Mutizwa, professed ignorance about the national clean-up campaign.
"I thought the council is working extra hard these days, but it turns out the President is doing very well in encouraging the nation to clean up," said Mutizwa.
"There is need for clean-up awareness campaigns in all areas because some people are still not shy to dispose of litter in undesignated places."
National clean-up campaigns define the agenda for maintaining clean environments and it is everyone's responsibility.
'Let's do it! World', a civic-led mass movement that began in Estonia in 2008, saw 50 000 people clean-up the entire country in just five hours.
This concept has now spread to the rest of the world, including South Africa; meaning that attaining a cleaning culture is possible.
There are about 160 countries in the world that understand the concept of waste management, the separation of waste and what economic value is locked within waste.
Zimbabwe is fast heading towards that direction, with the contribution coming from the top.
Rwanda is one African shining example which has attained clean country status.
Singapore also emphasises cleanliness and the need to have potable water, proper water conservation, pure air, clean energy and efficient energy supply.
It is a place where excreting in public is taboo.
Japan is another country that considers cleanliness part and parcel of life.
Every citizen in Japan is expected to contribute towards cleanliness as a moral practice in the name of the nation.
Zimbabwe is fast-catching up.
December 5 2018 birthed a value system which is being perpetuated every first Friday of each month.
No doubt, cleaning is fast-becoming a legacy in Zimbabwe.