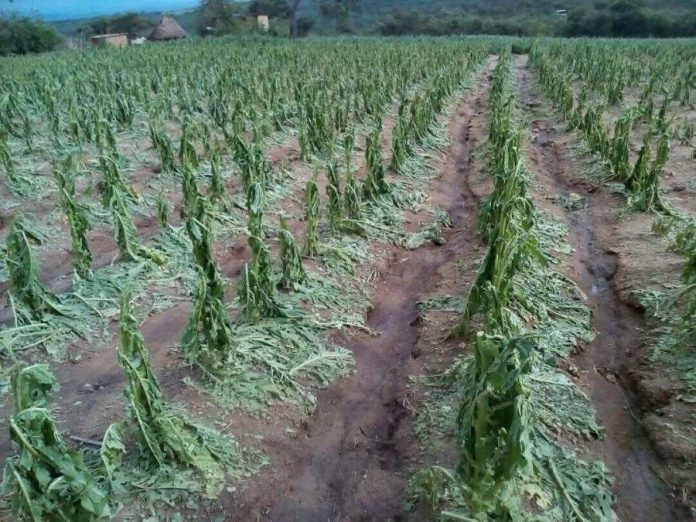 LIFE for farmers is often marred by constraints limiting their economic potential.
The majority of agricultural assets are exposed to vagaries of the weather.
The impact is expected to double as effects of climate change become more severe. Climate hazards such as hailstorms, strong winds, dry spells and floods, which may affect crops, are set to become a regular occurrence. 
To compound the situation, agriculture insurance penetration is extremely low.
In Zimbabwe, agricultural insurance has huge potential for development. However, it remains a largely untapped sector.
Farmers across the country have lost their crops due to prolonged dry spells experienced at the beginning of the 2017/2018 farming season.
Armyworm invasion has also destroyed vast tracks of cropped land.
Agricultural experts have long called for a small-holder farmer insurance cover for crops against natural disasters, but farmers have not cushioned themselves from potential losses through insurance cover, due to insufficient resources and dishonesty by some insurance companies.
Presently, at the tobacco auction floors in Harare, many farmers are counting their losses; they had not insured their crop.
According to the calculations, insurance cover for one hectare of tobacco ranges from US$230 to US$300, half hectare ranges between US$130 and US$200, while a quarter hectare is US$70.
Speaking to The Patriot, Banket tobacco farmer Zororo Mapanje said most farmers are sceptical when it comes to agricultural insurance as they have been duped before by some fly-by-night insurance companies.
"Tobacco farmers, over the years, have suffered at the hands of some companies that have failed to honour their obligations," said Mapanje.
Farmers complained that contracting companies fail to honour their side of the bargain in cases of fire and hailstorm, despite deducting the insurance fee.
"Farmers have lost confidence in insurance firms who take advantage of gullible communal farmers by not fully explaining the fine print to them," he said.
Others have also lost confidence in insurance firms because of the way they have been treated before.
Shamva farmer Tendai Makamba said measures should be put in place to protect the farmer.
"Many people want to reap where they did not sow and in turn farmers suffer an the end," said Makamba.
"Last year, I was surprised to discover that US$600 had been deducted and paid to an insurance company I was not insured with.
"I followed them up and it was only when I threatened to report the matter to the police that they gave me back my money.
"Up to today, I do not know where they got my details and they even had a signed document which they claimed I had signed but had never seen before. Imagine how much money other farmers who do not take time to analyse their bank accounts are losing."
Tobacco contracting firm, Agritrade Leaf Tobacco, is in the eye of the storm after it allegedly deducted insurance premiums from farmers without prior contractual agreements. The premiums were submitted to Champions Insurance. However, Agritrade denied claims that farmers did not enter into any contractual agreement on insurance cover but acknowledged that there were problems dogging the scheme.
Other farmers said they take comfort in the fact that they have never experienced any risk on their crops before.
A Marondera farmer, Albert Musara, said he did not understand the importance of agricultural insurance until he lost his tobacco harvest.
"I lost tobacco worth thousands of dollars through fire which gutted one of my barns," said Musara.
"If I had insured my farming operations, I could have recovered my money. I have now insured my agricultural enterprises to avoid a recurrence of the same."
Other farmers said they are not insured as it is difficult for them to access insurance services.
Zaka farmer Moses Chiwara complained that most insurance providers rely on archaic distribution channels like agents and brokers, which are highly ineffective.
"We cannot access the agents and brokers because they live in cities and towns, far away from our rural farms," said Chiwara.
Agricultural insurance is one of the most ignored tools for risk management yet it can play a pivotal role in managing the risks related to farming.
Some farmers view insuring agricultural operations as an expense with no benefits, but those who have experienced disasters, such as that which Musara experienced, now appreciate the importance of insurance.
Studies show that the levels of insurance in the farming sector in Zimbabwe are very low, with agriculture contributing barely five percent to gross premium income of insurance products.
An insurance advisory service for African farmers report says only about 650 000 farmers working on less than 2 percent of the agricultural land in sub-Saharan Africa have cover.
The report notes that agricultural insurance has the potential to address some of these constraints by facilitating access to means of production and changing behaviour by reducing uncertainty.
"Coverage can enable farmers to invest in riskier but potentially more lucrative farm activities," reads the report.
"Timely insurance pay-outs after crop losses can help small holders smooth consumption and prevent the sale of assets. Insurance can also be a catalyst, as lenders will be more likely to extend credit to farmers covered by insurance, allowing them to make productivity-enhancing investments."
The need for insurance in sub-Saharan Africa is expected to rise in the coming years as the population doubles from one billion now to two billion by 2050 and the impact of climate change becomes more severe.