SIMON MUZAMBA is a wooden sculptor in Siachilaba in Binga, he has produced the BaTonga cultural art and wood figurines ranging from dolls, stools, doors, snakes, fish, the Nyaminyami snake and animal carvings of hippos, elephants, buffalo, rhinoceros and giraffes, among others.
He sells his sculptures by the roadside to tourists and other locals who care to stop and buy his wares.
Muzamba's art is unique because he depicts the BaTonga way of life through art. His works are in demand from some Western and European art collectors and he also has orders from international galleries and museums around the world.
He is proud of his work despite barely making enough to sustain his seven children and two wives.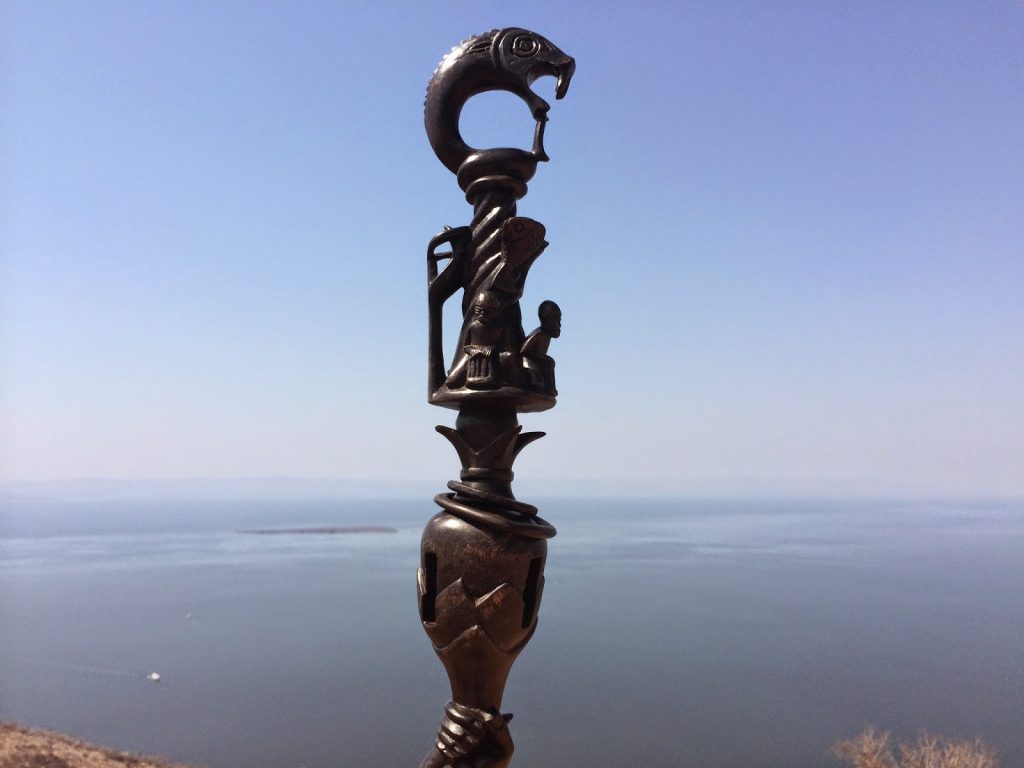 The buyers, on the other hand, have made lots of money selling his work abroad and are still coming back for more.
The country and Africa's cultural heritage is particularly vulnerable in times of hardship, economic transition and abject poverty which invite speculators and criminals to attack our cultural heritage.
Big money is being made from African people's hardships.
Most of those persuading local communities to pillage caves and other sacred places are well aware of what they are doing. They do it for the huge profits they make selling these artefacts on the international market.
African and Zimbabwean art history has played a significant role in shaping the culture and history of the world.
The belief that Africa is the cradle of the history of mankind is virtually unshakeable.
The origins of African art lie long before recorded history, preserved in the obscurity of time.
In Zimbabwe, several works of art have been discovered, notably the Zimbabwe Birds (now part of our national symbols), clay pots, wooden plates and stools now safely stored in our museums. Others that have been shipped by colonialists and missionaries are now decorating foreign galleries across the globe.
Notable artefacts include the Mkwati walking stick and stools among other artefacts stolen and displayed in museums and galleries in Western countries.
However, although items such as the Zimbabwe Bird and other artefacts were subsequently returned to Zimbabwe, researchers and museum curators say a huge assortment of other artefacts remain unaccounted for and remain holed up in Western galleries and homes where they are used as a sad reminder of colonialism and exploitation of our cultural heritage while portraying us as an inferior people.
Up to this day, the country remains under threat from cultural artefacts piracy as hordes of European tourists continue to buy cultural artefacts that are important to our communities and culture.
In the Zambezi Valley, there has been a scramble for the BaTonga's indigenous art: mostly doors used on stilted huts, traditional fishing baskets, the ngoma buntimbe ceremonial drums used during special ceremonies and funerals, the ndombonda smoking gourds, decorated herbal gourds, spears and the nyele musical pipes.
Elsewhere in the country, headrests, walking sticks and other assortments of artefacts are still being sought after by art and gallery owners whose insatiable appetite for tribal art continues to grow.
Sadly, these objects have not been aesthetically considered by the indigenous communities who created them and no real effort has been made to preserve them.
Often, their value was negligible once their function was performed.
There has been a huge emphasis on Central African art history for two reasons; one being that the communities who resided there were the most sedentary of the tribes in Africa and secondly, that they produced figurative sculptures that Western collectors could most easily identify as 'art', as they defined it.
The surge in interest in collecting African art, both tribal and contemporary, has forced scholars, investors, governments and institutions to re-examine the very essence of African art. Collections that have been inhabiting deep, dark depths of museum vaults have been moved to the forefront of African art history museums, galleries and auction houses to be observed and celebrated.
Despite successes achieved over the past four decades by the United Nations Education and Scientific Organization (UNESCO) through legal instruments to protect cultural art from theft, illicit trade and returning stolen properties to their countries of origin, it has not been possible to end illicit trafficking which is responsible for serious damage to cultural heritage worldwide.
As long as people turn a blind eye to the origins of the artefacts they buy and sell, there will be individuals ready to seek profit from the fact that poverty, conflict and economic recession in many parts of Africa provide them with opportunities to lay their hands on collectables which they can sell for a large profit abroad. Much work needs to be done at international level to sensitise governments, public opinions, art collectors and dealers about the needs to respect the original context of cultural property.