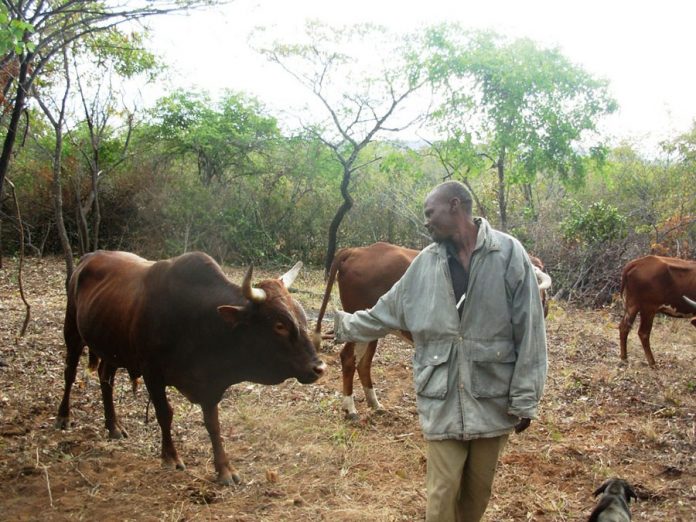 ON its own, commercial crop farming entails a major and risky investment, however, rearing livestock increases the level of unpredictability and financial uncertainty even more.
Animal death is the biggest risk for livestock owners.
One can lose livestock easily and for a wide variety of reasons such as accidents, theft, weather events and infections.
More than 2 000 cattle have died of January disease, also known as Theileriosis — a tick-borne disease common between December and March.
Despite the heavy risks, livestock insurance penetration remains very low.
Where individual-animal policies are sold, they have often been linked to credit for livestock, or linked to Government programmes such as Command Livestock.
Livestock insurance offers coverage for farmers who raise animals commercially and for profit, including, but are not limited to cattle, goats, pigs, sheep, chickens and horses.
Farmers have been urged to protect their livestock from the unimaginable and minimises the risk of loss due to unforeseen circumstances.
Agronomists opine having adequate livestock insurance is not only recommended, but is essential for farmers raising animals commercially to manage risk effectively.
However, the major hurdle is livestock insurance fraud.
Insurance fraud occurs most often when an insured individual or entity makes a false or exaggerated insurance claim, seeking compensation for injuries or losses that were not actually suffered.
Insurance fraud can also be committed upon customers, through the sale of unlicensed or bogus insurance coverage to unsuspecting clients, or an insurance broker or agent's diversion or theft of insurance premiums paid by clients.
Unlike many white collar crimes, insurance fraud has become a serious cancer the insurance industry is battling.
This is mainly because, within the insurance industry, fraud is perceived as a victimless crime where no one is hurt.
In parts of Zimbabwe, for example, the high mortality rates of animals reported have prompted fears among insurers that a substantial portion of livestock insurance claims could be fraudulent. 
Under the current branding, it is easy for farmers to exchange animals and claim insurance on an animal that was not insured.
To curb this, Zimbabwe is set to introduce electronic identification.
Department of Livestock and Veterinary Services principal director Dr Unesu Ushewokunze-Obatolu said Government has piloted electronic identification of livestock.
"This type of tracing is greatly assisted by our new system of animal identification which registers each individual animal with a unique mark or number to its place of origin and owner," said Ushewonkunwe-Obatolu.
"An identifiable and fully characterised animal is easy to track, insure, account for its performance and is an asset which can be assigned value.
"The Department of Livestock and Veterinary Services, together with ICE — a subsidiary of UNIVERN (Pvt) Ltd — has been piloting a cattle identification and traceability system in communal areas in Muzarabani and Goromonzi as well as commercial farms.
"The system uses radio frequency readable ear tags, which are easier to read in any situation and are backed up by comprehensive datasets relayed by satellite, which can be queried for a number of aspects."
This will be vital in reducing livestock insurance fraud.
Addressing journalists attending a ZimSelector insurance and mentorship programme recently, Old Mutual senior business development manager Immaculate Musonza said between 30 and 40 percent of claims put forward by insurance policy holders were fraudulent, threatening the viability of insurance companies in Zimbabwe.
"Fraudulent claims are mainly traffic cases, where someone comes with a fake police report," said Musonza.
"You know our police, if someone goes with money and gives them, they give you the report you want (sic).
"It is these insurance risks that make some insurance companies close shop."
Also being mooted to curb insurance fraud is the establishment of an insurance crime bureau.
Insurance Council Zimbabwe (ICZ) technical manager Nicholas Sayi said an independent bureau modelled along the South African Insurance Crime Bureau is on cards.
"We are in the process of setting up an independent bureau to assist the industry to prevent or investigate such crimes. We expect that it will be put in place any time before the end of second quarter of this year," he said.
"In terms of the set-up, it's going to be independent and modelled along the South Africa Insurance Crime Bureau since we are a start-up operation."
The entire industry collects about US$550 million a year and is losing close to 30 percent annually to fraudulent claims. 
Insurance fraud that is prevalent in the country is that of exaggerated claims.
In the first quarter of 2015, First Mutual Holdings received over US$1,5 million of fraudulent health insurance claims.
It is believed that insurance fraud costs the US around US$100 billion every year while in South Africa, the costs were between R1,2bn and R5,25bn.