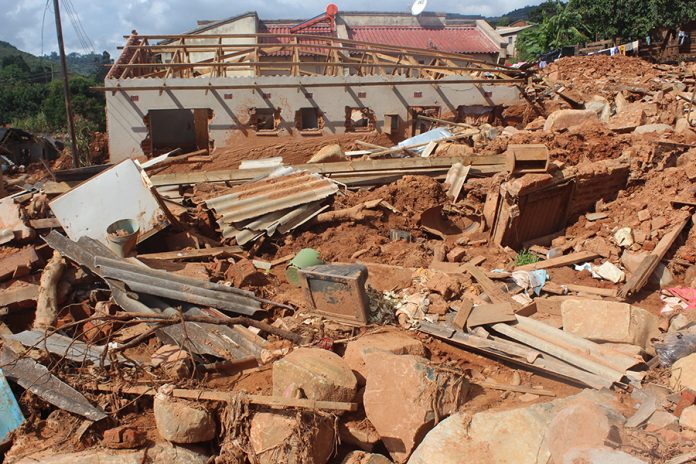 Recently in Chimanimani
IN Ngangu, a township in Chimanimani, huge boulders carpeted the whole are, with scattered pieces of cups, plates, door frames, corrugated iron sheets and buckets being the only evidence of prior human habitation.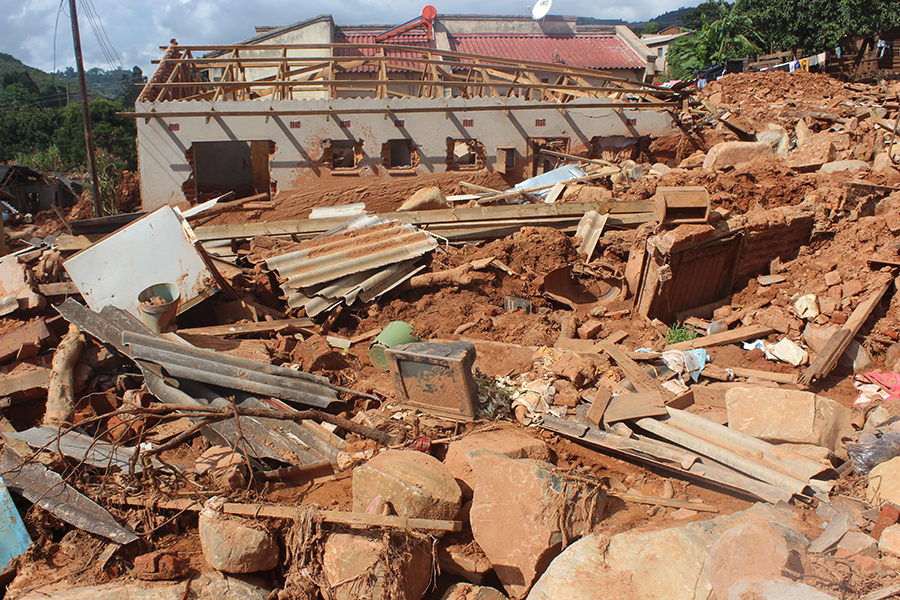 Walking on the boulders was difficult and spoke volumes of the magnitude of the disaster.
Survivor Tinashe Gota (21) said communication about the impending cyclone first came through the WhatsApp platform.
"They said a cyclone was coming but people did not think it would come in the manner it did. There were strong winds and heavy rains; we had never experienced such weather. The rains did not allow people to go out of their houses," Gota said.
"The day that the rains stopped, we went out of our home to see what had happened only to be met with a trail of big stones, with some houses missing. We started looking for friends and relatives and I found my aunt downstream under a tree, with no clothes. I still do not understand what kind of rains these were that even took off people's clothes. And we could not explain the huge stones."
For many, movement now entails jumping over huge boulders to get to the next houses and they do not know where their neighbours are or if they will ever be found.
Tsitsi Chinhori (31) recollected how that horrific night brought dead bodies to her home.
"The rains came and I remember the unending lightning which flashed red and blue. Then, suddenly the main door of my house opened with a huge bang. Alighting from the bed, I stepped into water that was already above ankle level. The children had been sleeping on the floor in the next room. Mud quickly filled up the kitchen,"Chinhori said.
"The electricity had gone and you could hear screams from other houses. It was dark and it was difficult to make out what was happening. The uninjured helped those who were trapped beneath the big stones. The lady we dragged out cried that she could not find her children.
"In the morning, I discovered four dead bodies of children strewn upon my yard. How can I stay in this compound when I constantly remember the sight of the bodies lying in my yard and the fact that I lost one of my children? This place is a constant reminder of the horror that befell it."
At Ngangu Primary School the sad story of the huge boulders continued.
Here, children have found a playground where they pick various assortment of things, the only reminder of what used to be.
The smaller children go about oblivious of the disaster that engulfed their community.
So big are the boulders that huge uprooted trees are like match-sticks under the unyielding weight.
One old man, Danny Munovapei from Manase Village, is perturbed by the huge boulders.
"I still do not understand this 'mystery' and where these huge stones came from. We are still in shock and the trail of destruction has left us numb. Our fear heightens every time we see clouds forming in the sky. Our hearts pound, the disaster is still fresh in our minds. We now have to leave the place we have called home all our lives; that is very difficult and heartbreaking," said Munovapei.
Thandeka Munhundiani (23), a school teacher who was at Ndima High School when the disaster struck, said no-one thought much about the impending cyclone. They thought, like the others in the past, it would just pass without being eventful.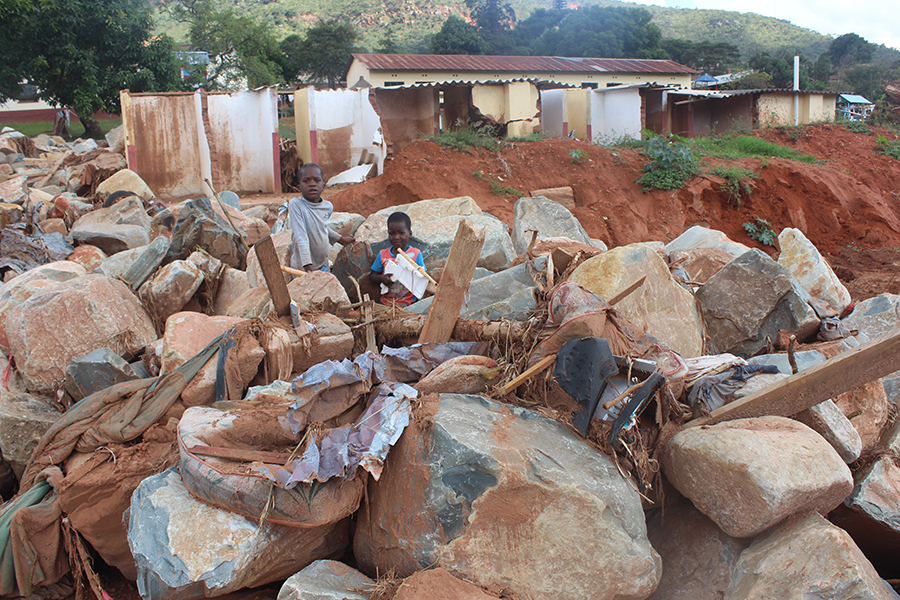 "The rains came and even when the river was filling up, people just thought they would eventually go away. But the rains continued and became heavy. Then there was the sound like that of a haulage truck as the night progressed. Later in the night, the school guard came knocking on teachers' quarters, alerting them of the impending danger. He said his house was now filled with water and that people needed to go to higher ground," Munhundiani said.
"We only got our jerseys because we never thought it was serious but the water level kept on rising until the place where we call 'Madhomeni' and the police station were swept away. Some people had to climb up trees in order to survive while others went on roof tops.
"The rains did not stop until we were all soaked. Later someone said we needed to start a fire in order to keep warm. Suddenly we were marooned.
"I have not been back to the school. When the water receded, we discovered huge boulders. We cannot explain where they came from," she said.
Lyon Chirova (49), a businessman in the Ngangu area, lost his shop, stock and equipment.
"I used to rent a vegetable shop in the Ngangu area and everything in the block is gone. My workers left an hour before the disaster struck and just as well, otherwise they would have perished," Chirova said.
"We recovered some things, like freezers, some kilometres away but everything else, like the goods that we sold, was completely destroyed. We have kept these as souvenirs because insurance only covered such things like fire. The insurance company told me that I should have insured specifically against natural disasters."
Temporary shelters have been constructed, but here is a community desperately in need of psycho-social support.