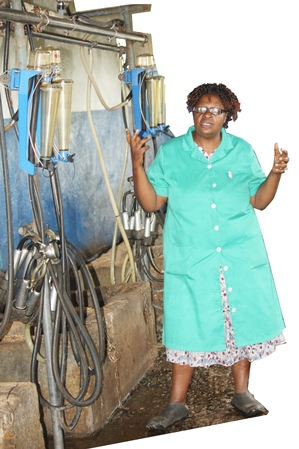 DAIRY farming which prior to the Land Reform Programme in 2000 was a preserve for white commercial farmers has been demystified by the new black farmers who have successfully ventured into it.
Marondera-based Sikhu Nyatanga is such an example.
The mother of five, had to forgo city life to become a full time farmer and currently she is the proud owner of Tarara Dairy Farm in Marondera, Mashonaland East.
A beneficiary of the Land Reform Programme, Nyatanga has been at the farm for the past 12 years.
Her herd is currently comprised of 100 dairy cows and 200 for beef, while the farm has about 300 hectares of arable land.
"When we were growing up, commercial dairy farming was mystified by the whites, making it seem as a difficult trade, but thanks to the Land Reform Programme, we have come to the realisation that we can do it," said Nyatanga.
"Although running such a project is expensive, we have managed to soldier on.
"One can fork out up to US$2 000 to purchase a dairy cow and US$4 000 for a bull thus one needs a lot of capital to build a reasonable herd."
Before the Land Reform Programme, communal farmers kept small herds of domestic animals mainly for consumption and draught power.
Nyatanga said hard work and dedication have enabled her to make a name for herself in the dairy sector.
"Dairy cattle are very delicate," she said.
"They need extra care and attention because they require adequate nutritious feeds for them to produce the desired quantity of milk.
"Vaccination schedules have to be adhered to in order to avoid diseases and we normally vaccinate our cattle before and after every rain season.
"They are dipped twice a week, Wednesday and Saturday and we apply tick grease almost on a daily basis."
Nyatanga said she was supplying a Harare-based multinational milk processor with at least 1 000 litres of milk per day.
"When we first took over the farm, there was a standing contract with Dairiboard which we supplied with milk for seven years before we started supplying the multi-national," she said.
"We produce between 700 and 1 000 litres per day with one cow producing an average of 30 litres per day and the milk is collected after every two days."
When going into dairy farming, said Nyatanga, one must prioritise hygiene.
She said officials from the Health and Child Care Ministry constantly inspect her facilities to ensure that the requisite standards are maintained.
"Every time when the people from our client come to collect the milk, they first test its quality, including temperature and freshness," said Nyatanga.
"If they condemn the milk, they leave it so it is important for a farmer to follow the proper procedures and use the right equipment for storage to preserve the milk and ensuring it is not contaminated."
Nyatanga said the milk is then graded and paid for according to the quality and quantity of the milk.
"Under the contract, we are paid for the milk delivered after every two weeks and this helps us to remain liquid and be able to buy feeds and pay for labour," she said.
"If one is not happy with the results from the buyers, a farmer is free to take their product to Datlabs, a laboratory that has the facilities to test milk and present the results from the laboratory to the buyer."
Nyatanga bemoaned the continued power outages countrywide.
She said they were affecting the quality of milk.
"The tanks we use for storing the milk are powered by electricity and when we do not have it, we use fuel generators and this increases our production costs," she said.
"The other challenges we face include that of feeds, but we are now minimising that by growing our own maize and soya beans that we mix with bran which is sometimes in short supply."
Nyatanga this season has 10 hectares under maize.
"I also run a poultry project, but we have temporarily stopped after a batch of 5 000 chicks was wiped out by Newcastle disease," she said.
"With the way things are going around the farm, I intend to purchase machinery that will enable me to process the milk and produce other by products such as cheese and yoghurt."
With more determined farmers like Nyatanga, the agriculture sector is indeed set for continued growth.
Before becoming a full time farmer, Nyatanga was the owner of NyaSikhu Enterprises.
She was into the transport, catering and event management business.