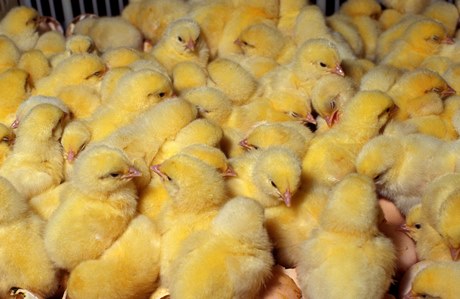 By Shingirirai Mutonho
THE production of day-old chicks has increased by 38 percent from 52 million in 2012 to 72 million in 2013 as local producers step up efforts to meet local demand.
Local producers are also fighting to regain preference over imports on the market.
According to the First Round Crop and Livestock Assessment Report released by the Agriculture, Mechanisation and Irrigation Development Ministry, the production of broiler day old chicks was 64, 4 million, an increase of 17 percent.
The 2013 production levels surpassed the targets set by the Poultry and Beef Association of 40 million day-old chicks annually, supplying the market with six to seven tonnes of chicken per month.
In 2011, the country produced 38,5 million chicks and 36 million in 2010.
"Broiler meat production has increased by 37 percent from 23 050 kilogrammes (kg) in 2012 to 31 528 kg in 2013," read the report.
"Monthly broiler chick sales were six million in September and October.
"Average monthly broiler meat production increased from 1 920 kg in 2012 to 2 627 kg in 2013."
Stakeholders in the poultry sector have in the past years bemoaned decline in demand for local poultry products which was caused by increased cheap imports on the market.
Zimbabwean producers, whose production costs are significantly higher than those of their regional and international peers due to various inefficiencies in the economy, have been lobbying the government for protection measures.
The country was importing poultry products from countries such as Brazil and South Africa.
An imported two kilogrammes of chicken costs between US$4 and US$6, while a local product will cost US$7, hence people preferred the cheaper brands.
Last month, Government introduced a law requiring importers of selected agricultural products, including poultry and sugar, to apply for licences in a bid to control imports that are flooding the local market.
The Industry and Commerce Ministry said Statutory Instrument 6 of 2014, which came into effect on January 1, would apply to poultry, sugar and pork products.
Through licensing, Government would be able to control importation of goods and only licence where there was a gap.
There has been an increase in demand for local poultry products following the ban on imported products that were pushing locals out of business.
The move has resulted in an increase in small-scale poultry producers.
However, according to the Agriculture, Mechanisation and Irrigation Development Ministry, egg production has declined by one percent from 24, 9 million in 2012 to 24, 6 million in 2013.
The country produced the highest number of dozens in March at 2, 4 million dozens, indicating a 12 percent increase from the 2, 1 million produced during the same period in 2012.
The lowest number of dozens were produced in May at 1,7 million dozens.
The table below shows broiler meat production (kgs)
Month 2012 2013 Percent
January 1 694 2 062 18
February 1 896 2 829 33
March 2 066 2 543 19
April 1 996 2 797 29
May 2 011 2 789 28
June 2 038 3 033 33
July 2 076 2 476 16
August 1 805 2 299 21
September 1 943 2 838 32
October 1 707 2 539 33
November 2 003 2 775 28
December 1 815 2 548 29
Total 23 050 31 528 17
Source: Agriculture, Mechanisation and Irrigation Development Ministry
The table below shows egg production in dozens
Month 2012 2013 Percent
January 1 860 617 2 068 155 11
February 1 831 774 1 983 582 8
March 2 191 728 2 452 646 12
April 1 466 090 2 001 763 37
May 1 483 148 1 789 578 21
June 1 874 476 2 104 258 12
July 2 267 392 1 978 566 -13
August 2 293 865 1 999 098 -13
September 2 674 286 2 288 712 -14
October 2 284 667 1 930 254 -16
November 2 233 281 1 852 215 -17
December 2 542 801 2 156 483 -15
Total 24 977 122 24 605 208 -1
Source: Agriculture, Mechanisation and Irrigation Development Ministry