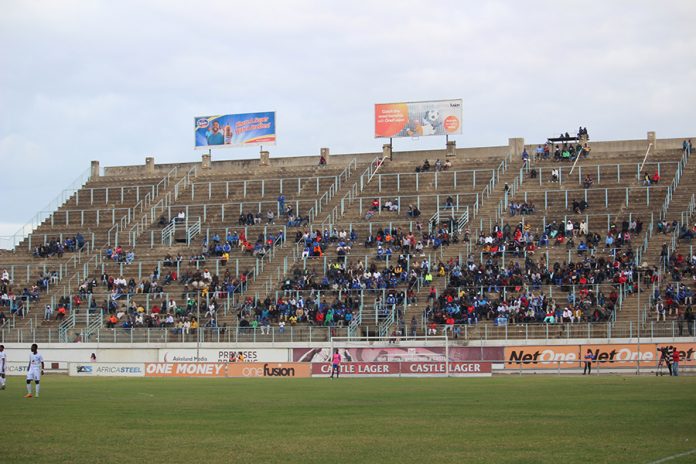 League Preview
FORGET about yesteryear success.
Forget about the glamour.
Forget about the juggernaut status.
Forget about the thousands, if not millions, of fans that Dynamos likes to brag about.
All that counts for nothing for a team that has been in a shocking decline.
Many soccer fans are now fed up with DeMbare.
But spare a thought for supporters too.
They are slowly losing hope in the club they so much love.
Last Sunday's attendance at the ceremonial home of football, Rufaro Stadium in the heart of Mbare, one of the city's oldest suburbs, Dynamos attracted a paltry crowd that looked more like it was for a midweek fixture.
By Dynamos standards, the crowd was far below par.
Hiding behind the finger, one would just claim it was the US$5 charge for the cheapest ticket that deterred hundreds to attend.
That is not true.
De Mbare is finished.
Match fees have never mattered for this team's supporters.
On any day, Dynamos attracted hundreds of fans at home or away matches.
But this is the DeMbare of old, the current team does not simply have what it takes to be even called by that name.
Events at the Dynamos camp are slowly eating into their own survival.
Gate takings have been the team's cash cow.
The club does not have much streams of finance other than from the sponsors and the gate takings.
There is no club merchandise in replica jerseys or any TV rights that may earn them millions.
For all its purported glamour, Dynamos have failed to turn that advantage into meaningful business projects.
They are broke.
They are out of sorts.
The team's poor performance, especially this season, has left fans disgruntled.
But signs of that decline were evident since the beginning of the season.
They failed to retain some of their key players.
As the season progressed, the team lost star striker Christian Epoupa while there were senseless changes in the coaching department.
Lloyd Mutasa was relieved of his duties before his assistant Biggie Zuze took over.
Zuze did not even do three weeks before he was booted out and Mutasa reinstated.
After that, Kenny Mubaiwa threw in the towel, ushering in new changes in the boardroom.
Now under new blood, things continue to fall apart at Dynamos.
Traditionally, Dynamos used to thrive during periods of boardroom squabbles but not this time around.
Out of 20 matches, Dynamos have won five and drawn seven.
They have lost eight matches.
For their efforts, DeMbare have 22 points.
The performance by the fading Harare giants is one of the poorest this season.
In their next encounter, they face Bulawayo giants Highlanders in a blockbuster match at Barbourfields Stadium.
The match, popularly known as the 'Battle of Zimbabwe', used to light up Bulawayo — what will happen this time around?
The match comes at a time one of the opponents is at its weakest and all odds point at Highlanders who had a morale boosting victory at Gibbo against Triangle last Sunday.
The fading Harare giants lost to one of the league's pacesetters, Ngezi Platinum Stars, at Rufaro in a match that goalkeeper Simbarashe Chiname was the hero in a losing cause.
Were it not for Chiname's heroics, DeMbare could have conceded a netball-like score line.
Facing Highlanders at BF will be a tough assignment for Mutasa and his lads as the Bulawayo giants seek to correct the balance of power that DeMbare claimed for the past decade.
Highlanders are turning the tables against DeMbare after the Harare giants had enjoyed an unbeaten run in the league for years.
With one of the youthful teams, Highlanders have been thriving on pace and wings. Gabriel Nyoni and Newman Sianchali have been instrumental in the Bosso attack together with Nigel Makumbe.
Ariel Sibanda has been providing cover between the goal posts.
Trailing log leaders FC Platinum by 11 points, Bosso still have a fight for the title and will need to collect all possible points along the way.
FC Platinum are away to Bulawayo City who lost 1-4 to Bulawayo Chiefs.
The log leaders now lead the pack with two points ahead of Ngezi Platinum Stars after being held to a goalless draw by CAPS United last weekend.
CAPS United entertain Black Rhinos in a Harare derby at the National Sports Stadium.
The Green Machine managed to keep their record against FC Platinum intact.
However, the Green Machine were left bitter after the match as their goal was disallowed for offside.
A victory for CAPS United could have reduced the gap between the two platinum sides (FC Platinum and Ngezi Platinum Stars) to one.
Black Rhinos go into the match with a 1-2 loss at the hands of Yadah last weekend and seek to bounce back to winning ways.
The army side have been playing well until last weekend's loss to Yadah.
Herentals FC seem to be getting better with more game time in the premiership as they beat ZPC Kariba 1-0 in their last match. This weekend, Herentals face Yadah in a potential thriller.
The teams have several issues in common.
They are both from Harare.
They are on 25 points, having won six matches, drawn seven and lost seven.
The two are only separated by goal difference.
Shabanie Mine host Chicken Inn at Maglas while Chapungu welcome Bulawayo Chiefs at Ascot Stadium in Gweru.