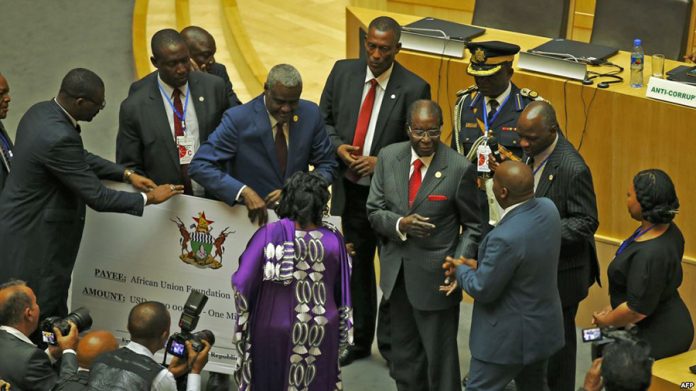 THE most ironic thing about the MDC-T's attack on President Robert Mugabe's
US$1 million donation to the African Union (AU) meant for the bloc to wean itself from donor funding and foreign control is how woefully detached the opposition is from the fact that charity begins at home.
While the MDC-T's spokesperson Obert Gutu was frothing at the mouth about President Mugabe's donation to Africa, lost on the embattled opposition party was the fact it surrendered sovereignty and patriotic rights when it went to bed with its foreign founders and funders.
On the other hand, what President Mugabe was doing at the AU was trying to correct the misdeeds of the MDC-T which is Western in both outlook and in its politics which has brought untold suffering to the masses and the economy through the illegal economic sanctions that the opposition called for to be imposed on Zimbabwe.
As such, the MDC-T has several lessons that it should draw from President Mugabe's AU gesture.
First and foremost, the MDC-T needs to learn about solidarity.
If there was no African solidarity, there would not have been this independence which they now abuse in order for their Western handlers to regain control of Africa's abundant natural resources and means of production.
Countries like Mozambique, Tanzania, Zambia, Algeria and Ghana had their own problems when they gave their support to Zimbabwe during the liberation struggle.
This is the same favour that President Mugabe is returning now that the threat of neo-colonialism which is being fronted and advocated by the MDC-T is threatening to rear its ugly head in a free Zimbabwe and Africa again.
Solidarity comes at a cost.
Muammar Gaddafi tried to do it with his United States of Africa (USA) project but was brutally murdered by Western-sponsored rebels.
It is no surprise that the MDC-T has already sharpened its knives over President Mugabe's donation, with frivolous claims that ZANU PF is currying favours from the AU in next year's elections.
"There's a sinister motive in Mugabe's weird donation to the AU. Remember, there are elections to be held in Zimbabwe in 2018," said Gutu.
"Mugabe and his faction-infested and bankrupt ZANU PF regime are desperate to rig these elections so that they can cling onto power. This purported donation to the AU is actually a bribe that is meant to soften the response of the AU in the event that next year's elections are rigged."
But the cattle donation pledge was made during President Mugabe's successful reign as AU Chairman in 2015 with a view to doing away with the anomaly of having an African bloc receiving funding from foreigners who in turn want to determine the course to be taken by the continent.
Since then, more than 40 by-elections, which the MDC-T did not take part in, have been held with ZANU PF emerging victorious.
Already, ZANU PF has demonstrated its capacity to pull massive crowds in the three of 10 Presidential Youth Interface Rallies that have been held so far.
In a June 25 2008 article titled 'Zimbabwe at War' in World Press, Stephen Gowans says:
"Should an election be carried out when a country is under sanctions and it has been made clear to the electorate that the sanctions will be lifted only if the opposition party is elected? Should a political party which is the creation of, and is funded by, hostile foreign forces, and whose programme is to unlatch the door from within to provide free entry to foreign powers to establish a neo-colonial rule, be allowed to freely operate?
"Should the leaders of an opposition movement that takes money from hostile foreign powers and who have made plain their intention to unseat the Government by any means available, be charged with treason? 
"Recently, the International Socialist Organisation, one of the founding members of the MDC along with the British Government, argued in its newspaper that '…the crisis was not going to be resolved through elections, but through mass action'.
"ISO-Zimbabwe leader Munyaradzi Gwisai said that 'the way forward for the Movement for Democratic Change and civil society was to create a united front and mobilise against the regime'."
This is why President Mugabe's statement that the donation 'is the beginning of the restoration of our dignity and integrity as a continent' is important, especially in the context of Africa's future as a vibrant continent.
About 60 percent of AU spending is currently financed by donors, including the EU, World Bank and governments of wealthy non-African countries.
President Mugabe argues that reliance on foreign funds allows big powers to interfere in the work of the AU.
"Africa needs to finance its own programmes. Institutions like the AU cannot rely on donor funding as the model is not sustainable," President Mugabe said during the presentation of the
US$1 million cheque at the AU Headquarters early this week.
"This humble gesture on Zimbabwe's part has no universal application but it demonstrates what is possible when people apply their minds to tasks before them."
The AU's 2017 budget is US$782 million, increasing from US$416,8 million last year.
When all is said and done, the fact remains that President Mugabe's donation to the AU was without doubt a slap in the face for anti-Africa people.
Whether other African countries will follow suit, only time will tell.