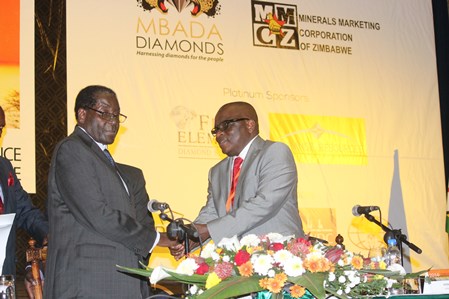 WHILE for neighbouring Botswana, diamonds have succeeded in bringing lustre to the country's fortunes, accounting for 75 percent of the country's Gross Domestic Product (GDP), in Zimbabwe diamonds are yet to revamp the economy as they have suffered unfair treatment on the global market.
The country's diamonds have suffered from the illegal sanctions imposed by the West in 2002 which has seen the country lose US$42 billion in potential revenue.
The illegal sanctions hindered the country from accessing European markets for its diamonds.
The debilitating sanctions, partially removed by the European Union early this month, effectively stopped international diamond traders, among other industry sectors, to trade Zimbabwe's diamonds.
It is projected the country could earn up to US$2 billion a year from Chiadzwa diamonds alone, but due to sanctions induced prices the country has realised only an average of US$500 million a year.
As if that was not enough, in September this year around 500 000 ounces of the country's diamonds valued around US$45 million awaiting auctions were seized in Belgium at the behest of an attachment order obtained by a South African company, Amari Holdings which sought to be compensated for a platinum concession it lost during Mines and Mining development Minister Obert Mpofu's tenure.
When the order awarded to Amari Platinum was reversed, a group of 12 white commercial farmers recently approached the European Court in Belgium to attach the US$45 million as part of US$54 million payment awarded to them in 2009 by the United States-based International Centre for Settlement of Investment.
The dutch farmers argue they were illegally evicted from their farmers during the Land Reform Programme.
These seizures have significantly affected the operations of local diamond companies.
So to move away from such scenes, the country last week launched its first local diamond auction that saw more than 400 international buyers participating.
However, this did not stop the international buyers once-again upsetting the diamond sector.
International buyers connived to undervalue the precious gems knowing the country was desperate to sell following the seizures.
Diamonds were sold for a song as international buyers bought them at half the international price.Instead of selling a carat for US$150 the international average price, the country's diamonds were sold for US$70 a carat.
Yet the cost of producing one carat is US$44.
Surely with all this happening the country cannot realise optimum value from its diamonds.
Faced with such challenges, the diamond industry last week convened in the Capital for the Zimbabwe Diamond Conference themed, 'Unlocking Zimbabwe's Diamond Potential Together.'
Addressing delegates, Mbada Diamonds Chairman, Robert Mhlanga said the international community must create conducive environment for fair trade of the country's gems.
He said local diamond miners are failing to raise capital on international financial markets because of sanctions.
"Mbada is a global player in rough diamonds production on same scale with Orata in terms of gem volumes and value," said Mhlanga.
"While Orata can raise money on international financial market for exploration and capitalisation, Mbada cannot.
"As a nation our potential cannot be side-lined and the future of the global diamond industry cannot be discussed without acknowledging our potential role in its sustainability.
"However, we are faced with a situation whereby we cannot trade our diamonds freely due to various constraints that have been created specifically for us as a nation.
"The diamond conference must actively agitate to depoliticise global diamond industry."
Mhlanga said the country's gems must have unfettered access into the international markets so that the majority of Zimbabweans can benefit from the trade of the diamonds.
In spite of all these challenges, there is light at the end of the tunnel.
Government said it is making efforts to make sure Zimbabweans benefit from their diamonds through value addition and beneficiation.
Officially opening the conference, President Robert Mugabe said Government has introduced a quota system which stipulates that 10 percent of locally produced diamonds are cut and polished in the country.
"In an endeavour to promote local diamond beneficiation, Government introduced a quota system which stipulates that 10 percent of all locally-produced diamonds are to be cut and polished locally," said President Mugabe.
"However, only 0,1 percent of diamonds produced in the country in 2011 were cut and polished locally. Measures to address this anomaly are being put in place in addition to exploring avenues to encourage investment in this area.
"Government therefore remains committed to promoting local beneficiation and value addition of Zimbabwean diamonds and the sustainable growth of the diamond downstream industry."
The President said Government was determined to further the growth of the diamond sector as evidenced by the adoption of measures to promote accelerated diamond exploration.
"To this end, an exploration company has been established and will soon be operational," he said.
With such policies in place, it's a matter of time before the people of Zimbabwe can derive maximum value from their diamonds.