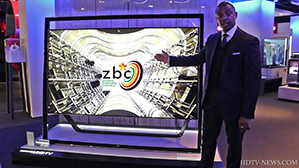 AS someone who has attended one of the many outreach workshops which the Ministry of Information, Media and Broadcasting Services has hosted in Harare, Bulawayo, Masvingo and Mutare, I genuinely believe that major changes in the film and television industry of Zimbabwe are about to take place. And here is why.
First: The outreach programme itself is unprecedented in the history of our country. For the first time we see the ministry together with parastatals such as the Broadcasting Authority of Zimbabwe (BAZ), TransMedia, Zimbabwe Broadcasting Corporation (ZBC) and the Zimbabwe Film and Television School of Southern Africa (ZIFTESSA) lining up officials to explain what digitisation is all about and how much progress has been achieved so far regarding the digital infrastructure being installed throughout the country.
These explanations, which include updates and timelines on digitisation, on the huge demand for local content that is anticipated, on the need to review some of the legal provisions which shape the environment for broadcasting and on the business model for broadcasting that is going to be adopted, all these presentations before independent producers who are turning up for these workshops in large numbers are an indication that groundbreaking changes are around the corner.
Second: While it is true that there are many independent producers out there whose creative work has not been appreciated sufficiently and paid for accordingly in the past by the national broadcaster, once such producers realise that digitisation will bring about more channels and broadcasting players it becomes obvious to them that digitisation is a game changer.
Digitisation will not only bring to an end the current broadcasting monopoly which the national broadcaster has enjoyed for long but also transform, in a radical way, the broadcasting environment in Zimbabwe.
For the first time the independent producer will occupy a strong bargaining position vis-a-vis his or her creative work. The producers are free to approach those channels which are prepared to pay more for their products and shun those which pay less for the same.
For the first time in our country the producers can select the channels to broadcast their television or film products first and for how long before approaching other channels keen to broadcast the same products.
Depending on the popularity of the products and/or programmes and on the demand by the public, this process of vending the same products to different channels can go on for long, generating more commercial value from the same products.
Should the same products prove suitable for channels in the Southern African region, there is nothing to stop the producers from vending the same products to those outside channels, that is after fulfilling their legal and moral obligations to our broadcasting channels at home .
But in order to get the best remuneration for their television programmes, producers need to be well informed and versatile when it comes to possible marketing options available to them; they also need to be clear on what it is they are getting into before signing contacts with channel owners or management. It may even become necessary to engage the services of a good lawyer versed in content issues and broadcasting.
One can argue that this kind of vibrant market situation that is about to emerge has been the missing link in the broadcasting value chain in Zimbabwe.
It is not a secret that independent producers had no bargaining power to speak of and remained at the mercy of the only broadcaster there is. This monopolistic state of affairs is about to change and many of us should not take long to prepare for the new broadcasting era that is knocking at our doors.
Third: One of the most persistent complaints by independent producers is that in the past they have submitted their programme proposals to the sole broadcaster several times but often failed to get a meaningful response. The other concern is the low value that has always been attached to their creative works, regardless of their good quality.
It is obvious that failure by the broadcaster to respond promptly to such proposals has undermined considerably the good trading relationship that should always exist between broadcasters and independent producers. And this is more so in Zimbabwe where independent producers are expected by law to contribute up to 40 percent of all local content destined for all broadcasting channels.
The high percentage of local content stipulated by legal provisions of the Broadcasting Services Act are in fact deliberately designed to trigger a vibrant culture of producing good quality local content thereby creating an industry which should in turn generate many jobs for our youths.
More specifically, content producers will find themselves required to supply 40 percent of the local content that will be required by 12 broadcast channels, that is when the digitisation programme, which is in the main technical, is completed.
Fourth: The good news is that recently BAZ set up a commissioning committee specifically meant to deal with the core business of commissioning programmes for broadcasting.
The fact that the committee is national in outlook and approach and has already been to Bulawayo several times, to Masvingo twice and is scheduled to visit a lot more places all over the country should go a long way in addressing some of the misgivings advanced by producers during the aforesaid workshops.
The business of the committee during those visits is, among other things, to receive programme proposals, to assess the pitching done by independent producers during some of those visits and to assist in a manner which facilitates the rapid production of good quality local content for broadcasting.
Again this is a new development which has not been witnessed before in Zimbabwe.
More significant is the fact that after the necessary assessments are done by the committee regarding the kind of assistance which independent producers may need, the said committee relays those needs to BAZ so that the latter can assist accordingly, be it in training on the use of equipment, be it on putting together a project proposal in a professional way or budgeting.
Some of the help that might be required by independent producers may involve the provision of expertise in certain areas where producers feel they need some additional assistance.
Should their programme concepts turn out to be very promising and worth supporting, it is important for producers who need assistance in one form or other to get in touch with BAZ to obtain some clarification on what the authority can manage to do on some of their specific production requirements.
However, the ideal situation that is required to facilitate communication between state structures and independent producers is for the latter to get organised, perhaps form a national independent producers association which will dedicate itself to articulating the needs of its members.
Such an association would greatly assist in putting across to BAZ specific, official and well-thought out proposals on how to improve the production of local broadcast content in our country.