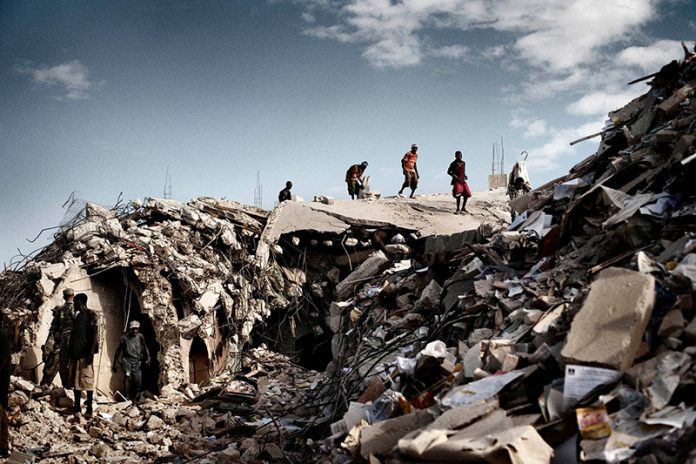 Recently in Cancun, Mexico
THE United Nations Global Platform for Disaster Risk Reduction was held last week in Cancun, Mexico, a country vilified by US President Donald Trump as he intends to build a 'great wall' to bar Mexicans from the US.
President Mugabe attended this important event that saw 180 countries convening to underscore the importance of disaster risk reduction and preparedness among other issues.
Hurricanes, earthquakes, drought, forest fires, cyclones, volcano eruptions, landslides and tsunamis are some natural disasters that have claimed hundreds of thousands of lives over the years.
Consider the 1666 Great Fire of London in England that destroyed over 70 000 homes, Hurricane Katrina that struck the Gulf Coast of the US in 2005 where 1 245 people died or more recently, the Haiti earthquake in 2010 that left over 200 000 people dead and the Great East Japan Earthquake and tsunami that razed Sendai to the ground in 2011 claiming over 15 000 lives.
China is also susceptible to numerous tsunamis and earthquakes.
But in Cancun last week, it was noted that disasters are higher in Asia, economic losses are highest in North America, while capacity for coping with disasters is lowest in Africa and Zimbabwe is no exception.
If a small country like Mauritius for example, spends two percent of its Gross Domestic Product (GDP), about US$230 million annually in reducing disaster risk for its 1,3 million population, how much are we setting aside for the same cause as Zimbabwe, a country with a population of about 13 million?
How equipped is our Civil Protection Unit (CPU) when it comes to dealing with disasters?
Do we as a country and citizens even understand the concept of reducing disaster risk?
Or we wait for disaster to strike first, before we react with the help of the donor community of course?
The Tokwe Mukosi disaster in February 2014, although man-made left thousands homeless.
This year's Cyclone Dineo wreaked havoc in Tsholotsho, Bulilima Mangwe, Nkayi, Filabusi, Muzarabani and even in Harare, leaving behind a trail of destruction.
The recurrent droughts over the years with the recently experienced being one of the worst, left many Zimbabweans devastated.
But there are numerous questions that arise as we look at these catastrophes: Have we learnt from these calamities over the years?
Are we building better from the start?
Are we coming up with resilient structures?
Are we heeding advice not to build on wetlands?
Are we coming up with improved drainage systems?
How far are we in constructing large reservoirs and elevated roads?
And are we as a country emphasising drought and cyclone-resistant agriculture?
These are some of the pertinent issues relevant authorities must consider if we are to ensure a disaster-resilient society.
And we have now and again struggled to assist flood victims, particularly with food, shelter and clothes.
The sad images of Tsholotsho flood victims in the cold never escape the mind yet decent temporary shelter could have been provided.
And in Cancun, on display was a simple strategy Zimbabweans must learn in case of future disasters.
Simply called the 'paper partition system', it is designed using paper tubes as structural frames and cloths to be hanged onto the frames.
According to Shigeru Ban and Voluntary Architects Network: "The cloths can open and close like a curtain in order for people to check their health conditions.
It also enables ventilation to keep the living environment of evacuation facilities hygienic."
Apparently, they say the paper partition systems have already been used in different regions of the world as first aid response and particularly in Japan after the 2011 Great East Japan Earthquake and Tsunami in Italy following devastating earthquakes.
So with such simple systems, do we as Zimbabwe need the donor community to always come to our rescue when we can implement some of these things on our own?
Besides Government assisting disaster victims, we have seen donations from various non-governmental organisations (NGOs), the private sector and the business community, among other stakeholders.
So after the meeting in Cancun President Mugabe addressed the media on arrival in Harare saying the deliberations in Cancun were fruitful and that Zimbabwe as a country would learn from previous disasters.
He said the floods that recently hit the country had 'awakened us'.
Said President Mugabe: "Each country had an opportunity to state what it is doing.
We had a leaders' meeting where I stated what we had tried to do, and also informed them about the hazards we had like floods, drought and measures we have been taking against drought to prevent our people from dying of hunger.
In respect of floods, we were not prepared, but they have awakened us to the need not to have homes on the peripheries or in waterways like what our people were doing.
We have to ensure – through the ministries of Local Government, Water and Rural Development – that we take correct measures not only to assist those affected by floods, but also take preventive measures.
So this was a meeting not so much to discuss the measures we have taken when calamities have struck, but to anticipate these calamities.
So it was a meeting of risk reduction.
We must always stay ready."
Away from the natural disasters, man-made disasters deserve equal attention too.
Generally these are catastrophic events caused by human actions and no doubt wars are man-made disasters.
For example, the Syrian war has been described by some quarters as 'the worst man-made disaster since the Second World War'. Apparently the Syrian Centre for Policy research notes that, so far, six years of violence have killed about half a million people.
And in Africa, Libya is also a classic example of a man-made disaster.
Before Colonel Muamar Gaddafi was killed, Libya used to be the jewel of Africa, but the West and its allies destroyed the oil-rich nation under the guise of 'removing a dictator' yet all they wanted was the oil.
Currently, the once mighty Libya is in tatters.
And what is ironic is the same countries at the forefront of disaster management, particularly the US and its allies are the same responsible for major calamities around the world.
In fact, it has always been said the US and its allies thrive on wars.
So for Zimbabwe whether its natural or man-made disasters, we just have to be always ready.