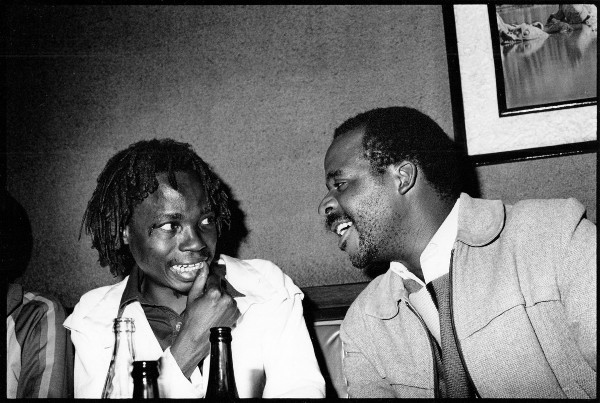 By Farayi Mungoshi
SOME prominent writers in Zimbabwe and abroad displayed unconditional love to my father and I put pen to paper in appreciation to them.
The writers chose a delegation consisting Memory Chirere, Tinashe Muchuri and others to visit.
They honoured and celebrated Dr Charles Mungoshi's life and works on Saturday December 2 2017 as he turned 70.
It was a grand gesture, one I would not have understood some years ago when I was young.
Growing up people would ask whether I would be able to surpass my father at writing.
This annoyed me.
I had not even written anything and here I stood compared to my father.
Of course, the old man didn't want me to take up writing as a career, citing poor remuneration locally.
While authors in other countries have gone on to become millionaires, we are yet to find our footing here in Zimbabwe. This is something we writers are hopeful of.
Despite being Dr Mungoshi's son, I am not the only writer who is grateful for what he has done for the industry.
Dr Mungoshi's immense contribution to the development of Zimbabwean literature is unquestionable.
I recall meeting some of Zimbabwe's greats in the industry at an early age, Aaron Chiunduramoyo, Chirikure Chirikure and Chenjerai Hove, just to mention a few.
However, it took me a while to understand what it was they saw in Dr Mungoshi and as I grew up, I began to understand the man I call father.
Slowly, I began to understand why many Zimbabweans and others from around the globe esteem his works.
But I first had to study, like most of us, one of his books at O Level, Coming of the Dry Season.
It was not until I learnt that the same book was banned in Rhodesia for his anti-colonial writings that I started appreciating Dr Mungoshi in a different light.
Like many black people during the liberation struggle, he protested in writing and his book was banned.
Later I got to understand that he got invitation from the Queen to visit Buckingham Palace after winning the Commonwealth Writers Prize, Africa, in 1998 for his book Walking Still.
Earlier in 1986 he was mentioned in the New York Times for his books, The Setting Sun and the Rolling World, which also won a Commonwealth Writers Prize, Africa.
Not so many writers from Africa can say that about their careers. Nearly every book he's written won an Award from NOMA, PEN to NAMA.
As such, it would be wrong for me to look aside and not honour him for his achievements.
Dr Mungoshi's birthday gave me a chance to look back and reflect on the journey he's made.
When I think of the fact that he also saw and participated in the birth of one of Zimbabwe's most prominent publishing house, Zimbabwe Publishing House (ZPH), I am humbled.
When I also reflect on the fact that he was one of the founding members of the Zimbabwe International Book Fair (ZIBF), alongside David Martin and Phyllis Johnson, I am left feeling, that's a tall order to match.
The Book Fair is still here despite the economic hardships that saw many companies and organisations shutting down.
In recognition of his works, the University of Zimbabwe conferred a honorary degree (Doctor of Letters) in November 2003.
It is, however, ironic that a man who struggled with his O Levels ends up with his works studied at O Level and A Level, but at universities worldwide.
This is something Dr Mungoshi often joked on. This gave me the greatest lesson of my life.
If you discover your talent, work hard and become the best, you will find, in the long run that was all you needed – to know who you are.