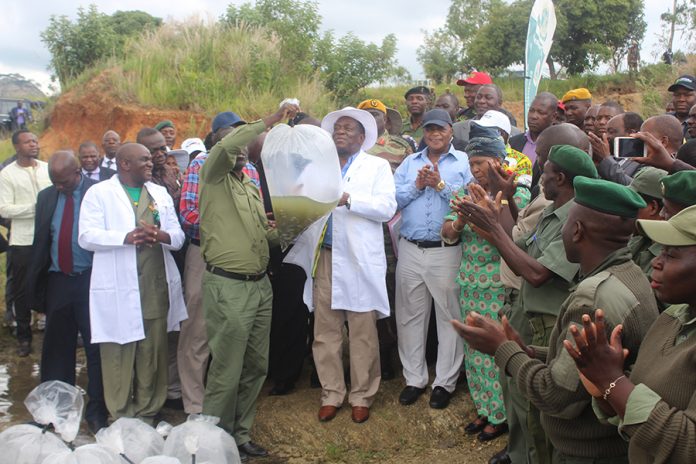 THE most difficult job at the moment is being the President of Zimbabwe.
The footprints of this unfortunate situation are visible in our recent past, which past some are obstinately refusing to emerge from.
So wont on attacking each other within the country and picking up fights with outsiders had Zimbabwe become that it is now difficult for the people to come together for once and speak the same language of unity, peace and development.
In the past gone by, our people had become steeped in resenting their history, their present and their future.
A persistent feeling, which has also been adopted by the West, in particular the US, that this country must be run by certain people has become the bane of our development.
There is a huge gulf between resenting a certain political party or politician and having a distaste for one's country.
Here is why.
There are those who reside in a state of permanent paralysis which makes them think and believe that nothing positive will ever come out of ZANU PF.
This is not about political parties.
It is about the country, about our Zimbabwe.
And they are in for a rude awakening.
National service and love of one's country knows no political, tribal, religious and rival boundaries.
It starts with one's political and humanistic orientation before it spreads to the country.
Are we still far from that as a people?
Are we still tied to the failures of the past?
Are we still hampered by our politics where it is either us or none?
Consider the following.
Zimbabwe has in the past few months witnessed an upsurge in implementation of economic reforms and launch of various projects that lays a firm foundation for the much needed economic turnaround but that has done little to quell the appetite of critics.
President Emmerson Mnangagwa's journey has been anchored on the need to take the country out of global isolation, put in place sound and solid structures for economic development and convince jittery international investors that indeed the country is now open for business.
All that has been achieved in a short period of just four months.
And that is no mean feat for a country that has been labelled a rogue state by both local and international state actors.
Therein lies the conundrum for President Mnangagwa.
How does he balance the work that he has been doing and convincing those critics?
He should tag along those who are for his vision while those who do not subscribe to it find alternatives.
We are in an era, a period where reawakening the Zimbabwean dream is not one man's job.
Everyone has a role to play.
Everyone has a contribution to make.
We don't need new names.
We are Zimbabwe.
And we are Zimbabweans.
Progressive minds have grown to appreciate that there are no illusions when it comes to reviving the country's economy.
We are not going to simply sail through to the top.
We have to work hard and stop tagging political labels to each other when it comes to the task at hand.
Our job is not going to be some eerie reincarnation of the past.
It is about the present and the future which, to all intents and purposes, looks increasingly bright.
When Ghanaians came to the party
At a time Zimbabwe has been shown a taste of the recklessness of the US' foreign policy through their ridiculous demands for the removal of their illegal economic sanctions against the country, Ghana has demonstrated that it is not about to be ambushed by Uncle Sam.
Zimbabweans have stoically remained silent while their country's sovereignty is being undermined by the ever intrusive US.
But Ghana has said no to undue interference.
The following March 29 2018 report by the ABC News without doubt makes Africa a proud nation that it should be:
"Rallying behind the slogan of 'Ghana First', thousands of people in the West African nation have protested a new defence co-operation deal with the United States, with many in the longtime US ally saying they worry the expanded military presence could attract extremists and harm their country's sovereignty.
The demonstrations are another signal of discontent in Africa with the Trump administration as its counterterror efforts across the continent grow.
Hundreds of opposition groups organised by the Ghana First Patriotic Front marched in the streets of the capital, Accra, on Wednesday carrying signs that said: 'Our future is at stake' and 'Ghana not for sale.' They vowed to continue protests until President Nana Akufo-Addo's government listens to their concerns about giving the US too much control in their own country.
The defence agreement ratified by Ghana's Parliament last week, and boycotted by opposition lawmakers, gives the US military unimpeded access to facilities, including Ghana's airport runways and allows the U.S. to deploy troops there. The agreement also gives the US access to Ghana's radio channels and allows the US to operate its own telecommunications system.
In return, the US will contribute about US$20 million to Ghana's military in training and equipment.
The approval in Parliament set off loud concerns, including rumours about a possible US military base.
'The whole concept undermines our sovereignty,' lawmaker Ras Mubarak told The Associated Press. 'Wherever the US has built bases in Africa, there have been terrorist bombings. It is a major security threat to Ghana and we must oppose it'."
If only we had an opposition like this!
ZANU PF's test of character
The ruling ZANU PF's recent announcement by its National Political Commissar (Rtd) Lt-Gen Engelbert Rugeje that the party's primary elections will be held on May 5 2018 comes at an opportune time when the opposition has created a false sense of comfort.
The primary elections will neutralise the noise and debate about age that has been thrown around by the MDC-T.
I have said that debate should be between Nelson Chamisa and ZANU PF House of Assembly candidates, not ED.
There is huge, overwhelming interest by youths within the party for the ticket to Parliament.
That is where the age debate should begin and end.
ED cannot be put in the same bucket with Chamisa.
ZANU PF has to show that its 'generational integration' mantra is not mere talk.
We shall have an in-depth discussion on the candidates and the party's manifesto which Cde Rugeje has said will be launched on April 14 2018.
May the best candidates win in the primary elections!
This week's progress report shows that we have made another great stride in the economy through the commissioning of the Kariba Hydro Station.
We have also made another giant step tin rebuilding the economy through President Mnangagwa's visit to China.
More progress will be reported as we move on.
For now we do not need new names.
Let those with ears listen.