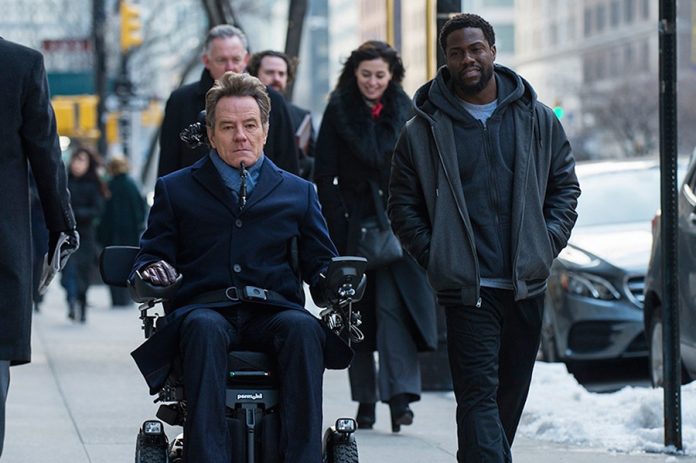 By Farayi Mungoshi
THE UPSIDE is a feel-good film about a billionaire and author, Phillip Lacasse played by Bryan Cranston who becomes a depressed paraplegic.
He lost the use of his hands and legs in an accident, needs a caregiver to feed him, bath him and also change his clothes, among other things.
After interviewing a number of candidates vying for the job, in barges Dell, played by Kevin Hart.
Dell is an ex-convict.
He has just come out of prison and is in need of a job or at least to show his parole officer that he is trying to find a job.
Thus he needs to obtain at least three signatures to prove he is seeking a job.
Dell is aware that no one out there is willing to hire an ex-convict; and worse still, a black man for that matter.
After getting two signatures, one from a fast-food outlet and another from a call centre, Dell requires one more.
He visits various workplaces, including Philip's penthouse.
Instead of a signature, Dell gets an unexpected job offer from Phillip.
Of course Dell has no intention of taking up the job.
Given the type of person he is, touching another man's private parts when emptying the catheter is definitely out of the question.
It is clear Dell is a proud black man accustomed to the hardships faced by most black men.
He has learned that he owes life nothing and that if he doesn't look out for himself, no one else will.
In fact, we learn during a conversation between himself and Phillip that, Dell has never taken care of anyone else in his entire family except himself.
He comes across as arrogant and self-indulged when the film begins and I must admit that I found him very annoying.
However, my view changes when he tells Phillip that the only time he ever spent with his father was in prison.
Upon his arrival to prison, his father said to him: "Welcome home son."
One would ask why a father would say that to his own son.
How does a man end up calling prison home?
If one glances at American history one would find that a good number of black folk, despite being good citizens, are wary of the day they find themselves in prison; an unwritten code of conduct by the system.
At this moment, Dell vows never to go back to prison or to see his son end up in prison.
Prison is not home no matter what skin colour one is.
Dell doesn't want to work for Phillip but he is kicked out of the house by Latrice (his ex-wife), obviously for being an absent father and for failing to pay child support.
With nowhere else to go, he is forced to take up Phillip's offer.
Yvone (Phillip's assistant) is against the idea of Phillip giving Dell the job because she doesn't trust Dell with Phillip.
Of course she denies that it's got anything to do with Dell's skin colour but I couldn't help but think that was the reason.
Most black men are stereotyped and highly unlikely to find a job, especially from such wealthy people like Phillip.
One wonders what it is that Phillip sees in Dell because clearly, he is not qualified for the job.
However, what follows takes us beyond the colour of the main characters' skins as they strike off a good friendship in which Dell ends up discovering his love for opera and Phillip finds himself looking for a performance by Aretha Franklin.
Given Phillip's condition, it is clear he was an uptight fellow, grumpy, obviously because of the accident and the fact that he also lost his wife.
He is unable to move on with life but everything changes when Dell comes in and soon Phillip is cracking jokes, laughing again and even trying out dating again.
A couple of times, he smokes marijuana with Dell to ease Philip's neurogenic pain, in a move that other critics felt glorified the old herb.
The reason I picked this story is the life lessons it offers; things that we were taught growing up like; 'seka urema wafa'.
Treat, even the crippled with respect and see how mother-nature rewards you.
Even though Phillip is a paraplegic, it is through him that Dell gets a lifeline and a second chance; and is finally able to buy a house for his ex-wife and son.
He also gets to fund a company modifying wheelchairs (just like he had done with Phillip's wheelchair).
Everyone deserves a second chance in life, even ex-convicts.
Another great lesson in the film is for people not to judge a book by its cover.
Dell might be black and an ex-con but he has so much to offer such that when they have a fight somewhere in the final act and Phillip fires him, Phillip becomes so depressed refusing to talk and hardly eating till Dell returns and convinces him to pick himself up again.
Over and above everything, The Upside is based on a true story.
It is a remake of the French 2011 film The Intouchables, which itself inspired by the life of Phillippe Pozzo di Borgo.
By the end of the film, the stereotyping of most black men as seen in Dell at the beginning of the film is gone.
It is not because he was associated with a whiteman that he managed to finally get his own company; I would say that by taking care of Phillip, he also learned to take care of himself and those around him.
A lesson for Zimbabwe – together we stand, divided we fall.