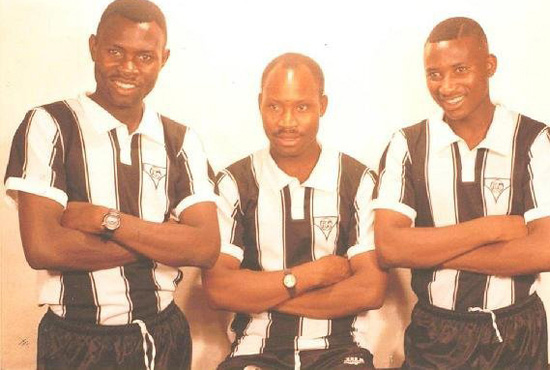 By Sheldon Hakata
FREDERICK MUKWESHA is a name that is synonymous with Zimbabwean football.
The footballer, born December 12 1941 began his career in his rural home of Goromonzi before joining Dynamos FC during its formation in 1963.
He made a name for himself with his tantalising dribbling and ball controlling skills that inspired the Harare township-formed club to three consecutive league championships in a predominantly white Rhodesia National Football League.
He was included in the multi-racial Rhodesian squad to play a touring Portuguese club, Sporting Braga FC at Glamis Stadium.
In October 1966, then a 25-year-old Dynamos forward, Mukwesha made his first step to international football when he embarked on a road trip to Mozambique enroute to Portugal.
His late former teammate Morrison Sifelani drove him to Maputo in the company of the late Armando Ferreira (a former CAPS United coach).
Mukwesha, better known in soccer circles as Karamba, became the first Zimbabwean to play in Europe.
He rubbed shoulders with Portugal's greatest players and legends, Mozambique-born Eusebio and Portugal captain Mario Coluna.
With Portugal finishing the 1966 World Cup on third place, Freddy was rubbing shoulders and probably sharing jokes with the world's best.
Eusebio, at that time the global football soundtrack, had emerged the top scorer at the 1966 FIFA World Cup with nine goals for Portugal and had been named Europe's best player the previous season.
Mukwesha's journey to stardom began when Sporting de Braga toured the country to play the then multi-racial Rhodesian football team in 1965 at Glamis Stadium.
He was a thorn in the flesh of the visitors that afternoon and Sporting de Braga made him one of their priority targets.
In Portugal, he made headlines with his goal scoring skills and became a darling of the Portuguese fans.
Mukwesha was the first person in the country to sign for an overseas club and the second player to play outside the country's borders after teammate Patrick 'Amoto the devil' Dzvene who had signed for the Zambian outfit Ndola United in 1964, in a move everyone thought was to unlock doors for other locals to Europe.
After his stint in Europe, he became a mentor to a lot of successful players in Zimbabwe.
After Mukwesha hung his boots, he had a coaching and managerial career with both Dynamos and CAPS United.
Another great son of the soil to make waves overseas was Peter Ndlovu.
Ndlovu was born on February 25 1973 in Bulawayo.
He grew up in a footballing family with two elder brothers Madinda and Adam also playing soccer, just like their young brother Peter, Adam and Madinda are also engraved in the annals of football history in Zimbabwe.
Peter Ndlovu is one of the most outstanding footballers to emerge from the country.
After starting his career at Highlanders, it did not take long for him to move to the English Premier, where he was brought by Terry Butcher.
He played for Coventry City, where he was affectionately called 'the flying elephant'.
At Coventry City, 'Nsukuzonke' Ndlovu was arguably at the zenith of his footballing career playing 179 games and scoring 41 goals in the process.
His stint at Coventry would prove to be the longest compared to other teams in the premier league.
Playing against Arsenal at Highbury on his Coventry debut in August of 1991, the teenager scored the winner.
He scored some important goals for Coventry City and was the first player in 30 years to score three goals against Liverpool Football Club at Anfield.
Several top English clubs, including Manchester United, are said to have been interested in the player at one point, with Arsenal bidding a million pounds for the player, turned down by Coventry City.
In 1997, Ndlovu signed for Birmingham City and was later loaned to Huddersfield Town before signing for Sheffield United in 2001 where he made 135 appearances, scored a hat-trick against Cardiff City, and the winning goal against Leeds United in 2002 Worthington Cup.
The former Zimbabwean international has the record of an African with the highest number of years playing top flight football in England after spending 13 years in that country
Ndlovu moved to South Africa where he was signed by Mamelodi Sundowns from 2004-2008 and also won the league with Sundowns after rejoining in 2013 as team manager.
Ndlovu is the most decorated player of all those who have played for the Zimbabwe national soccer team, having been capped 100 times and being the all-time top goal scorer for the Warriors with 38 goals.
The great Ndlovu was part of the star-studded Dream Team coached by the late Reinhard Fabisch.
The team had other greats of Zimbabwean football such as Bruce Grobbellaar, Ephraim Chawanda, Francis 'Sandura' Shonhayi, Benjamin Nkonjera, Adam Ndlovu, Rahman Gumbo, John Phiri, Paul Gundani, Agent Sawu, Alexander Maseko and Henry Mckop.
Ndlovu captained the national soccer squad (Warriors) that made history by qualifying for the Africa Cup of Nations for the very first time in 2004.
Another great to don the Zimbabwean jersey and ply his trade in Europe was Norman Takanyariwa Mapeza
Mapeza was born in 1972.
He began his career at Darryn Textiles FC, playing as a defensive midfielder.
He then moved to Poland, where he played for Sokol Pniewy in the Polish Ekstraklasa for the 1993 and 94 season.
He later played for several clubs in the Turkish Super Lig, including Galatasaray SK, Ankaracucu, Atlay SK and Malatyaspor.
He is only the second Zimbabwean player to play in the UEFA Champions League, appearing in the competition with Galatasaray in the 1990s.
Norman Mapeza finished his playing career after two seasons in Africa with Zimbabwe Premier Soccer League (PSL) side CAPS United in the 2003/4 season and later South African side, Ajax Cape Town, in the 2005/6 season.