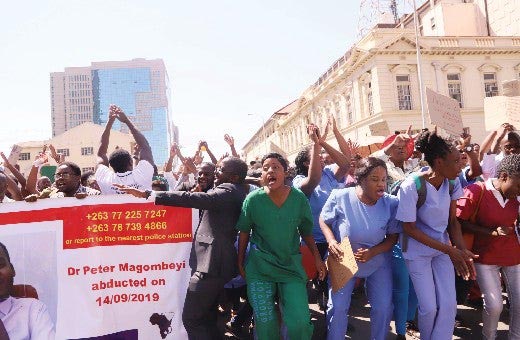 JUST at a time when the nation thought the 'August abduction fever' was gone, September came in with the mother of all 'abductions'.
A 25-year-old doctor, Peter Magombeyi, who is also acting president of Zimbabwe Hospital Doctors' Association (ZHDA), was allegedly abducted at his home in Budiriro on September 14 2019.
And five days later, Dr Magombeyi was found in Nyabira, a few kilometres from the American Embassy.
This is amid claims that foreign embassy officials were deeply interested in the matter, raising suspicion that they could be behind an operation to discredit the State in a desperate bid to justify continued isolation of Zimbabwe.
The Patriot is reliably informed that Dr Magombeyi was housed at a safe house in Chisipite (address supplied) during those five days.
The premises were also used as a safe house for MDC-Alliance activists during the August 2019 demonstrations.
In August alone, the Zimbabwe Human Rights NGO forum reported 19 cases of abductions.
But for the US, more than 50 abductions have been recorded in 2019.
Indications are Dr Magombeyi has been offered asylum in the US following his 'abduction' last week.
It is alleged the doctor will be financially assisted by a medical scholarship to further his studies.
Other abduction cases include Amalgamated Rural Teachers' Union of Zimbabwe president Obert Masaraure, who was kidnapped by assailants wearing black masks while armed with AK47 rifles and pistols.
He was later dumped in a bushy area near Manyame Air Base.
Such tactics have been used before.
Some of us remember that during the armed struggle that Selous Scouts killed missionaries at Musami Mission to soil the image of the ZANLA forces.
Or the massacre of 12 missionaries at Elim Mission in Inyanga, including a three-week old baby Pamela Grace Lynn.
There was an outcry, with the picture of Pamela going as far as the United Nations General Assembly and a readership of over three million people.
And there were no witnesses to the killings.
To the world, ZANLA was a terrorist group that was ruthless and bloodthirsty.
However, it later emerged that it had been the work of Selous Scouts who wanted to soil the image of ZANLA guerillas.
Who is Dr Peter Magombeyi?
Before his 'abduction' Dr Magombeyi was a nonentity.
No one knew himy, except his handlers.
But within 24 hours of his alleged abduction, he is a missing hero who ostensibly has been abducted by the ZANU PF Government.
Dr Magombeyi was born on June 20 1993.
He attended Mpopoma High School in Bulawayo for his secondary education.
He was enrolled into National University of Science Technology (NUST) Medical School on July 2013 and graduated in 2018.
He is on his first-year internship as a junior doctor at Harare Central Hospital.
This has prompted many to ask how a first-year intern turns out to lead Zimbabwe Hospital Doctors' Association (ZHDA).
Dr Magombeyi attended a disciplinary hearing on September 10 2019, emanating from his absenteeism from work.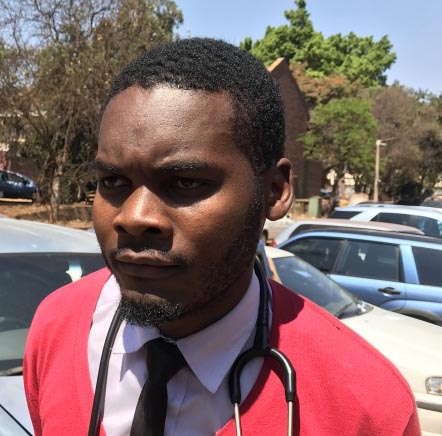 The outcome of those proceedings are yet to be known.
He resides on Number 2915 Budiriro 2, Harare.
He has political ambitions.
In his facebook intro, he writes: "Doctor in the making, Aspiring Politician.
Alluta Continua!!!!"
He is also a former NUST SRC representative for 2014.
It is interesting to note that Magombeyi joined twitter on August 28 2019, two weeks before his abduction.
His first post is what is purported to be a threat from state security agents.
The screenshot with a message sent at 09:51am from an Econet Number 0786645911 reads:
"USAZOTI I DID NOT WARN U. RAMBA UCHIITA NHARO. UCHATORWA NECHAMPUPURI. WE ARE GETTING CLOSE NOW."
The number is saved in Dr Magombeyi's phone as CIO (1).
No police report was made.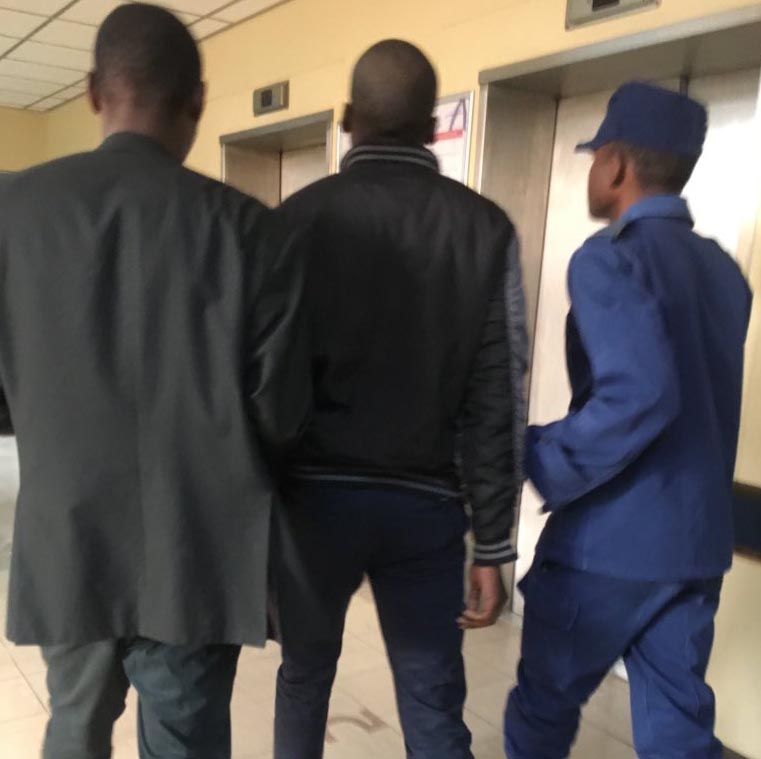 Maybe the Doc could clarify why he saved the number as CIO (1) and how he came to the conclusion that the message was from a CIO agent.
Fellow doctors who stood in solidarity and let hundreds of patients die deserve to know the truth; so do relatives and friends of those who died in hospitals during those days.
However, a search reveals that the Econet number is not registered.
And since his post of the threat, Dr Magombeyi was active on twitter until two days before his 'abduction'.
During those 14 days, Dr Magombeyi called for a job action for junior doctors.
Soon after his 'release', he was back on twitter this time with a biblical tale.
He equates himself to Apostle Peter when he was in prison.
"When Peter was in prison, prayer was made without ceasing of the church unto God for him (Acts 12). THANK YOU EVERYONE. I am humbled! Love u."
It is also interesting to note his fondness for capital letters.
Any links to the screenshot of the  threat which was also in caps! 
One wonders!
The 'abduction' that never was?
Of late, there has been a worrying trend of Zimbabweans staging 'abductions and kidnappings', all aimed at falsely presenting Zimbabwe as a fascist state, while simultaneously placing the new dispensation under the international spotlight.
At first glance, Dr Magombeyi's 'abduction' looks different in every aspect; for the masses, a young vibrant professional doctor is abducted instead of the usual political activist.
Harare Central Hospital internal memorandum dated September 16 2019 and addressed to the chief executive officer by the Human Resources Department, indicated that the night before he disappeared, Dr Magombeyi bade farewell to his housemate Dr Jena and told him to lock up the door since he was going for an all-night prayer.
In a space of minutes of his missing, Dr Magombeyi turned from zero to hero.
A march to Munhumutapa Building was organised to confront the President to 'release' this missing character.
It is interesting to note that soon after his 'abduction', a solidarity march is organised.
Patson Dzamara, Evan Mawarire, Fadzai Mahere and MDC leader Nelson Chamisa start urging Zimbabweans to join the medical practitioners in their demonstrations.
Interestingly, Masarure, a teacher, partakes in the demonstration.
Doug Coltart, Dirk Frey and other so called human rights activists organised a night vigil at Parirenyatwa Group of Hospitals for the missing doctor.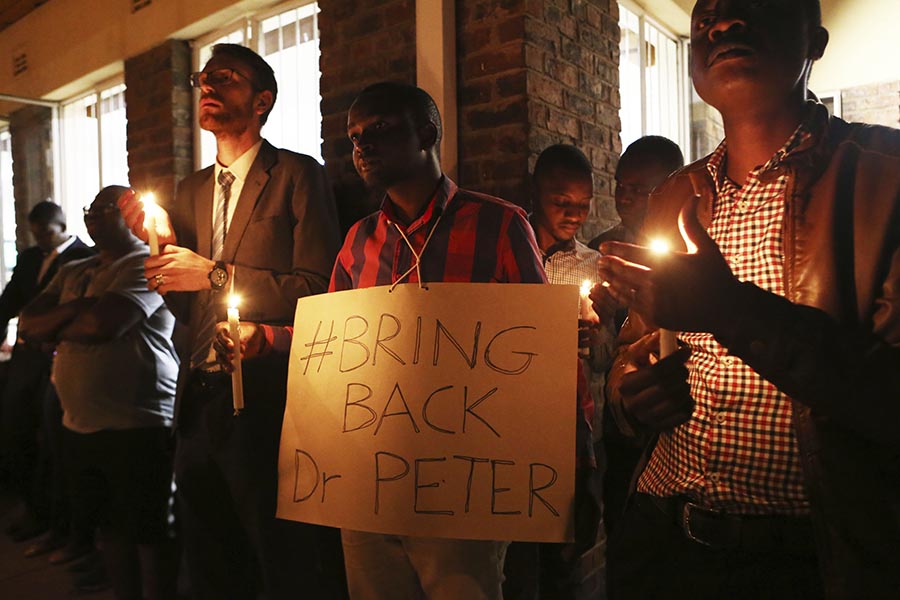 And the night vigil was outstanding for its imposing presence of white folk.
Upon resurfacing of Dr Magombeyi in Nyabira, the first people to tweet that the doctor had been found include notorious regime change agents such as Dewa Mavhinga and Hopewell Chin'ono.
The characters surrounding the 'disappearance and reappearance' of Dr Magombeyi leave a lot to be desired.
It is important to note that twitter handles such as @usembassyinharare, @UKinZimbabwe, @euinzim and @NLinUK were the first to be tagged.
Not even the Zim doctors associations, health or human rights organisations were tagged.
However, there are similarities with other 'abductions'.
Soon after his appearance, Dr Magombeyi grants his first interview to Voice of America Zimbabwe Service's Livetalk Program.
It is like the production team had been prepared, waiting for his resurfacing before they could get him to talk on their station broadcast from Washington DC.
Remember when Obert Masaraure was 'abducted'! He was on the line with Voice of America Zimbabwe Service, saying he was fearing for his life as he felt he had been followed to his house by suspected members of the Central Intelligence Organisation (CIO).
Voice of America (VOA), headquartered in Washington DC, is funded by the US Government.
Funds are appropriated annually by Congress under the budget for embassies and consulates.
It's puzzling how the Doc would rush to give an interview to Studio 7 but refuses to give the police information so that his abductors can be apprehended!
Is it by coincidence that the so-called 'abduction' was done during the impending UNGA summit this week, and the visit by the UN special Rapporteur.
Remember Bus-stop TV comedienne Samantha 'Gonyeti' Kureya was also 'abducted' ahead of the SADC Summit of Heads of State and Government.
And, again, Americans led the way, through their twitter handle, to call on Government to stop the 'abductions'.
These abductors are quite unique.
Each time they release their abductee, they leave him or her with the cellphone so that he or she can confirm the abduction and offer an interview to Voice of America's Studio 7?
Gonyeti was abducted and had to call from her phone after being 'released' and now this doctor went through the same 'ordeal'.
Are the abductors so generous as to provide hair clippers, soaps and an iron for their 'abductees'.
Magombeyi came back clean shaven, wearing a clean and ironed shirt.
It must be a five-star abduction service with cosmetology and charged cellphone.
Speaking to VOA, Dr Magombeyi said he didn't have any obvious signs of physical injury, but only generalised pain.
He said his last recollections, before being taken by unnamed people, were memories of being electrocuted.
"I remember being in a basement of some sort, being electrocuted at some point, that is what I vividly remember. I, I just don't remember."
Dr Magombeyi said a lot of what happened during that time, including if he had anything to eat or if he was blindfolded, was too vague for him to articulate.
Most of the people who listened to the interview were shocked that Dr Magombeyi would remember everything else, including his name, his workplace and where he was, but when asked critical questions, his answer was that he had lost his memory.
"I barely remember anything. I think I am having retrograde amnesia, I just don't know," said Dr Magombeyi.
This is the same diagnoses from private doctors who examined Dr Magombeyi upon his admission at Avenues Clinic in Harare.
The doctors indicated in their notes that he was suffering from "…significant neurocognitive and psychological dysfunction."
The examination by doctors was done in the presence of his lawyers —Doug Coltart and Jeremiah Bhamu.
Five doctors who include Trust Zaranyika, Aaron Musara, Andrew Mataruse, Walter Mangezi and Shingirirai Meki signed an affidavit confirming that Dr Magombeyi required further functional brain imaging and toxicological evaluation, services which are not available in Zimbabwe.
Dr Magombeyi is expected to get 'medical attention' at Millpark Hospital in Johannesburg.
We hope that the good doctor will regain his memory soon and tell the world the true story behind his so-called 'abduction'.