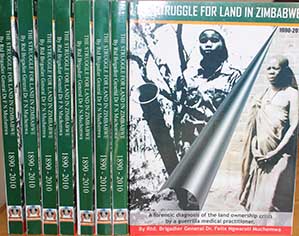 By Munhamu Pekeshe
AS news filtered about the passing on of Rtd Brigadier-General Dr Felix Ngwarati Muchemwa, one colleague, an academic remarked: "An intellectual soldier.
"I enjoyed our many debates."
I remembered Muchemwa as a historian and an avid user of the archives.
He, in some ways, reminded me of Herbert Ushewokunze in seeing beyond human anatomy.
Muchemwa, with fellow doctors Sydney Sekeramayi and Herbert Ushewokunze represent a group of ZANLA medical cadres who saw the direct link between the physical well-being and justice.
It is for that reason they expended much of their intellectual prowess in fighting injustices like colonialism.
Ushewokunze and Muchemwa also made direct contributions to the historiography of the struggle.
The latter's work, which was perhaps a farewell indictment on the current crop of 'struggle-shy' historians, was focus of a review I wrote a few months ago.
The review is here reproduced as tribute to a fore-sighted hero who put country before self;
A few weeks ago I posed the question; Are we ready for the full story of our struggles for liberation?
I lamented the fact that nearly 60 years since the beginning of our struggles for freedom and 36 years after independence, the production of history remains dominated (and polluted) by Rhodesian voices.
There has been palpable reluctance from some participants from our side to share their experiences.
Only a few of the struggle participants have dared share their stories.
These include Ndabaningi Sithole, Maurice Nyagumbo, Vesta Sithole, Josiah Tungamirai, Simon Muzenda, Fay Chung, Edgar Tekere, Wilbert Sadomba and Dzinashe Machingura.
The accounts have tended to be monologues without scholarly backing to support and interrogate various viewpoints.
There have been exceptions; the late Stan Mudenge, politician and historian, was an avid user of the National Archives.
He was one of a small group of regular users of this rich resource.
And only one of four ministers/former ministers I ever met in the National Archives reading room.
But then some will say, he was strictly not a struggle participant and in any case did not specialise on the liberation story.
Eddison Zvobgo was another regular visitor to the National Archives.
He satisfied his nostalgia for the Zimbabwe News, which he partly edited and also sought evidence to back his decision-making on contentious matters.
Wilbert Sadomba was and perhaps still is an avid user of the archives for his research and writings to elaborate his recollections. I have also come across, on occasions Aeneas Chigwedere, Joramu Gumbo and July Moyo.
But none of these eminent users has been as permanent a resident of the National Archives reading room as has been Rtd Brigadier-General Felix Muchemwa.
When I first saw him in the National Archives reading room, I quickly concluded he was carrying out some medical research.
I was curious, though, to know how useful the National Archives were for medical research.
Later I gathered that the Rtd Brig-General was an Advisor to Office of the President and Cabinet on Disability Issues.
I immediately concluded he was carrying out policy research on disability issues.
Much later I was chatting with a colleague on the chances of Zimbabweans claiming reparations from the British over colonial land seizures.
He mentioned Muchemwa's research on land. I became interested to know more and I sought his acquaintance during his reading breaks.
Our chats grew from the torn flag that was hovering over us to horticulture and finally to the land question.
I found him passionate and methodical in his approach to the subject.
Years later, this year, I met the Rtd-Brig-General at OR Tambo and enquired on what had become of his research on the Zimbabwe land question.
He promised me the book would be out soon and he would make sure I got an invitation.
Months later, I received an invitation to the launch of the book, The Struggle for Land in Zimbabwe 1890-2010 by Rtd Brig-General Dr Felix Ngwarati Muchemwa.
It is 'a forensic diagnosis of the land ownership crisis by a guerilla medical practitioner'.
The book, published by Heritage Publishing House, was edited by Dr Rino Zhuwarara and Cde Alexander Kanengoni.
The 275-page book has 18 chapters beginning with a background to the scramble for land in Zimbabwe.
It is essentially a three-part book; First Chimurenga, Second Chimurenga and Third Chimurenga, all threaded together by a sustained fight in defence of the soil.
This is a book on the Chimurenga.
Whereas previous works by some Second Chimurenga participants have been easy reads, romanticised accounts of the war seeking to portray the writers as the heroes, this is a down-to-earth illustration of colonial brutality, using hard facts and figures.
It is well referenced in text, with a full list of the reference materials at the end of each chapter.
The book also carries a very helpful index. When I first read the book, I started with the Second Chimurenga pages 137-205, then moved to the First Chimurenga and ended with the Third Chimurenga. Perhaps trying to rationalise this weird way of reading a book, I have to point to national hunger for stories on the Second Chimurenga.
'A Muchemwa and land struggle in Zimbabwe' is a topic that conjures Second Chimurenga memories and narratives.
Having read Edgar Tekere's romanticised account of the war, hondo yaakunakidza, I anticipated that publishing on the war 'yaakunakidza'.
Not much followed this and this offering from Muchemwa was bound to whet my appetite.
I therefore plunged into Muchemwa's Second Chimurenga account.
By the time I was through with this part, I was struggling to hold back tears.
The blow-by-blow account of the Rhodesian genocide in Mozambique was just too much for me.
Never mind that it was given in hard facts and figures devoid of emotion.
It remained a barbaric horror experience.
Similar atrocities against people from the West would have attracted global outrage, guns and tribunals. We must say 'Thank you Dr Muchemwa' for this useful contribution to discourse on the liberation struggle.
As the adage goes: "History is written from the perspective of winners."
Yet you find that the bulk of available literature on the Second Chimurenga has been written by Rhodesians.
This book by Dr Muchemwa clearly shows time is now to tell the story of our struggles for freedom and justice.
Unless we do something about our liberation war archive, collect memories of the struggle now, preserve and make accessible, the Rhodesian narrative will dominate and in a few years will be the only narrative of our struggle in town.
Dr Muchemwa has shown us the way.