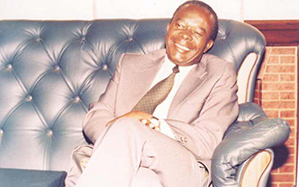 By Nyasha Majoni
ABOUT 77 years ago in an era when the Rhodesian regime was savaging innocent civilians, a peasant couple from Chivhu were blessed with a baby boy (Charles Utete) who would, years later, make history by becoming the first civil servant to be interred at the National Heroes' Acre.
From such humble beginnings of a mere villager grappling with herding cattle and other correlated errands for boys in a village set-up, it certainly could have been puzzling for one to believe this boy from 'remote' Chivhu would one day become the first principal advisor to the new black Government.
The village-boy shrugged off all misconceptions and myths associated with rural up-bringing to become the first black secretary in the Zimbabwean Government and deservedly attracted multitudes of Zimbabweans at his funeral.
This boy who would have probably frequented the growth point to buy a few groceries for his modest parents is the same man who would later travel across the globe in his seemingly unquenchable thirst for education.
He would later use that expensively-acquired knowledge to serve his nation with incontestable loyalty before retiring from the Office of the President and Cabinet (OPC) after a solid 23-year stint.
Despite having retired from the OPC, Dr Utete still worked tremendously behind the scenes and transformed the civil service to become the formidable force it is today.
Last Friday, at his Highlands home, the history-making civil servant bade farewell to a nation he passionately worked for when he collapsed and died at the age of 77.
He was christened Charles at birth or Charisi as the elderly in the village would have probably mispronounced his name, but this week, the Nation bade farewell to a reputable man, Dr Charles Utete.
The late Dr Utete is largely revered for having revolutionised the country's civil service after the new black Government had inherited a system that largely favoured the minority white populace at the expense of the landless black majority.
But who really is this man whose extra-ordinary service became the envy of many within and beyond our borders?
Dr Utete was born on October 30 1938 in Chivhu.
He attended Kwenda Mission for his primary education before enrolling at Tegwani High School and later completed his 'A'-Level at Goromonzi High School in 1960.
He then attended the then University of Rhodesia (now University of Zimbabwe) where he was exposed to the evils of racial discrimination which were prevalent at the time.
After successfully completing a BSc (Hons) in Economics in 1963 with the University of Rhodesia, Dr Utete travelled to Boston, Massachusetts, where he attained a Masters in Political Science at Tufts University.
He then enrolled at Carleton University in Ottawa, Canada, where he completed an MA and PhD in International Relations and Public Administration in 1971.
In 1981, Dr Utete joined the civil service as Secretary to the Prime Minister and Cabinet before being appointed Secretary to the President and Cabinet in 1987 following the introduction of the Executive Presidency which culminated from a pact between ZANU PF and PF ZAPU – the historic Unity Accord.
Even after his retirement from the OPC in 2003, he was appointed Chairperson of the Presidential Land Review Commission which was tasked with assessing progress in the implementation of the Land Reform Programme.
The programme saw over 400 000 black households getting the country's prime land that was previously owned by a mere 4 000 white farmers.
Dr Utete proved he had a big heart for his motherland and as his successor Dr Misheck Sibanda aptly put it: "From the perspective of the OPC and on behalf of all civil servants, we feel highly honoured that the pioneer of our civil service has been accorded such a status of national hero.
"He certainly deserved this declaration because of the work he did in building a viable civil service bureaucracy."
Goodbye hero of our motherland!
Go well architect and builder of the public service!