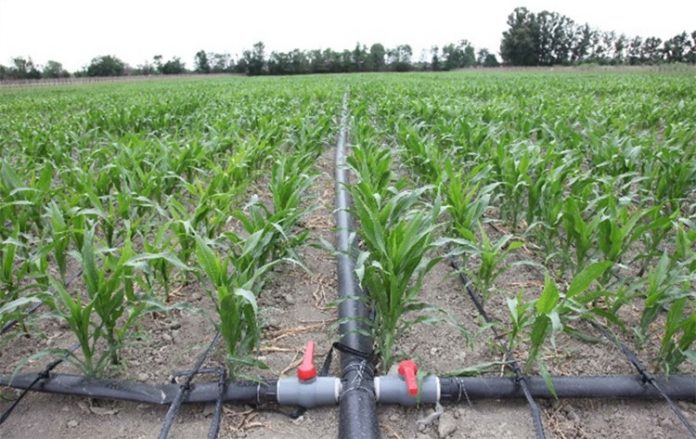 FARMERS should invest in drip irrigation to mitigate the effects of the shifting rainfall patterns that have resulted in the country experiencing erratic rains during summer, an official has said.
Drip irrigation is a method that uses narrow tubes to deliver water directly to the base of a plant, allowing it to drip slowly to the roots.
Mashonaland West AGRITEX official Emmanuel Mandaza said drip irrigation mitigated water shortages.
Mandaza was addressing farmers during a tour of drip irrigation demonstration plots in Beatrice recently.
"Climate change is inevitable and the effects are already evident in Zimbabwe, hence the need for us to resort to other effective and sustainable farming methods like drip irrigation," he said.
Mandaza said, through adoption of drip farming method, the country was destined to yield at least 10t/ha of grain.
"Almost every crop grows well under drip irrigation, for instance pepper, tomatoes, butternuts, water melon, maize and onions," he said.
"It is our objective to see every household engaging in this noble venture which will ensure food security in the country and we should not continue relying on aid or imports when we are blessed with such good soil."
Mandaza said efforts to take the project to other parts of the country were at an advanced stage.
"Apart from Beatrice, we already have demonstration plots in areas like Mvuma, Gweru, Buhera, Shamva and Chegutu," he said.
"We have field officers who train people on how to lay out and maintain the drip irrigation kit."
The past farming seasons have been characterised by erratic rainfalls and most farmers failed to irrigate crops citing poor irrigation systems resulting in the wilting of crops.
Government, as part of efforts to enhance agricultural activities has embarked on a programme to rehabilitate and establish irrigation schemes.
Stakeholders have called for farmer capacitation to enable them to borrow money from financial institutions and purchase irrigation equipment.
Farmers have expressed concerns over the shifting rainfall patterns which have disrupted production.
Experts have said it is time the country implement an irrigation-focused type of agriculture.
There have been growing calls for Government to come up with meaningful contribution towards the setting up of viable irrigation infrastructure that can adequately sustain and guarantee the country of food security in the face of droughts.
The need to develop a national irrigation policy, to counter the persistent droughts that have become frequent, has become paramount to mitigate the effects of climate change.
In response, Government, through the 2018 National Budget allocated the Lands, Agriculture and Rural Resettlement Ministry US$52,1 million for irrigation rehabilitation and development, targeting at least 200ha/district to be implemented annually over the next 10 years.
The setting up of more irrigation schemes would help consolidate food security gains achieved by programmes such as the Command Agriculture.
From last year, when Command Agriculture was launched, joint ventures were put in place to finance the development of irrigation schemes in all provinces.
Through Private Public Partnerships (PPPs), Government worked on irrigation schemes under ARDA.
Under the Brazil Loan Facility, in some cases Government resuscitated (modified and added new infrastructure to the existing) or revitalised (completely changed systems as they were outdated).
Under the More Food for Africa Programme, Brazil irrigation scheme facility of US$98 million, Government has already mounted US$69 million irrigation schemes across the country.
Government has extended the Brazil More Food for Africa irrigation facility to mission schools, churches and prisons, among other institutions under Phase Two of the programme as the food security net is cast wider.
By revitalising and moving to the use of pivot irrigation facilities, it is envisaged average yield per hectare will increase.
Government is targeting 400 000ha under irrigation in the next three years.
To date, nearly 150 000ha are under functional irrigation systems, with 18 schemes under ARDA having been revamped.
Revamped irrigation schemes include Antelope, Insukamini, Siyaso (Mvuma), Ruchanyu (Shurugwi), Hama Mavhaire (Silobela) and Fair Acres (Kwekwe) which has 500 ha under centre pivot irrigation.
In Manicaland there is Bonde, Nyanyadzi and Knowe, while Bulawayo Kraal is in Bulawayo Metropolitan Province.
Masvingo has Mushandike, Marowa, Nandi and Sanganai Irrigation schemes.
In Mashonaland West, Doreen Prite (Kadoma) and Sanyati are among schemes now fully functional.