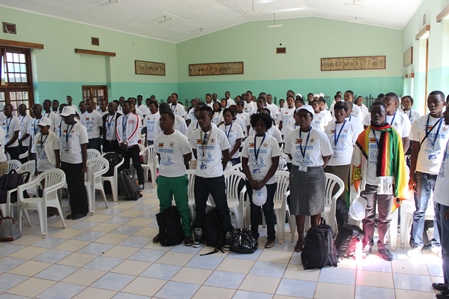 THE Zimbabwe Heritage Trust (ZHT) will soon introduce national awards for National Strategic Studies (NASS) in a move to encourage students in the country's tertiary institutions to protect national interests.
ZHT is a non-profit making organisation aimed at moulding Zimbabweans who are proud to be black and associated with their ancestry.
Currently, the trust has been giving awards to students who have excelled in NASS at limited polytechnic schools in the country.
In an interview, during the NASS award giving ceremony at Harare Polytechnic on Monday, a ZHT programme officer, Cde Nyika Mugadzaweta said the awards will be open to students' at all tertiary institutions countrywide.
"We are working very hard to grow this project into national awards so that we can involve all students in the country," he said.
Pundits contend that although colonisation was dealt with there remain vestiges of it in the way of thinking of many Africans and this is so mostly because of books particularly history texts that we still use that were produced by whites.
Currently, students are unknowingly promoting the ideology of colonisers at the expense of their national interests.
Cde Mugadzaweta said NASS was important in educating young people about their history from a Zimbabwean perspective.
"The study of local history from a Zimbabwean point of view, builds the capacity of people to make informed choices in order to contribute constructively in protecting national interests," he said.
"It is important for our students to know their history so that they become patriotic in everything they do continuously working towards national development. 
"NASS clearly defines where we came from and where we are going and there is nothing wrong about that.
"The agenda is to groom skilled personnel with a sense of patriotism."
Most students in the country, said Cde Mugadzaweta, were interested in the true history of the country, but were deprived and bombarded by Western literature.
"We are very happy because the programme of educating local students has been receiving a positive response as most of them are now aware of the lies and distortions that were being told by whites regarding our history," he said.
"Most of the students now know the truth about Zimbabwean history in terms of politics, economy and social issues.
"History reflects the changes and growth in society over time and space; therefore, examining the past will allow students to understand how history influences our present and future."
Speaking at the same occasion, Harare Polytechnic acting Principal Engineer, Tafadzwa Mudondo said NASS provided students with an opportunity to appreciate the history of the country especially the liberation struggle.
"NASS forms the foundation of students to understand their identity and understand where they came from," he said.
"As Harare Polytechnic, we have facilitated a number of tours by students to different liberation war shrines inside and outside the country.
"It is important that they (students) know the history of our country as they are the future leaders and we hope that the knowledge they get will cascade to other students."
A former Harare Polytechnic student who attended the ceremony, Spenny Madziva, said NASS was an important subject as it has corrected many misconceptions.
"We grew up exposed to Zimbabwean history that was told by Whites with limited truth about our past and we were made to believe that," he said.
"The study of NASS has changed my perception about our past.
"With the opportunity I was given by our college to tour some of the liberation war shrines, I now know the truth about Zimbabwe and that has transformed me to be patriotic."
Western scholars have over the past years been denying Africans access to factual educational information by telling them falsehoods about their past.
As globalisation slowly becomes a reality, many countries in Africa, Latin America and Asia have realised the importance of formally pursuing citizenship education through programmes such as NASS.
 This is viewed as important in instilling in students a sense of belonging, national consciousness and to build a responsible citizen actively involved in their country's economic, social and political development. 
The introduction of NASS was a response to recommendations of the 1999 Nziramasanga Presidential Commission Report on education and training in Zimbabwe.
The commission advocated reform of the education system in order to preserve the country's rich spiritual, cultural and moral values.
Since then, the subject has been made compulsory in most tertiary institutions.
Some of the students who scooped the awards from different courses included Ratidzo Tamirepi, Tichaona Chikombe, Tinashe Kereme and Tafataona Maisiri.