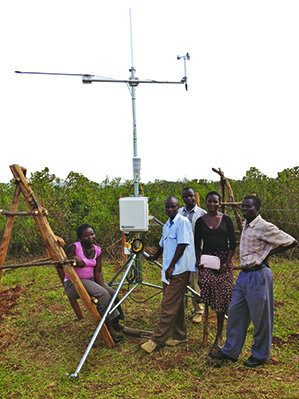 ZIMBABWE joins the rest of the world in commemorating World Meteorological Day on March 27 amid increased efforts by the Meteorological Services Department to engage youths in weather related issues.
The day will be commemorated under the theme, 'Weather and Climate: Engaging Youth' at Sampakaruma High School in Mashonaland West Province.
Young people between the ages of 15 and 24 make up a sixth of the world's population.
About 85 percent of these one billion young men and women live in developing countries.
The youth have been identified as critical in promoting climate awareness, mitigation and adaptation hence the need to involve them in the formulation and implementation of the policies affecting them.
It has been identified that despite the young people of today being better off than their peers of 50 years ago, they still suffer from poverty and discrimination, inequality, exploitation and lack many basic services.
And extreme weather conditions affect them much more.
Speaking to The Patriot, MSD director Dr Amos Makarau said there was need to increase dissemination of weather-related information to uplift communities.
"Platforms such as the remotely located Sampakaruma School where we are going to have the World Meteorological Day celebrations for this year help us as a department to understand how the communities are adapting and coping with weather conditions in their areas, identify gaps as well as disseminate weather information," Dr Makarau said.
"This year's celebrations began with a youth workshop in which we engaged various youth groups to raise awareness on weather issues, understand their various roles and links to weather and climate issues."
Dr Makarau added that MSD has been instrumental in the set-up of climate change-based community stations in the Midlands and Masvingo provinces as part of efforts to make weather information easily accessible and understood by all users.
"We have in the past been passing weather information through third parties such as the Agritex and we realised that information was not reaching intended users in the way that we wanted and so began to engage the people ourselves so they could have easy access to weather and climate information," he said.
"This has seen us coming up with climate change-based community stations in partnership with OXFAM to help small-scale farmers in Masvingo and Midlands improve their productivity.
"The project which began in March 2012 has seen us providing equipment and training to small-scale farmers in Gutu, Chirumanzu and Zvishavane on how to maximize their resources to enhance their productivity.
"This has helped farmers to know when to irrigate and manage their farming since they are in a semi-arid area.
"We are hoping to upscale this programme to different places because our vision is to ensure that our products are easily available and understood by all users."
World Meteorological Organisation secretary-general Michel Jarraud, said young people had a huge stake in the future hence the need to engage them.
"Young people are a source of innovation and of fresh insights into problems and their possible solutions," said Jarraud.
"As the next generation prepares for changing weather and climate, young people can play an active role in monitoring, understanding and responding to the weather and climate of today and tomorrow."
Linia Mashawi principal meteorologist and head of climate applications with MSD said the World Meteorological Day is an opportunity for MSD to encourage young women to participate significantly in the male dominated field.
"We take such opportunities to encourage people with special emphasis on young women and girls to pursue science subjects and venture into meteorological careers and reap the benefits," she said.
Weather related issues have become increasingly important to people as they continuously experience and feel the effects of climate change.