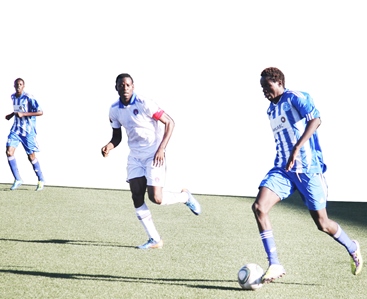 ZIMBABWE'S African Safari representatives Dynamos and How Mine date with destiny this weekend when they play in the first round of matches of the Champions League and Confederation Cup respectively.
Highlanders are still serving their five-year ban from the continental competitions.
They could have been the second representatives for the country in the continental club competition.
Zimbabwe's teams have been failing to progress into the penultimate stages of the two African Safari competitions.
Last year, Dynamos, lost 1-3 on aggregate to Tunisian giants Club Bizertin to crash out of the African Safari.
In 2012, Dynamos lost to another Tunisian side, Esperance.
The Harare giants conceded half-a-dozen goals in Tunis.
They lost 1-6 on aggregate with their only goal scored by Denver Mukamba.
They were relegated to the Confederation Cup and played Angolan side Interclube.
Their stay was short in the Confederation Cup as they crashed out.
They played in a goalless draw in the first leg at Rufaro before they were beaten 1-nil at Estadio 22 de Junho in July.
The Glamour boys needed a goal scoring draw to proceed to the mini-league phase of the Confederation Cup.
For three years Dynamos have been crashing out of the continental soccer tournament in the qualifiers.
Other Zimbabwean teams that have represented the country in the African Safari after 2010 include FC Platinum in 2012, Hwange 2012 and Motor Action in 2012, among others.
This year, How Mine will be playing in the African Safari.
It is their first time to rub shoulders with Africa's best.
They made their maiden season in the country's top flight in 2013 and finished runners-up in the Mbada Diamonds Cup.
They got the Confederation Cup slot as the winners of the Diamonds Cup Highlanders are serving a ban from the continental club competitions.
However, How Mine have got experienced players in their camp who have played in the African Safari before.
Khumbulani Banda, Menard Mupera and Gilbert Banda played in the Champions League at FC Platinum.
Goalkeeper Ephraim Mazarura has also played for the Warriors and in the African Safari before.
Defenders Hebert Dick and Nyasha Mukumbi are also part of the experienced side that Philani Ncube expects to upset the Islanders.
A number of players have been conscripted into the How Mine camp.
Former Motor Action striker Kuda Musharu, midfielders Marvel Samaneka and Wonder Sithole, defender George Magariro, James Chitereki and young goalkeeper Donovan Benard.
However, Simba Sithole who has played for the national team and scored in the African Nations Championships (CHAN) is said to have penned a deal with Ajax Capetown making the lanky striker ineligible to play for How Mine.
Chuoni FC of Zanzibar should not be a real threat to How Mine and if they put their act together, they will proceed to the next round where they will meet the winner of the match between St Michel of Seychelles or ASSM Elgeco Plus of Madagascar.
Both teams are not from great football playing nations and How Mine have the potential to go beyond the qualifiers.
Meanwhile, Dynamos play host to Mochudi Centre Chiefs of Botswana this weekend to start their 2014 Champions League expedition.
The hosts have an urge over the little-known Batswana side.
Dynamos are the most successful Zimbabwean team in the continental club tournament.
They have made more appearances in the African Safari and in 1998 under coach Sunday Chidzambwa, they reached the finals of the Champions League and lost to Ivory Coast's Asec Mimosa.
The Harare giants will this year be missing the services of central defender Gift Bello who joined FC Platinum.
Warriors skipper Partson Jaure will be commanding the central defensive role and may be partnered by Victor Kamhuka.
Several players were retained by the Glamour Boys this season.
Ronald Chitiyo, defender Themba Ndlovu and midfielder Walter Mukanga are the only additions to this year's squad.
Devon Chafa whose six months suspension from football ends this month-end will be eligible from March 1.
Dynamos Squad
Goalkeepers: George Chigova, Artwell Mukandi, Tatenda Mukuruva
Defenders: Augustine Mbara, Partson Jaure, Thomas Magorimbo, Ocean Mushure, Sydney Linyama, Victor Kamhuka, Oscar Machapa, Themba Ndlovu
Midfielders: Murape Murape, Tawanda Muparati, Cliff Sekete, Stephen Alimenda, Russell Madamombe, Boban Zirintusa, Ronald Chitiyo, Walter Mukanga
Strikers: Simba Sithole, Patrick Khumbula, Washington Pakamisa
How Mine Squad
Goalkeepers: Ephraim Mazarura, Nonjabulo Dube, Donovan Bernard
Defenders: Brighton Dube, Morris Kadzola, Terrence Majo, James Chitereki, Hebert Dick, George Magariro, Nyasha Mukumbi, Gilbert Banda, Nelson Tachi
Midfielders: Tendai Ngulube, Menard Mupera, Xolisani Moyo, Warren Dube, Marvel Samaneka, Timothy January, Wonder Sithole, Thembani Masuku, Edmore Muzanenhamo, Eddie Nkulungo
Strikers: Simba Sithole, Qinani Sibanda, Kudakwashe Musharu.