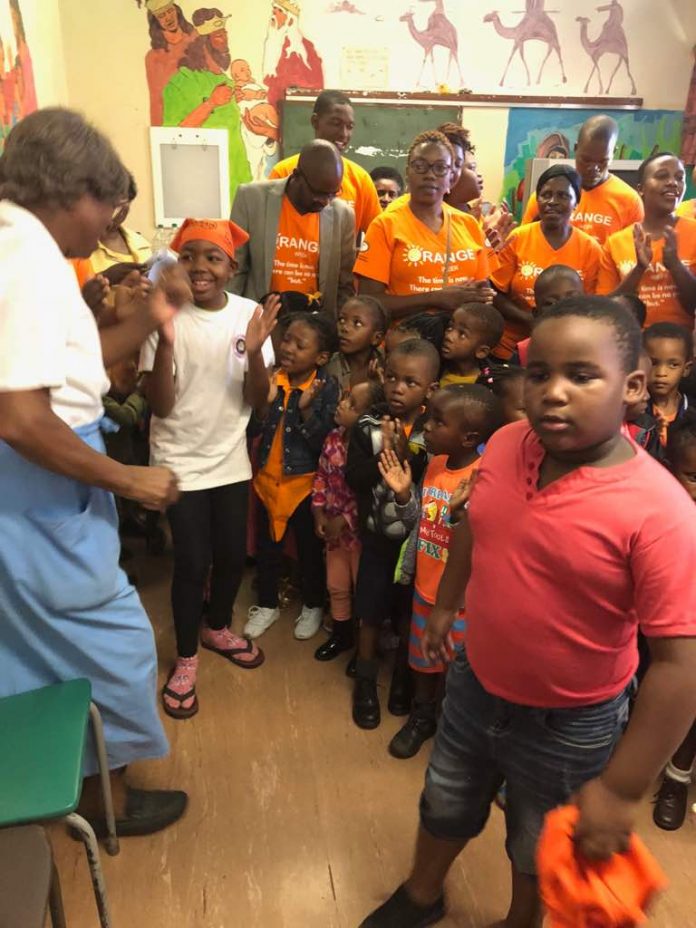 THE adage: 'Gavi rinobva kumasvuuriro' emphasises the need to groom children well so they become good and responsible citizens.
Similarly, the Bible encourages people to train children in the right way so that they will not depart from it in their adulthood.
It is against this background that the Msasa Park' Tiny Tots Junior School took a day off their routine to spend time with children in the A4 Special Ward, a Children' Cancer Ward at Parirenyatwa Hospital.
The group of 40, joined by their teachers, spent the day with approximately 60 children with cancer and their mothers as they marked International Childhood Day which falls on February 15 every year.
They donated groceries and cash.
In an interview, Msasa Tiny Tots Junior School teacher-in-charge Nelly Garwe said the donation was for a worthy cause.
"We are teaching children to assist in worthy causes. We are going to be doing this at least once every term. We wish we could do it more often as some mothers, due to financial constraints, cannot visit their sick children everyday they are admitted," said Garwe.
"We had a good time singing and playing with the children and the mothers really appreciated it as we were the first group of young kids to donate to fellow children."
Professor Inam Chitsike, a health expert, hailed the move, describing it as critical support in the healing process of the children.
"It is such kind gestures that bring joy to the hearts of these children and their families. I can assure you the cash donation will go a long way in assisting the families. The money will be used for transport to ensure the children are able to keep their appointments for follow-up, to purchase drugs and for laboratory investigations where necessary," said Prof Chitsike.
International Childhood Cancer Day (ICCD), is a day which highlights the need for concerted global actions to address the growing challenge posed by non-communicable diseases.
Globally, childhood and adolescent cancer is threatening to overtake infectious diseases, as one of the highest causes of disease-related mortality in children.
It is a day meant to 'Advance Cures and Transform Care' and to make childhood cancer a national and global child health priority.
The reported worldwide incidence of childhood cancer is increasing from 165 000 new cases annually to 215 000 cases for children 14 years and below with 85 000 new cases for 15 to19-year-olds.
Many more remain uncounted and unreported due to lack of children's cancer registries in many countries.
Originally commemorated in 2002, ICCD is committed to advancing cures, transforming care and instilling hope for all children and adolescents diagnosed with cancer in the world, wherever they may live.
The day is committed to improving childhood cancer care globally through education, supporting and improving clinical and basic research as well as advocating childhood cancer on a global level.
Sadly, childhood cancer continues to be the leading cause of non-communicable related death in children throughout the world.
Child cancer organisations around the world note that childhood cancers are often curable but too many children and adolescents have no hope to overcome their disease simply because they were born in a country entrenched in poverty resulting in late diagnosis, lack of access to life-saving essential medicines and appropriate treatment.
The most frequently occurring cancers in boys were Kaposi's sarcoma, retinoblastoma, leukemia, Wilm's tumor and connective and soft tissue.
The commonest cancers in girls were Wilm's tumor (21,8 percent), retinoblastoma (16, 7 percent), Kaposi's sarcoma, connective and soft tissue and brain nervous system, among others.
Retinoblastoma is a rare form of eye cancer that usually occurs in childhood.
It starts in the retina, the part of the eye that senses light and sends pictures to the brain.
While Wilm's tumor is a cancer of the kidneys, it typically occurs in children and rarely in adults.
It is worth noting that most pediatric cancers are curable, especially if detected and treated early.
Cancer mortality in the country is high, mainly due to late presentation of disease, inter-current disease including HIV and limited access to early detection and treatment services.