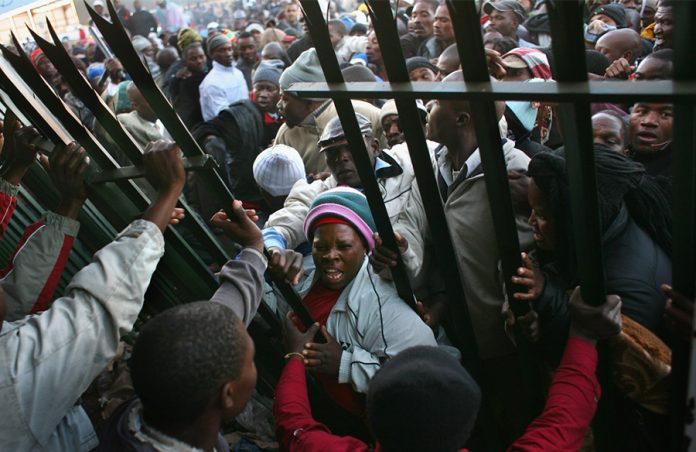 THE 'news' of a purported economic meltdown came in thick and fast, as if some kind of war had been visited on Zimbabwe but, as the dust settled, it was only hot air.
It came from all over, including from the media, but it is the frequency with which messages to that effect were being plastered, especially on social media, that betrayed the intentions of this project.
The sudden 'shortages' of cement, chickens, bread and the price 'increases' of basic commodities anchored a project whose sponsors are known and whose intentions are unmitigated mischief.
These economic terrorists will be exposed in the coming few weeks and we will leave no stone unturned when we do that!
The ordinary Zimbabwean had a right to be stunned by swiftness of these changes in the economy but in the same vein, they managed to sift through the chaff.
It is not the economy that has a problem.
It is certain characters who are manipulating the economy to make the Zimbabwean angry at Government.
We have been through this route before.
Then the onslaught on the economy had devastating effects; but Zimbabweans are resilient and intelligent people.
We have overcome this problem in the past.
This is why there are bitter lessons to be learned from last week's events.
But first things first.
It was a ruse created to cause panic and, with it, create anarchy in a country whose destiny has become one way since November 2017.
The people of Zimbabwe were supposed to be angry at their leader President Emmerson Mnangagwa who was in China attending the Forum on China-Africa Co-operation (FOCAC) Summit.
The idea was to dilute that visit, to render it a 'useless' trip from which Zimbabwe could not derive any benefit.
In the eyes of these economic terrorists, nothing good can ever come out of China.
They claim to hold the keys to this country's development and on this one, this writer will challenge them to prove their nefarious assertions.
Things, big things, are going to happen in this country and this will be right before their eyes as they hold the keys to Morgan Tsvangirai House, not the country's future!
We are a country with a destiny, a country whose future lies solely in the hands of the people and these are the true holders of Zimbabwe's prosperity.
Time will be the best prophet on this one.
And this brings us to our second issue.
According to the economic terrorists, the people of Zimbabwe were supposed to be utterly antagonised by their leadership and turn their attention to young Nelson Chamisa whose antics are slowly losing gravitas as the nation moves forward without him.
Again that failed to happen.
Zimbabwe was, according to their frantic state of mind, supposed to be on autopilot, with no leadership and without a capable Cabinet.
A new Cabinet, which has been widely endorsed, has been put in place.
It is a Cabinet that inspires confidence and one that will transform the country.
With this in mind, it is important to cite how economic sabotage has been executed elsewhere in the world.
Our analysis will take us to South America.
A June 9 2017 article by Jose Geraldo Gouvea unravels how the US tried to sabotage the Venezuelan economy.
Titled 'Has the Venezuela socialist experiment been sabotaged, or is it all due to gross mismanagement?', the article provides some useful insights on how the US creates crises in order to attract cheap commodities from target countries.
The opposition is cited in this case as willing tools in the sabotage project.
They use all sorts of dirty tactics, sponsored from outside to defame their leaders and countries in order to have a stake in the political affairs of their countries.
The MDC Alliance tells us Chamisa is the one mandated to lead this country.
We are bombarded, daily, with messages by the likes of Tendai Biti that without the opposition in Government, this country is headed for doom.
To buttress their point, they threaten to 'bring back 2008' to the country.
This is where I have a problem with such skewed thinking.
How does a sane person revel in the suffering of the majority, all to justify a lie that they have the keys to this country's future?
Sometimes we need to really do an inquiry into the 2008 scenario and punish those who were behind the trouble that the country went through then.
Let us give Gouvea voice:
"Since at least 1950, it can be argued that the US are consistently sabotaging every country in Latin America to prevent their development, so they remain cheap resources and labour force providers.
In the case of Venezuela, there was a constant campaign of defamation against Chávez, the fuelling of neo-liberal opposition, the financing of a coup d'état which misfired and many others.
However, most of the sabotaging was covert and subtle," reads the article in part.
Locating the above closer home, there are some parallels that can be drawn with last week's events in Zimbabwe.
We all know who, as has been said above, was behind the charade that we witnessed last week.
It is this writer's belief that our businesspeople must take an oath to protect and defend the country.
They must demonstrate their loyalty and allegiance to the country.
Anyone who is not agreed to that must simply close shop.
We have a nation to run and we cannot be bogged down by known saboteurs in our midst.
Let those with ears listen.