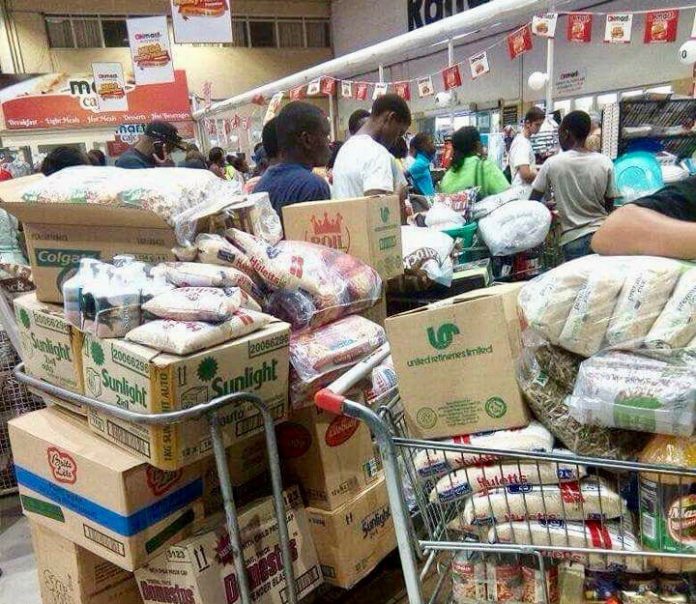 SOME of the economic challenges – particularly cash shortages and foreign currency payments bottlenecks—which have temporarily affected the supply of some products are a reflection of a growing economy as several firms in the manufacturing, agriculture and mining sectors are battling to boost their operations, a senior Government official has said.
Finance and Economic Development Minister Patrick Chinamasa insists that 'economic fundamentals are in the right direction' and there is no need for people to panic.
Recently, the country was plunged into a mini-crisis as citizens engaged in panic-buying of commodities after mischievous messages on social media alluded to looming shortages similar to those experienced in 2008 at the height of illegal sanctions imposed on the country by the West.
The panic button was triggered after economic saboteurs artificially caused a spike in foreign currency rates resulting in retailers and wholesalers increasing prices, mainly of cooking oil and sugar.
Minister Chinamasa, who was guest of honour at the 4th edition of the Mining Media Awards held in Harare recently, said the impressive performance of the economy is responsible for the obtaining cash shortages and foreign currency challenges.
He said Government directed Fidelity Printers and Refiners (FPR) – a gold buying arm of the Reserve Bank of Zimbabwe – to purchase all gold from artisanal miners using cash, and given the high deliveries, there is pressure on paper money in the country.
However, Minister Chinamasa said it is necessary to pay cash to small-scale gold miners so that they are 'incentivised' to continue mining the precious metal and generate foreign currency for the country.
Gold is one of the key minerals sustaining the economy, with US$695 million having been generated last year alone.
Currently, Government is paying out US$5 million every week towards payment for gold delivered by small-scale miners, which is weighing down the availability for physical cash for ordinary citizens.
Over 300 000 artisanal miners are producing about 47 percent of total gold delivered to FPR.
As at June 30, FPR had paid US$350 million for almost 10 tonnes of gold delivered by both large and small-scale miners.
Similarly, the tobacco sector, which has been democratised since year 2000 when Government redistributed land, has also put pressure on the availability for cash as over 105 000 households that have joined the sector are getting over US$600 million – all in cash – per year.
Said Minister Chinamasa: "Some of our teething problems are a result of our successes. I always mention one, to do with cash shortages.
"Before the land reform programme, (in) the tobacco sector, there were 2 000 white farmers. They all operated using the cheque book. Now it's 105 000 households who don't want to use the cheque book (and) US$600 million is going to them.
"They want it all in cash, physical cash. What kind of an economy is that? Those are issues to do with our successes. The same thing with artisanal miners; we pay US$5 million dollars in cash every week and they (miners) all want it in cash
"We pay civil servants almost US$300 million in wages every month and they want it in cash."
He said no economy in the world can afford to translate all the money in bank deposits into physical cash.
The international best practices are that at least 10 percent to 15 percent of bank deposits can be physical cash, with the rest being electronic money.
Government, together with the RBZ, is urging citizens to move away from the use of physical cash and adopt electronic banking systems so as to reduce demand for cash.
Farmers are being urged to open accounts so that they receive payments for their crops through the bank.
The Grain Marketing Board (GMB) has already started paying farmers through the banking system, given that many farmers recorded bumper harvests and are getting US$390 per tonne.
Minister Chinamasa said he was shocked to see people bulk-buying products, including maize meal, despite the massive yield estimated at just over two million metric tonnes achieved in the 2016/ 2017 summer cropping season.
"I was surprised, in the panic buying, people were buying mealie-meal. If you move out in any direction, the silos are full. We have had to create extra storage space to store our maize, and much of our foreign currency is going to import tarpaulins to cover the maize," said Minister Chinamasa.
"Anyone, even the most gullible, should understand that there is no way that maize can be in short supply . . . All the economic indicators are not in sync with what happened on Saturday (September 23) when people bought products in bulk.
"Platinum production is up, chrome production is up, ferrochrome production is up, nickel exports are up, horticulture exports are up; in fact, in terms of exports, we have been able to achieve a 12 percent increase during the comparative period.
"Now all those things indicate that the economy is growing," said Minister Chinamasa.
Critically, as the economic trajectory gathers momentum, the country has slipped out of deflation.
Market watchers say deflation is not good as it shows structural challenges in the economy.
Normally, an economy moves into deflation when there is weak consumer demand due to low disposable income and buyers delay making purchases, expecting prices to fall even further.
In August, the inflation rate stood at 0,14 percent, which remains the lowest in the Southern African Development Community (SADC).
The SADC benchmark for inflation is between 3 and 7 percent, indicating that the local economy is doing well.
Minister Chinamasa said people should 'stop worrying about inflation' as that would create an unnecessary crisis that will reverse the economic gains recorded so far.