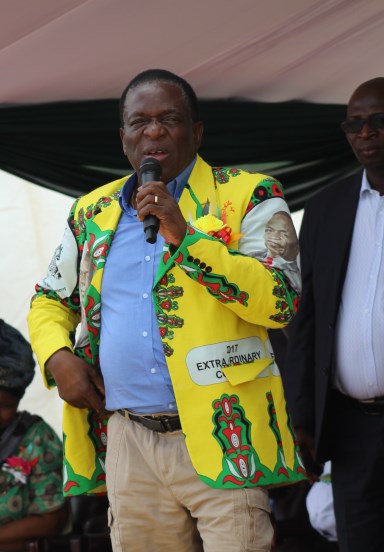 Recently in Guruve
ON April 28 1966, the first group of seven trained ZANLA freedom fighters infiltrated Rhodesia with the mission to hit targets in Chinhoyi.
This was a clear message to Rhodesians that blacks were back to reclaim their country through the gun.
The seven fought in the Battle of Chinhoyi.
The historic battle did not receive the desired results but this did not deter other freedom fighters.
It was back to the drawing board.
Another strategy had to be adopted.
On December 22 1972, a section of ZANLA fighters attacked a farm called Altena in Centenary, owned by Marc De-Borchgrave, popularly known as 'Maka'.
Before attacking Maka's farm, the freedom fighters planted landmines on the roads leading to the farm and one of them was detonated by a Rhodesian military vehicle, killing one of their men.
The Altena Farm attack quickly comes to mind as this heralded the first shots which signalled the beginning of the protracted armed struggle against white imperialists.
Because of the meticulous planning and successful execution of the Altena Farm mission, the struggle quickly spread to other parts of the country.
It is apt to say, it all began in Mashonaland Central.
The liberation struggle raged on till independence in 1980.
As freedom fighters fought Rhodesians, they realised a key factor to victory was support of the masses.
Throughout the war, the masses provided fighters with information, food, shelter and clothes.
To get the people to support the fighters, the povo needed to be educated on why the war was necessary.
Since then, ZANU PF has valued the support of the masses to maintain and safeguard the country's independence.
Just as they conducted pungwes with the people, ZANU PF has continued to engage the public, the difference being, these meetings are no longer held secretly.
Since 1980, it has become tradition that during election campaigns, the ruling Party goes back to the people to remind them of the importance of victory.
It is befitting that ZANU PF's first stop for the 2018 election campaign be Mashonaland Central.
The first stop was Siyalima Farm in Guruve.
"Pahutongi hutsva huripo musangano wangu wekutanga saPresident weZANU PF, President of the Republic of Zimbabwe, musangano wangu wekutanga, rally yangu yekutanga ndiyo ino," President Mnangagwa told thousands who had gathered to witness the launch of Siyalima Farm Irrigation Project.
"Makakumbira kuti kana ndotanga kusangana nevanhu nditange nokuno asi hachisicho chikonzero chete chandauyira kuno. Chimwe chikonzero ndechekuti kusungunuka kwatakaita munyika muno kuti tive ne independence nokuzvitonga kuzere kwakatanga nokuno, hondo yakatanga nokuno, nanhasi uno musvo we ZANU PF unowanikwa kuno kubva 1980 kudzamara nhasi muchingoita upon-upon.
"Kuno ndokutsime re ZANU PF. Anoda musangano; anoda nhoroondo yemusangano; anoda kuziva rwendo rwakafambwa nemusangano unotanga nekwawakabva uchiinda kwawakazoinda. Takatanga nekuno kutisvitsa patiri nhasi."
President Mnangagwa chronicled how the people in Mashonaland Central suffered at the hands of the colonial regime.
"…Mash Central yakatakura hondo zvakarema, kukaita maKeep, vanhu vakatambudzwa kuno," he said.
The day after the Altena Farm attack, Rhodesian security forces stormed the villages around, such as Chawarura and Mhene.
These people were taken to St Albert's Mission.
Their animals were left to roam the countryside.
At St Albert's, everyone was ordered to get into a security fence where there were no toilets nor shelter.
They lived and slept in the open.
Many people argue this enclosure at St Albert's was the first Protected Village or 'Keep' in Rhodesia.
President Mnangagwa said the story of the liberation struggle should not be forgotten.
"Zvino pane vana vadiki vakanga vasina kuona hondo iyoyo vatove ne 30-38 years vangotiwo ahh ichokwadi here kwanga kuine hondo saka tinofanira kuti mumba ne mumba, family by family, kuramba tichingotaura kuti ropa rakateuka kuti nhasi tive patiri," he said.
President Mnangagwa took the opportunity to explain Operation Restore Legacy that resulted in him taking over from former President Robert Mugabe as the country's president.
He urged ZANU PF supporters to remain united and concentrate on developing the Party and the country and not be deterred by the work of sell-outs as it was not a new phenomenon in the Party.
"Kana muhondo imomo vatengesi vaivemowo, mukati muhondo ichirohwa taive nevatengesi," said President Mnangagwa.
"Mukati medu muma comrades taive nevatengesi.
"Mukati memaKeep taive nevatengesi.
"Mukati mematraditional leaders taive nevatengesi.
"Saka nhasi hazvitishamisi kana runyemba rwevatengesi rwuchipota tichirwuwana.
"Ukanyatsoronda vanhu ava kuti G40 baba vavo vaiitei, mai vavo vaiitei, sekuru vavo vaiitei? Unoona kuti vaitengesa."
President Mnangagwa urged supporters to follow principles set down by the Party.
Those who would have violated the Party's guidelines needed re-orientation, he said.
"Kana Revolution ichifamba kunowanikwa vanotsauka vachibva mucorrect line ye Revolution asi kana vatsauka voda kudzoka aiwa munovadzidzisa votora nguva vasati vasvika pachinguva chekuti vatungamire zve nokuti vanhu vane ropa rekurashika," said President Mnangagwa.
During the visit to Guruve, President Mnangagwa officially launched Siyalima Irrigation Project, which is set to see more than 90 households benefitting.
The project is part of Government to promote irrigation schemes at district level.
Siyalima Irrigation Project covers 50 hectares with households growing crops such as maize, beans, wheat and fruit trees.
Farmers are also engaged in fish production.