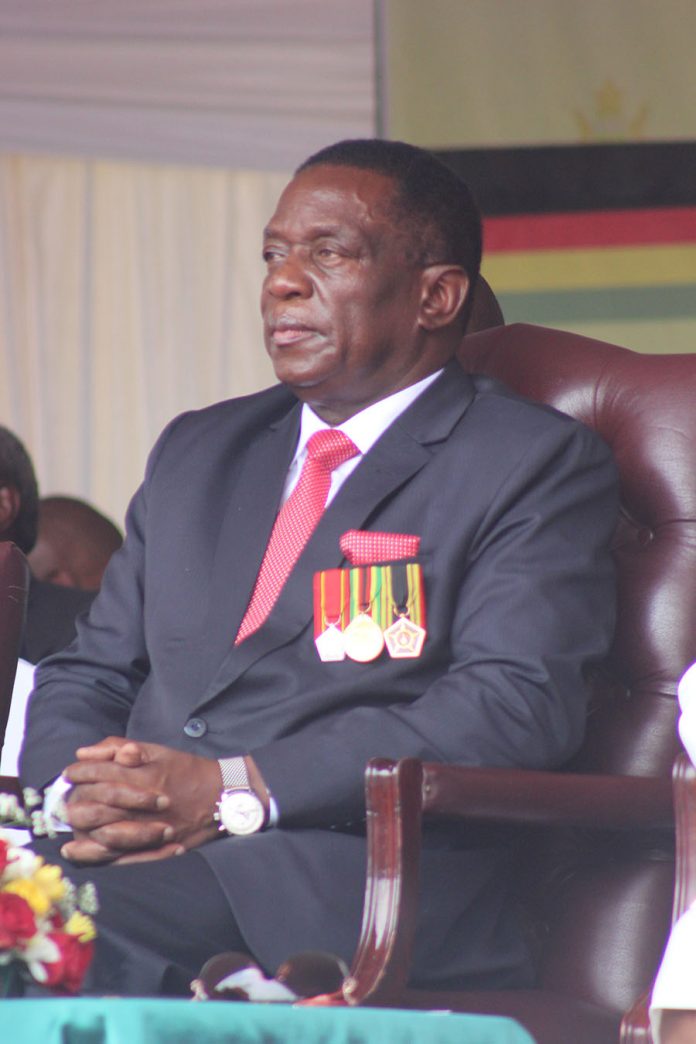 By Gwinyai Mutongi
A YEAR into office, President Emmerson Mnangagwa has already brought palpable change to Zimbabwe.
The change ranges from completing projects that have remained stagnant for over two decades to kickstarting completely new projects.
President Mnangagwa's first inauguration took place on November 24 2017.
It was a historic day that marked a change from a Government of the past into a new dispensation that promised to bring more liberty and development for its people.
Saturday, November 24 2018 marked a year after the President took over the reins.
The day was marked in style.
Thousands of Zimbabweans gathered at Murombedzi open ground for the inaugural 'Thank You Rally' by President Mnangagwa.
The well-subscribed event sent an echoing message that the President (who is affectionately known as ED) is as popular as ever.
The people still love ED.
Those with lingering doubts of his popularity were left convinced when ZANU PF romped to a convincing victory in Mutoko North constituency by-election on November 24 2018.
The victory coincided with the first anniversary of the new Government.
Democratic space
It is undeniable that President Mnangagwa has opened up the democratic space by ensuring that all the freedoms espoused in our Constitution are respected.
For the first time for over a decade, there is a free flow of ideas in the country.
The media is freely publishing, with media practitioners freely practising.
Opposition parties, particularly the MDC, are holding meetings and staging demonstrations without any interferences.
During the 2018 election, all political parties campaigned without any obstructions, with the MDC managing to penetrate the heartland of rural areas where it was previously challenged.
Not only were the opposition parties allowed unfettered access to rural areas, but they also freely criticised the President and Government, true to the principle of freedom of speech and freedom after speech.
More emblematic was President Mnangagwa's invitation of international observers to observe the 2018 harmonised elections.
The President, for the first time in decades, opened the country to outside scrutiny.
The once distrusted electoral observers from the US and Europe were allowed unfettered access into the country to freely observe the elections, compile their reports and present them to the people.
Re-engagement
For a country that has been isolated for long, the policy of re-engagement with the family of nations becomes a marked milestone for the new Government.
Countries that had stopped reaching out to Zimbabwe for over two decades started to send envoys to support the new dispensation.
Britain sent its then Minister for Africa Rory Steward to attend the first inauguration of President Mnangagwa in 2017. Steward became the first British Minister to visit Zimbabwe in 20 years.
Germany also dispatched its Minister for Economic Co-operation and Development Gerd Muller to Harare to explore ways of working with Zimbabwe in a first such visit in 20 years.
India sent its Vice-President Muppavara Venkaihah Naidu to Zimbabwe.
His visit was the first by a high-ranking government official in 21 years.
President Mnangagwa took the re-engagement process a notch higher by reaching out to the international investor community.
He has so far attended several international business forums, including the flagship World Economic Forum (WEF) in Davos, Switzerland, where he managed to hold important meetings with representatives of big global corporations.
All these engagements and state visits by representatives of global powerhouses bore testimony to the fact that the world is gradually embracing Zimbabwe back into the family of nations.
This marks an end to the country's long isolation and also opens up the country to more investment opportunities.
Infrastructure development
Since coming into power, the new Government has shown an effervescent zeal to improve the country's infrastructure, which had deteriorated due to years of neglect.
Government started by quickly working on completing projects that had remained stagnant for years.
Projects such as the Kariba South Hydro Power Expansion Project were immediately attended to.
A few months into power, the hydro power project was completed and commissioned by President Mnangagwa, adding a further 300MW of electricity to the national grid. This improved the country's power supply and drastically reduced instances of load shedding in the country.
Government also attended to the country's road infrastructure. It introduced the Emergency Road Rehabilitation Project that sought to revamp the country's road network.
Some urban roads that had become impassable and an eyesore got an immediate facelift.
Government has so far rehabilitated 60 percent of all local road networks.
The works include resurfacing, tarring, patching of potholes and road markings.
A comprehensive Roads Development Programme, with support from the fiscus, and targeting upgrades from gravel to bituminous surfacing is also underway.
Food security
Under the flagship Command Agriculture Programme, the country has managed to surpass its maize grain deliveries compared to the previous season.
Farmers have so far delivered over 1 274 904, 030 metric tonnes of maize to the Grain Marketing Board (GMB).
During the same period last year, GMB had received 1 091 349 tonnes of maize.
The country now has 500 000 tonnes of maize in its grain reserves, enough to take the country to the next season.
Tobacco output surge
Zimbabwe scored its best post-Land Reform Programme (LRP) tobacco output in this year's summer cropping season. Zimbabwe's tobacco output for the 2017/18 cropping season hit a record high of 252,5 million kg, surpassing the country's peak production of 236 million kg in 2000.
The high production is attributable to the large number of communal farmers now growing the cash crop.
A record 252,5 million kg of tobacco valued at over US$737 million went through our contract and auction floor systems. This translates to a 34 percent increase compared to last season.
Local Government
In conjunction with the National Building Society (NBS), the Ministry of Local Government, Public Works and National Housing is facilitating the building of low cost houses in Harare's Dzivaresekwa, Stoneridge, Adelaide Park and Glaudina; Mutare's New Mara; Bindura's Woobrooke; Shurugwi's Magakooshla and Masvingo's Victoria Range. The Ministry has also embarked on rehabilitating water and sewer reticulation infrastructure all over Harare to improve the quality of water supplies.
Education
The Ministry of Primary and Secondary Education recruited over 1 300 teachers, reducing the backlog of trained teachers who are still seeking employment.
The Ministry also constructed 17 new schools — 12 primary and five secondary schools.
Government expenditure
Government reduced its expenditure bill by introducing a number of reforms that will eliminate ghost workers, reduce foreign diplomatic missions and resign civil servants who have reached their retirement age.
In the same vein, the President reduced the number of ministers in his Cabinet to 21.
He has also reduced the number of delegates who accompany him to international meetings, with his latest delegation to the United Nations General Assembly only made up of one Cabinet Minister, Dr Mthuli Ncube, who is the Minister of Finance and Economic Development.
Mining investments
Karo Resources invested US$4,2 billion in the platinum and chrome sector.
MGG Holding, an American company, has put in US$6 million for the exploration of chrome and gold.
Meanwhile, diamond mining giant Alrosa is looking at investing US$4 billion in Zimbabwe's lucrative diamond sector.
Also the country's diamond sales, that had stagnated under the first dispensation have significantly improved under the leadership of President Mnangagwa.
So far, US$28,3 million worth of diamonds have been sold.
President Mnangagwa continues to widen the democratic space and revamp the country's infrastructure.
His first year in office has proved he has what it takes to turn around the economy and bring the country to its former glory.