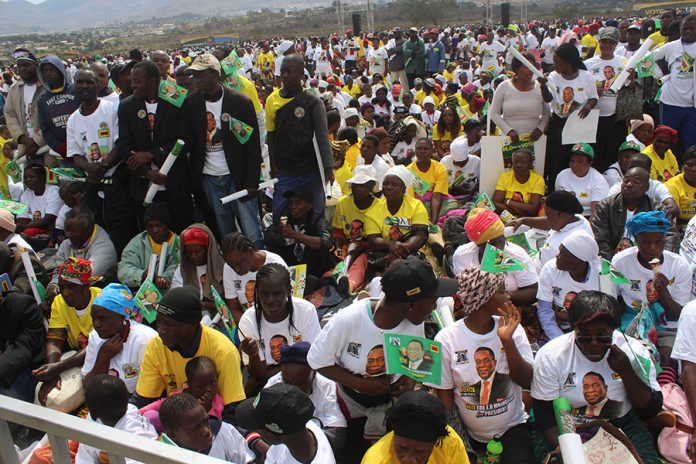 THERE was something telling and absorbing about the huge crowd that gathered outside Rudhaka Stadium for President Emmerson Dambudzo Mnangagwa's Mashonaland East rally on Saturday last week.
It was not the numbers.
The numbers issue has been pretty much settled and, with it, the zeal of the opposition has also been deflated.
When Morgan Tsvangirai sadly breathed his last on February 14 2018, there was, expectedly, and typical of Zimbabweans, an outpouring of grief across the country.
Then many people, regardless of political affiliation, gathered to pay their last respects to a fellow Zimbabwean but typically, excitable politicians in the opposition naively thought the crowd comprised MDC supporters only.
But this was the whole nation mourning.
And there was Nelson Chamisa, shamelessly disrespecting the man whose name he now uses at his poorly attended rallies, grabbing power.
He stood there and lied that he represented what he said was a new beginning for Zimbabwe.
Those who know ZANU PF's history, those who have been involved in it, will know that this party has a history of self-cleansing and reinventing itself.
That is matter for another day and probably for the future.
The Marondera rally still rings loud in the ears of the discerning voter.
And it becomes mandatory for any writer or reporter alike to give an accurate, orderly account of what transpired that day.
Rudhaka Stadium was about why people attended that rally.
They attended not only to interact face-to-face with the man who has taken the country by storm since November 2017 but to hear him lay out his master plan for the country going forward.
This was about ED's plan for the future which will be unveiled after Monday's polls.
It was about him pre-empting his plan for Zimbabwe.
Pre-empt is the appropriate word for he has already demonstrated, as we have highlighted in this publication, that his administration is about economic prosperity.
ED's administration is giving priority to economic transformation that is anchored on the ideals of the liberation struggle.
That was his message in Marondera, that famous ZANU PF stronghold and that province which produced some of the country's iconic liberation war heroes.
The rally was a reminder that the new dispensation has not abandoned the values of the struggle, contrary to assertions from some sections of the society.
ED paid tribute to Mashonaland East Province for producing Zimbabwe's many national heroes who played a pivotal role in the country's attainment of independence.
These heroes, said ED, contributed immensely to the liberation of the country.
"We have freedom fighters who led us during the liberation struggle who come from this province," he said.
"When we are writing the history of our country, it will be incomplete if we don't mention names of some of the heroes who hailed from this province.
"We have the likes of George Nyandoro, he is from this province.
"He started the journey of the liberation struggle long back before some of you were born.
"We have the likes of Cde Parirenyatwa, not David (who is the Minister of Health and Child Care), I am referring to his father (Samuel). We have Cde Kadungure, Cde Solomon Mujuru, Solomon Tawengwa, Chief Justice (the late Godfrey) Chidyausiku and others.
"There are many and I cannot mention them all. I encourage the province to be proud.
"We cannot talk about the history of Zimbabwe's liberation without mentioning Mashonaland East."
ED expressed his appreciation of the overwhelming support.
"We have come here today. Kuno kuMashonaland East Province ndakambouya kwaMutoko tikatambirwa chaizvo chaizvo zvakandifadza. Asi nhasi matambiririro amaita aya, ndafara.
"One other thing that I want to share with you is the issue of devolution.
"Everything used to be done in Harare but now we are cascading down powers to provinces. Each province must have its own priority programmes.
''You should say as Mashonaland East, what must we do with our agriculture, what must we do with our mining and what must we do with infrastructure development and what must we do with our industry?"
As one left the venue, the bold message was that ZANU PF is back.
When all is said and done, Mashonaland East rally will rank among the biggest that ED has addressed.