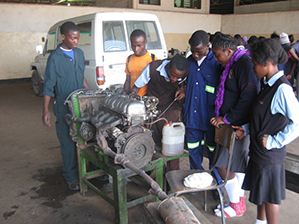 THE pre-independence system of education and training in Zimbabwe was deliberately based on discrimination and unequal accessibility along racial lines.
Children of the minority white, Asian and mixed-race communities enjoyed compulsory free and comprehensive education that prepared them to assume a more privileged position in their adult working life, whereas much of the education for African children was intended to facilitate conversion to Christianity and to equip them with the basic skills necessary as cheap labour.
This system led to an unequal distribution of skills among racial categories.
According to a National Manpower Survey carried out in 1981 to determine the quantity and quality of Zimbabwe's manpower, the skills distribution at independence was that whites, Asian and people of mixed race dominated the professional and skilled categories, while Africans dominated the semi-skilled and unskilled employment categories.
With the attainment of independence in 1980, the Government set about democratising and expanding education and training programmes to incorporate and fulfil the needs of the majority indigenous African population.
The post-independence Zimbabwean Government viewed education and training not only as human rights, but also as a form of investment which would determine the overall rate of socio-economic growth and development in the country.
Another major aspect of the educational policy of the post-independence Government was the idea of shared responsibility between the Government and local communities in the financing, maintenance and operation of schools.
For example, the responsibility of running rural primary and secondary schools was vested in the District Councils, through financial assistance received from the Government.
Similarly, urban councils which received financial assistance from the Government were expected to assume greater responsibility for financing and running the schools in their areas.
The Government had established a joint task force comprising officials from the Ministry of Education and other relevant Ministries to look into the implementation of the new structure and content of education with a strong bias towards vocational training.
At the time, the Ministry of Labour, Manpower Planning and Social Welfare was responsible for running vocational training schools in Zimbabwe.
The National Vocational Training and Development Centre in Harare was the headquarters of vocational training programmes throughout the country, whose functions included training instructors and supervisors, developing training modules, providing teaching materials and aids as well as reviewing curricula development.
The two vocational training centres in Zimbabwe were Msasa in Harare and Westgate in Bulawayo.
They were responsible for trade testing and upgrading of the thousands of workers whose skills levels were not recognised during the colonial era.
The system of vocational training schools was evolved by the then Ministry of Education to give practical-oriented education to school leavers for self-help and self-reliance development.
St Peter's Kubatana in Highfield, Harare, was one such fully-functional institution.
Apprenticeship training, which lasted between three and four years, was under the administration of the Ministry of Labour, Manpower Planning and Social Welfare.
Training covered such trades as aircraft maintenance, electrical, mechanical and automotive engineering, building and construction, printing, business studies, commercial subjects and hairdressing.
Suitable candidates were indentured to employers in the various industries to gain practical knowledge and experience while still attending lessons at a technical college – through the 'block release' sandwich system.
A total of 1 509 apprenticeships contracted were completed in 1985 in aircraft maintenance, hairdressing and printing industries compared to 850 in 1981.
The college courses were originally based on the standards and examinations of the City and Guilds Institute, London, but were replaced by locally based Craft and Advance Craft certificates.
Currently, in line with world trends on Technical and Vocational Education and Training (TVET), the Ministry of Higher and Tertiary Education, Science and Technology Development recently adopted Competency-Based Education and Training (CEBT) as a vehicle to produce practically-oriented graduates from public and non-governmental TVET institutions, since 2016.
This entailed major adjustment to the national curriculum development and implementation strategies which included the structuring and capacitating of Ministry units involved in the endeavours.
The Skills Development Education Research Unit (SDERU) was formed in this process with the mission to contribute towards national human capital development through the formulation of a competence-based education and training curriculum programme, accreditation and the registering and monitoring of all technical and vocational education and training (TVET) institutions whereby education meets the needs of industry.
The innovative SDERU is currently working on CEBT, influenced by occupational profiles that are produced by industry experts from a spectrum of economic sectors of Zimbabwe.
CEBT is training which assesses and measures a trainee's knowledge, skill and aptitude – i.e., the cognitive, psychomotor and affective domains.
In a traditional education system, the main unit of progression is time and the acquisition of knowledge is teacher-centred; whereas in a CEBT system, the key unit of progression is the mastery of specific knowledge and skills while being learner-centred.
This system, in a functioning industrial-based economy, produces a competent workforce.
The measure of competency is a skill performed to a specific standard under specific conditions.
A skill is a task or group of tasks performed to a specific level of competency and proficiency, which often uses motor-function and typically requires the manipulation of instruments and equipment specific to the profession.
Zimbabwe should urgently be buoying its institutional training infrastructure and developing a skills training framework in order to provide school leavers with the requisite skills to fully participate in the country's development through vocational training.
Art and education consultant, artist and lecturer Dr Tony Monda holds a PhD in Art Theory and Philosophy and a DBA (Doctorate of Business Administration) in Post-Colonial Heritage Studies. He is a writer, musician, art critic, practicing artist and corporate image consultant.