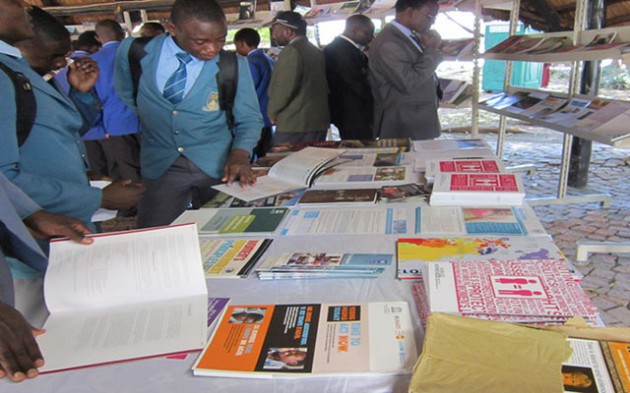 THE 2017 Bulawayo edition of the Zimbabwe International Book Fair was a pleasant surprise.
We were not able to have one last year.
On May 26 and 27, the Large City Hall in Bulawayo was decked with an array of publishers and book sellers.
The hall was filled to capacity, even the foyer was taken.
We were not sure how it would go or whether people would turn up.
The people of Bulawayo did not disappoint.
It was well-attended.
Schoolchildren, along with their teachers, as well as members of the public kept us busy.
I did have conversations with many children and pupils of various levels.
One of the books on our stand was Schools in the Struggle, a book written by comrades who ran the schools in Mozambique under ZANU and in Zambia under ZAPU.
It showcases the resolve of young Zimbabweans to liberate their country.
Those below 18 years were put under the care of the Education Departments which put them in schools until they were old enough to join the liberation forces.
For some reason, this book attracted young boys and girls and invariably, they would ask about it and I was so glad they did because I wanted to talk to them about their heroic predecessors. The response was amazing.
I would begin by asking them if they know about the liberation struggle.
Mostly, they said 'Yes', then I would ask them if they know that in our war of liberation, young boys and girls like them went to Mozambique and Zambia to be trained so that they would join freedom fighters to liberate their country and all said 'Yes'.
What struck me was that their faces would light up the moment I mentioned that young people left home and family to fight for their country, but when I came to the part which said that those who were younger than 18 were put in schools because they were too young to be trained to fight, invariably their faces fell.
Although they remained attentive while I talked about life in schools in the struggle, I was never able to recapture the rapt attention; those faces igniting and shining the moment I mentioned that young boys and girls left to join the struggle to liberate their country.
But these young people, I reflected, are so comfortable with the liberation struggle.
None of them said: "Ah ah, how could they go to the war, they were too young?"
They were not astonished or surprised, instead they were excited about it.
The idea of joining the liberation struggle as children did not intimidate them, neither were they dismayed.
I will never forget their silent excitement, nothing will erase those images.
And when I talked about the hardships in the struggle for these children in schools — no food, clothes, the way they had to be self-reliant, cooking their own food, sewing their clothes, putting up their own barracks, making their own furniture, growing vegetables — none of the children showed any dismay. They listened stoically; they were so calm, they accepted that as the way of the struggle.
These children are the salt of Zimbabwe.
They too would have gone to the struggle; they would never have had second thoughts about joining the struggle. They would have acted the same way their heroic predecessors left for Mozambique and Zambia, some walking from as far as Gokwe to Zambia.
These children are true Zimbabweans who can take the mantle from their predecessors and build for us a Great Zimbabwe.
The ball is in our court to teach them well to play their part.
They are quite ensconced with their destiny.
A boy, a primary school pupil, stopped by our stand.
After the greetings, he did not say much.
He kept looking at the different books, but did not say anything.
He looked so serious I felt I must chat him up.
I asked him if they did History at school and he said 'No'.
"Social Studies?" I asked.
"Yes," he said.
"In Social Studies do you learn about how the British came and took our country and how our people fought and defeated the British and took back our country?" I asked.
He was silent for some time and then he said: "Not the first time."
"What do you mean?" I asked.
"The first time they did not succeed, but the second time," he said.
He was so calm and reflective when he said this.
I was at peace.
If our young can be this reflective and cognisant of this critical epoch in our history, there is no need to worry.
The highlight of this book fair for me was the children one can be proud of.
With adults from the community, as well as teachers, I also had a fascinating time.
I would explain what we were about, the Zimbabwe Foundation for Education with Production, originating in the schools in the struggle where children coped with the hardships of the struggle by being self-reliant.
They would look at the array of books: Pamberi neEducation, Upfumi nevashandi, Dyeing with plants in Zimbabwe, Production Units in Schools, Chegutu Production Centre, Animal Traction in Zimbabwe, Ndangariro, as well as many others, and they would say: "Oh these are useful reference books for the new curriculum which emphasises education with production."
Some would look at the books and conclude: "Oh, so you are more concerned with National Strategic Studies?"
And still others said, especially with reference to the book Schools in the Struggle, the books were useful for the new curriculum with its emphasis on the liberation struggle.
One gentleman chatted with me for a long time, almost 30 minutes.
His response to my presentation was: "What happened to education with production?"
He said education with production is a good thing.
They had welcomed it when it came, he said, but the problem with us is: "We keep changing things for no apparent reason.
"We dropped education with production and now we have so many young people who do not know anything, who cannot do anything, who are parasites on their parents."
"Anyway," he concluded, "It is good we have realised we have to go back to education with production."
It was good to talk to him but I felt a certain sadness in him because as he was leaving he said: "I have been in teaching for 30 years and education with production is the best we ever had."
Another woman commented: "We started well with education with production, but we got lost along the way.
"It's always good to start correctly because when you get lost you can always go back where you started."
All round, the discussions were interesting, exciting and encouraging.
The issues the 'hate media' are obsessed with like the liberation struggle and the new curriculum are the very progressive issues we should be dealing with.
The Bulawayo Book Fair had a good tone.
All in all, the message from Primary and Secondary Education Minister was that the new curriculum was there to stay and all the players had to acquit themselves very well if they are to remain relevant.