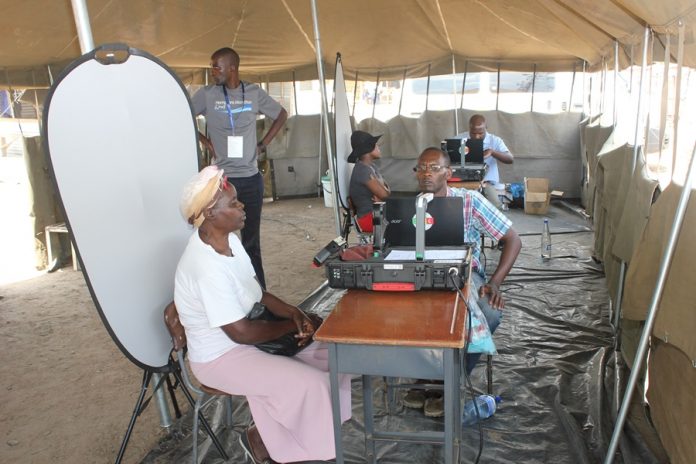 NON-GOVERNMENTAL ORGANISATIONS (NGOs), in conjunction with the opposition parties, have scaled up efforts to discredit the Zimbabwe Electoral Commission (ZEC) and manipulate polls slated for July 30 2018.
Under the guise of humanitarian work, development and governance, NGOs are meddling in the electoral process and throwing it into disarray.
This week, NGOs reportedly bussed hordes of new registrants in Harare and Norton, a rigging mechanism they attempted to use during the 2013 harmonised elections in Marondera and other areas.
In 2013, several NGOs bussed people to register in Marondera Ward 1 urban.
More than 200 people on the voters' roll had one address of a local church, while hundreds others used the addresses of two blocks of flats; Rusike and Marondera, which had long closed in 2003.
One household in the same ward in Cherutombo had more than 20 people registered on that address, with the residents refuting knowing those people.
In addition, Zimbabwe Human Rights NGO Forum and Election Resource Centre (ERC), in a concerted effort to discredit the electoral process, have embarked on so called 'piecemeal research'.
This so-called 'piecemeal research' includes Zimbabwe Human Rights NGO Forum's State of Human Rights Report and ERC's Outposts of Electoral Vulnerabilities – Understanding Systematic Manipulation.
Such reports are an inroad to further their agenda of discrediting the national voters' roll.
The Zimbabwe Human Rights NGO Forum last week launched its inaugural State of Human Rights Report which chronicles 'human rights violations perpetrated by ZANU PF and the Zimbabwe Republic Police (ZRP)'.
This piecemeal research was compiled by well-known regime change agents, Butler Tambo, Abel Dzobo, Dzikamai Bere, Eustinah Tarisayi, Tendaishe Tlou, Dorothy Mudavanhu and Fortune Kahudzehwe.
The report's external editor is another staunch regime change agent and quisling, Dewa Mavhinga, who is currently southern African director of Human Rights Watch.
Mavhinga was a star witness at the US Senate's most recent witch-hunt hearing titled 'The Future of Zimbabwe'.
Six years ago Mavhinga testified in Washington, US, when he was regional co-ordinator for the Crisis in Zimbabwe Coalition (CiZC) at a hearing titled 'Beyond the reign of Zimbabwe's Mugabe: A Chance for Democracy or Prelude to Conflict'.
Mavhinga also co-founded the Zimbabwe Democracy Institute (ZDI), which on paper is called a 'public policy think tank' based in Harare.
Both CiZC and ZDI are financed by the fraudulent white liberal and closet white supremacist billionaire George Soros.
It is not surprising, the 60-page report by the Zimbabwe Human Rights NGO Forum has no violations recorded from the MDC-T despite numerous incidents reported in the media.
The forum is a coalition of 22 NGOs which include Amnesty International, Catholic Commission for Justice and Peace (CCJP), Transparency International, Zimbabwe Human Rights Association, Zimbabwe Lawyers for Human Rights and Gays and Lesbians of Zimbabwe (GALZ), among others.
The forum alleges that 5 707 cases of human rights violations centred on the biometric voter registration (BVR) were recorded during the registration process and these included harassment and intimidation of registrants.
"According to the Zimbabwe Election Commission (sic), as of February 7 2018, a total of 5 264 674 people had registered to vote," read the human rights report.
"The voter registration process was, however, characterised by human rights violations.
Heal Zimbabwe recorded a total of
5 707 cases of human rights violations centred on the BVR and of the 10 provinces."
The report further alleged the pre-election environment is characterised by violence as electorates are subjected to harassment and intimidation, assaults, partisan distribution of food aid and farming inputs as well as disruptions of political gatherings.
ZEC is currently implementing BVR, cleaning the voters' roll including the just-ended inspection of the voters' roll.
The human rights report launch was not ill-timed.
It had to coincide with the arrival of the Common Market for Eastern and Southern Africa (COMESA) pre-election observer team.
The report was designed to influence the decisions of the COMESA pre-election observer team which was in the country the past week.
However, the COMESA observer mission said the environment in the country was conducive for credible elections.
"Zimbabwe stands ready to hold its harmonised elections and is taking essential steps to guarantee its citizens peaceful, free and fair poll," said COMESA pre-election assessment team leader Ambassador Ashraf Rashed.
Ambassador Rashed, who was leading a nine-member delegation, is a member of the COMESA committee of elders.
The team, which was in Zimbabwe for one week met with various stakeholders including ZEC, ZRP, Chief Justice Luke Malaba, ruling Party officials, opposition political parties and the civil society.
The endorsement by COMESA comes as various missions, including the African Union (AU) and Southern African Development Community (SADC) Electoral Advisory Council (SEAC) have given thumbs up to Zimbabwe's electoral processes.
In a discussion paper titled: Outposts of Electoral Vulnerabilities – Understanding Systematic Manipulation, released in April, the ERC said signs of a systematic manipulation of electoral processes ahead of this year's harmonised elections slated for July 30 are beginning to show.
The manipulation methods highlighted in the report include limitation of right to vote, vote-buying, intimidation by traditional leaders, undue influence on ZEC, unconstitutional electoral reforms, unfair media coverage and suppression of voters.
In January 2013, prior to the July 31 2013 elections, four Zimbabwe Human Rights Association (ZimRights) officials were arrested for publishing or communicating false statements prejudicial to the state.
The NGOs chairperson, Dorcas Shereni, and programmes manager (education) Leo Chamahwinya, Tanaka Chinaka and Farai Bhani allegedly tried to discredit the voters' roll by producing counterfeit copies of the certificate of registration as a voter which they would complete with false names of alleged registered voters.
Freelance journalist Thomas Madhuku was arrested after producing his own voters' roll, which he purported to be of Chipinge South constituency.
On examination, it was discovered the names of voters on the roll were not in alphabetical order as should be the case with a genuine voters' roll.
The block number that carries the voter to the respective ward or constituency had five digits instead of six.
It was later established that he was working for a local NGO, the ERC – the same organisation that this year is crying foul over signs of a systematic manipulation of electoral processes.
Speaking during a Presidential panel at Africa CEOs forum in March this year, which President Emmerson Mnangagwa shared with former Nigerian President Olusegun Obasanjo, he said developmental NGOs are acceptable.
Said President Mnangagwa: "Civil society, who come with an agenda, especially in the area of elections, they assemble a team of what they call experts coming from various countries and come and say we want to teach your people about voter education, they then come with gifts like beans and when you open the beans (sic) you find a paper inside which tells you whom to vote for.
"Such type of civil society is not necessary, we don't need it."
President Mnangagwa said NGOs should not try and force their definition of democracy onto the African continent.
In recent weeks, local NGOs, ERC and Zimbabwe Elections Support Network (ZESN), alongside MDC-T faction led by Nelson Chamisa and its alliance partners went all over demanding to be involved in the ballot paper tendering process ostensibly as a way of testing the freeness and fairness of the polls.
However, the electoral body has reportedly said it would not be pressured into disclosing the suppliers of ballot papers for this year's harmonised elections.
According to local reports, ZEC said there was no law compelling it to involve political parties in its procurement deals.
ZEC said that it would make such information available at an appropriate time and would comply with current legislations.
"There is no legal provision which requires ZEC to involve political parties in its procurement processes for the ballot paper and the printer. Section 52A of the Electoral Act [Chapter 2:13] only requires the commission to disclose the following information to all political parties and candidates contesting an election, and to all observers:
– there and by whom the ballot papers for the election have been or are being printed; and
– the total number of ballot papers that have been printed for the election; and
– the number of ballot papers that have been distributed to each polling station," the electoral body was quoted as saying.
ZEC chairperson Priscilla Chigumba said political parties would be invited to monitor the printing of ballot papers for this year's elections but maintains the poll agency will not bow to any arm-twisting by local politicians.
"The Zimbabwe Electoral Commission, in terms of the Constitution is not under the direction or control of anyone, political parties, ruling party, opposition," said Chigumba at a conference called to discuss the forthcoming elections at the University of Zimbabwe recently.
"We cannot, and should not, be under the direction of anyone."
Justice Chigumba said the electoral body was well on course with its elections roadmap and is in the process of procuring election materials.
More than 5,4 million people have registered to vote, with more than 4,7 million having inspected the provisional voters' roll, through the inspection programme that ended this week.