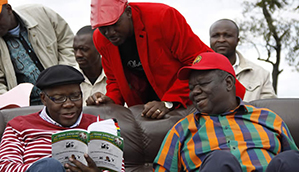 SINCE our inception in May 2011 as The Patriot, we have published several articles pointing towards the extinction of the MDC-T. Recent events in the embattled party have proven that we were spot on.
IT was a long time in coming, the demise of the MDC-T and with it, the spectacular collapse of Western dreams.
In a whiff, the lawlessness that Western governments created and exported to Zimbabwe under the guise of a political party has crumbled like a deck of cards.
The recent thumping by drunken MDC-T youths of suspended deputy treasurer general Elton Mangoma for openly calling for leadership renewal in the embattled party was just a tip of the iceberg of how Western governments underestimated Zimbabweans when they formed the MDC-T at the turn of the millennium.
It is pretty obvious that they thought their project would steamroll ZANU PF at its inception.
By now, the West foolishly thought, the MDC-T would be in power and 'we would be controlling things like in Libya, in Iraq, in Afghanistan'.
Who would blame them, even poor Morgan Tsvangirai and somewhere there the forgotten man of Zimbabwe politics, Roy Bennett after they managed to hoodwink Zimbabweans into voting for them in the first round of the closely contested March 29, 2008 harmonised elections?
But poor and arrogant West, that will never learn, shamelessly maintained this support until the eve of last year's elections.
Time and again we were told of Tsvangirai's embarrassing sex scandals, the MDC-T's poor record in Government and their shocking looting of state resources.
The West in their typical arrogant nature ignored all this.
This is why we believe calls for leadership renewal have nothing to do with Tsvangirai.
We saw ZANU PF humbling itself.
We saw it regrouping.
We saw it restrategising.
At the end we saw a reinvigorated ZANU PF, the ZANU PF that people know and have grown accustomed to.
Here we are and here we go again.
The MDC-T is officially dead and today we write its obituary knowing fully well that its formation by the West was one of the many careless acts that has returned to haunt them.
The violent and comic fist fights against poor Mangoma, against poor Tendai Biti who escaped by clinging onto Tsvangirai's jacket before flying into his party leader's sleek Mercedes Benz was no doubt a manifestation of the politics of confrontation that the West has successfully used in other countries.
The West created this mess and monster and they have to deal with it.
The Patriot has it on good authority that Western governments are literally knocking each others' heels as they desperately seek 'solutions' to the mess the MDC-T finds itself in.
"Is that the work of diplomats (managing political parties' affairs)?" Tsvangirai recently queried the Ambassadors boring overtures.
Their deafening 'condemnation' of the Harvest House violence should not fool anyone.
Violent confrontations were one of the many strategies they adopted when they created the MDC-T.
After years of unprecedented and reckless support to Tsvangirai's MDC-T to push for the ouster of President Robert Mugabe, their project they so love and cherish has hit hard rock and is on an unstoppable slide to self-destruction. Yet there has been a desperate and sometimes disappointing attempt by MDC-T officials and those associated with the ailing party to nationalise their comic infighting over power.
This is understandable given that again there is a misplaced and warped thinking in the West and within the MDC-T itself that their party still matters to Zimbabweans, as if it is relevant to national politics.
Zimbabweans have moved beyond the MDC-T's madness, its never ending shenanigans and poor politics emanating from their association with the West and detachment from the majority.
In fact, the MDC-T entered into a childish agreement nursing wild dreams with the West when it joined the country's political fray.
This was the message on July 31, 2013.
This is the critical point that those who are calling for Tsvangirai to step down are missing.
The crushing defeat the MDC-T suffered at the hands of ZANU PF in the July 31 2013 harmonised elections has nothing to do with their leader's perceived failures.
This is about ZANU PF, its message and how it managed to turn on the show after its dismal performance in 2008.
This is why there is general and logical consensus between Zimbabweans that the current crisis rocking the sinking MDC-T boat is not about Morgan Tsvangirai, but ideas, ideals and values on ZANU PF's part.
Under fire MDC-T secretary-general Tendai Biti agrees with us on that one.
Biti told a public lecture at the Southern Africa Political and Economic Series (SAPES) last week that ZANU PF's 'Bhora Mugedhi' message was 'sexy' and therefore resonated with the electorate.
"ZANU PF in the last election had a very simple message, 'Bhora Mugedhi'," said Biti.
"Even a little woman in Chendambuya or Dotito just knew one thing, Bhora Mugedhi"Perhaps we were too sophisticated, but what was our message because the message of 2000 is not the message for now.
"We (MDC-T) were selling hopes and dreams when ZANU PF was selling practical realities.
"We (ZANU PF) are going to give you a farm, its there.
"We are going to give you US$5 000 through (Saviour) Kasukuwere's ministry."
While Biti's stunning remarks can only stoke up the raging factional wars in the beleaguered MDC-T, they serve as a reminder to the so-called renewal team (Mangoma faction) and Zimbabweans in general that Tsvangirai's perceived failure to unseat President Mugabe is about policy, programmes and ideology.
The MDC-T for all its 'democracy' verbosity glaringly lacks the above three.
This then puts to rest the widely abused line that Tsvangirai has 'failed' to beat President Mugabe in an open contest.
Herein lies the problem with post liberation movements.
They are created as quick fix organisations with no proper ideological orientation to steer their countries forward.
This is why many of them have in successive years suffered the fate that has visited the MDC-T.
Tsvangirai is spot on.
"Why can't you just write and send to your countries?" asked Tsvangirai at a recent rally.