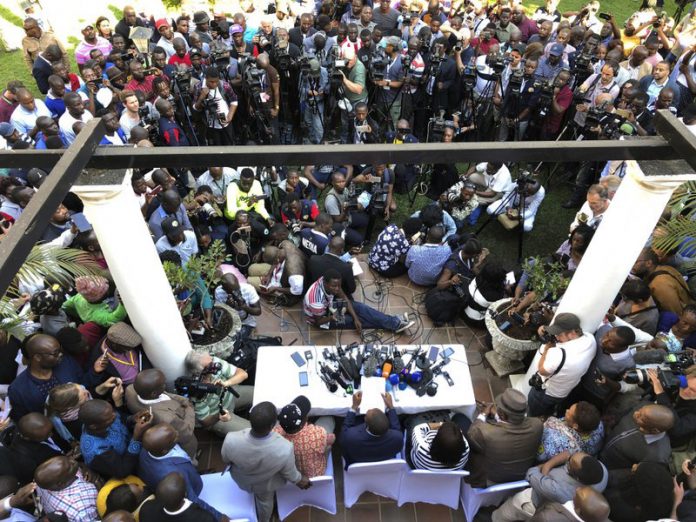 By Tafadzwa Masango
THE house that Morgan Tsvangirai built is up in flames and those who came through the window in a palace coup together with their hangers-on are on their way out.
Information at hand indicates MDC Alliance leader Nelson Chamisa is on his way out and it is yet to be seen how the rug will be pulled from under his feet, either through another palace coup or Congress.
A source close to the developments said that, at the weekend, Chamisa held a meeting with winning MDC Alliance legislators who demanded that he presents proof of the rigging he has been claiming.
However, Chamisa could not provide the so-called proof.
The legislators also refused to mobilise for any more demonstrations against the Zimbabwe Electoral Commission (ZEC).
A source who attended the meeting said: "Chamisa is now weakened because he lost the presidential election.
"He has been lording over us and using intimidation because he had the backing of the Vanguard and the likes of Biti who once deserted us and tried to overthrow Save (Tsvangirai)."
For some in the opposition movement, it looks like it's payback time.
There are calls by some senior members of the Chamisa MDC-T faction for an elective Congress to be held as soon as possible.
With almost no political currency and goodwill within the upper structures of the party, Chamisa is at the end of his road.
Aggrieved members accuse him of mismanaging the primary elections in the party by imposing his associates and relatives at the expense of long-serving supporters who came up through the structures.
They also accuse him of failing to properly mount an effective campaign in terms of resources and message packaging.
In several constituencies, Chamisa imposed close associates and relatives, going back on assurances and deals that had been made by the late Tsvangirai prior to his death.
This has not gone down well with members who believe towards the end of his campaign, Chamisa was trivialising the late founding father's legacy and only invoked Tsvangirai's name to rally supporters to him.
A senior official, who is canvassing for a top-post at the elective Congress, said: "Chamisa is a know-it-all and wanted to be in control of everything.
"He surrounded himself with people who once deserted the cause and those who were his friends in the student movement.
"Now he expects us to continue supporting him as a leader.
"We are going to Congress and Chamisa and his friends are all going to be baby-dumped."
Likely contenders for the post of party president are vice-president Elias Mudzuri; secretary-general Douglas Mwonzora, while some are calling for former deputy president Thokozani Khupe to be brought back into the fold.
The battle for control of the opposition is to be fought on two fronts.
The 'return soldiers' who broke away from the main MDC-T following Professor Welshman Ncube and Tendai Biti have experienced the freezing cold outside the MDC-T and will fight hard to secure positions.
Those who remained will also have to fight among themselves as to who gets what, while also fighting to ensure that the 'return soldiers' do not outrank them when the dust settles.
There is also the issue of those who came in through the window when Chamisa had his palace coup.
They have tasted power and will certainly want to remain in the game.
Some burned bridges as they thought they had made it riding on Chamisa's back and can no longer go back to their former occupations, that's if one can call them occupations.
Recent statements by traditional opposition backers in the diplomatic corps calling out the MDC Alliance for inciting violence and demonstrations have also dented Chamisa's hopes of expecting the international community to support his cause.
Chamisa has been told by the opposition's former Western handlers that this militant approach is unacceptable and if he continues on this path, they will back a new horse.
Chamisa and his team are now working on the narrative that he has a role to play in Zimbabwe's future and that ZANU PF cannot ignore him.
All this talk of a Government of National Unity (GNU) is nothing more than an attempt to get himself and the boys some jobs.
The narrative that 'Zimbabweans need to heal and this can only be done through this GNU' is as bogus as those who are pushing it.
Election observers have all commended Zimbabweans for holding peaceful elections.
Violence flared up as a result of Chamisa attempting to pre-empt the final electoral processes as part of some script he was given by his allies in East Africa.
However, after all is said and done, it's indeed the end of the road for Chamisa and even Parliament is going to be a whole lot different without him.
What a pity!