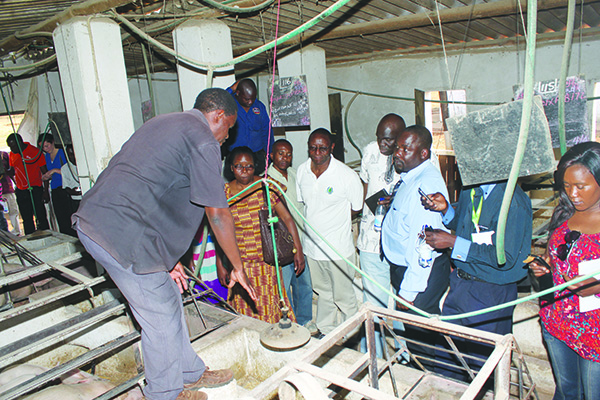 By Margaret Mvura
THE politics surrounding the energy sector during the Government of National Unity left a lot of things at stake.
Energy is a basic need for all and its provision is currently a United Nations Initiative under competing interests of the day.
The Chisumbanje Ethanol plant for instance was not given a license by the then Minister of Energy Elton Mangoma despite the potential the project had to cut down the huge national fuel import bill, employment of thousands of people and in turn empower the resettled small-scale sugar cane farmers.
The new ZANU PF government quickly issued a licence to the plant.
The use of energy in rural and urban settings is undisputed and yet there is still a lot of ignorance surrounding energy issues.
Success stories of the Pig Industry Board's biomass energy project, however, unveil a potential that Zimbabwe has alternative sources of energy and prompt government commitment towards supporting such initiatives.
Zimbabwe is currently producing 1 200 megawatt of electricity against a demand of 2 000 megawatts. Only 37 percent of households in Zimbabwe have access to electricity connected through power lines.
The 2009 National Energy Balance discloses that wood fuel provides 61 percent (the bulk) of the total energy supply followed by liquid fuels (18 percent), electricity (13 percent) and coal at 8 percent.
While there are major rehabilitation programmes currently occurring at the Kariba and Hwange power stations, there is need for the country to explore other avenues for energy provision.
The biomass energy project being done at the Pig Industry Board just 23 kilometres along the Harare-Mutoko road provides lighting, cooking and heating systems for pig production at the farm.
Ephrem Whingwiri the company's Chief Executive Officer of A and B Energies said the 50-cubic-metre biogas digester installed at the farm is one example in which economic productive enterprises can have energy.
"The biomass energy technology can generate heat for cooking, pest control, greenhouse gas warming and power any appliances. Biodegradable matter is put in the biomass digester for at least 3 weeks to produce methane which is converted to energy and at least one kilogramme of waste produces 300 litres of gas," Whingwiri said.
"Zimbabwe currently has one million tonnes of degradable matter which can be converted to energy. There are designs which use less water and can be installed in regions with less water while water used for the process can also be recycled. Therefore with such a technology there is no need for electricity in some places.
There is therefore need for government to provide subsidies and to put policies that make financial institutions provide loans for such technologies. The Indian government, for instance, has budgets for biomass digesters and this can be done here as well. Financial institutions must also be able to provide loans so that people can be able to adopt such technologies because they are expensive."
The installation of the biomass digester last year has resulted in an increase of pig production at the farm thanks to the heating system powered by the energy produced from the pig waste. Previously piglets would die due to cold weather."
Last year Government launched a national energy policy which many players in the energy sector say is a monumental step.
According to that National Energy Policy of 2012, of the 37 percent households that have access to electricity, 83 percent of them are in urban areas while 13 percent live in rural areas.
Practical Action's Joseph Hwani says the launch of the National Energy Policy was monumental although more needs to be done.
"The launch of the National Energy Policy was monumental but we now need specific instruments that will help achieve certain targets and determine how renewable sources of energy like wind, solar, hydro and others contribute towards the energy sector," Hwani said.
"There is lots of potential in renewable energy sources which we could use to promote the quality of life where the national grid is not reaching. It also provides diversification of energy supply against the growing demand, global environmental problems and declining renewable sources.
The Chipendeke mini-hydro project in Mutare which is an off-grid, for instance, provides 3 390 people with energy for household use, schools and clinics."
Shepherd Zvigadza an official from ZERO Regional Environment Organisation said there is need for communities to take ownership of such projects once in place.
"Since there is energy poverty we must start thinking of alternatives sources of energy and there is need for communities to take ownership of some of these alternative sources of energy by making them business ventures so that they remain viable for their energy needs."
The launch of the national energy policy last year sets the tone for sustainable energy for all and would guide the implementation of projects in the various subsectors.
Calls by the United Nations Secretary General Ban Ki Moon in September 2011 at the launch of the Sustainable Energy For All (SE4ALL) Initiative have made governments realise the need to have all people access energy by making them commit to universal access to modern energy services, doubling the share of renewable energy in the energy mix and doubling the global rate of energy efficiency.
At least 1, 3 billion people in the world have no access to energy and two million deaths a year occur due to lack of energy. Statistics show that in the next 20 years 40 to 50 percent of energy will be from developing countries Zimbabwe included.
Dr Kandeh Yumkella the chairman of UN Energy of the United Nations industrial development organisation said energy issues are sensitive and must be made central to developmental issues.
"Energy issues are sensitive issues and we must make them central to developmental issues. Without access to energy Millennium Development Goals cannot be achieved and so we must develop energy technologies for women empowerment and poverty reduction."
Clement Kalonga Acting Regional Director for Practical Action said "in rural areas the luxury of switching on electricity is not possible as they have to walk many kilometres to get firewood. And so there is need to address the many inequalities that have led to the discrepancies of accessing energy."
Multi-million dollar projects like that of the Chisumbanje Ethanol Plant and the jatropha projects if managed well can serve as learning examples of the potential that the country has in renewable energy sources, where to correct and to improve.
With abundant sun all year round, wind, biomass, Zimbabwe has a lot of alternative renewable energy sources. It is only up to the policy makers and stakeholders to join hands in ensuring that the abundant natural resources are used for the benefit of all people since energy issues are cross-cutting.